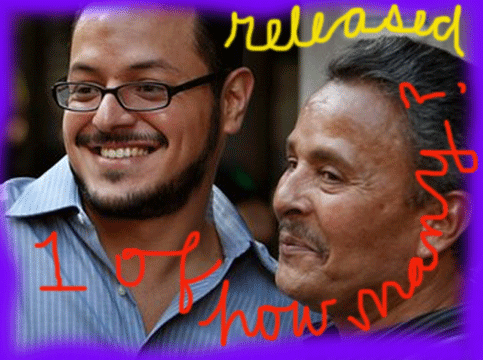 (NOTE: FOR RECENT UPDATES on Mario's life, click here.)
************************************************************************************************

I see that Mario's Story, the documentary film, about Mario Rocha's struggle to have his wrongful conviction for murder overturned, has several more showings on Showtime this week and next.

I watched the movie a week ago and I still can't get it out of my mind.
The film is gripping, harrowing and, in its own way, inspiring; Mario's courage and calm in the face of his ghastly circumstances is astonishing. Watching the film I got frightened all over again for his fragile bravery—even though I know him, so I know how his story turned out, and how well he's doing now, that his life is good, that he is healing, that the nightmare is over.

For me the film was deeply disturbing for a complex set of reasons—some having to do with Mario, some not.
But before I get to all that, at the risk of being repetitive, let me once again give you at least an outline of Mario's story.

On February 16, 1996, sixteen-year-old Mario Rocha went to a keg party in Highland Park where a bunch of high school kids were celebrating a win for Cathedral High School's basketball team. Mario was invited to the party. He did not crash it. However, as is often true with these affairs, a bunch of other kids did.

Not surprisingly, there was drinking at the party. Eventually a fist fight broke out between some of the Cathedral kids and the party crashers. An extremely well-liked 17-year-old college-bound honors student named Martin Aceves, tried to break up the fight, but matters escalated fast. Two kids had guns. Aceves was shot and killed. Another kid was shot in the hand.

A week later, police burst into Mario's bedroom, guns drawn, and arrested him. He was not accused of killing Aceves. But an eyewitness had said there was a third kid with a gun who fired it, hitting no one. The party-goer witness picked Mario out of a photo line-up as the third guy with a gun.
It would come to light later that there were other witnesses at the party who definitively placed Mario well away from the shooting. Yet when Mario's case was tried in adult court, neither his attorney, nor the prosecution bothered to find and question those witnesses. Nor did they challenge the existing eyewitness's fuzzy and contradictory recollections.
Police also found no physical evidence at the scene suggesting that there was really a third gun fired—no bullets, no casings. Plus, no one bothered to point out inconsistencies in the prosecution's case, like the fact that the witness who fingered Mario had repeatedly described the alleged third gunman as holding the weapon in his left hand, while Mario is right-handed.
No one did any of that.

All in all, Mario's attorney provided very little in the way of defense. It didn't matter that Mario had no previous record or gang affiliation. (His brother was an admitted gang member. He was not.). He was lumped in two other party goers—gang members who had been seen to flash weapons in the crowd.

The upshot was that the teenager with no previous record, was convicted of murder and attempted murder, and sentenced to two life terms to be served in adult prison.

The bulk of the movie shows the efforts of a team of people who came to believe in Mario's innocence. There was Sister Janet Harris, the longtime Catholic chaplain of Eastlake Juvenile Hall, who was the first to start pouring over trial transcripts. Sister Janet then talked the very high-powered lawyers at the internationally known firm of Latham & Watkins into representing Mario pro bono, Eventually a dedicated investigator, Aldo Velasco, also joined in the quest for Mario's freedom.
Yet, even with all this help, along with piles of new evidence, it was against fantastic odds, and after several legal rebuffs, that in December of 2005, the group managed to persuade a California appeals court to overturn Mario's sentence on the grounds that he was inadequately represented.
Mario was released in the summer of 2006, and finally cleared of all charges in late October of last year. (The photo above is from the day the charges were dismissed.)
In between Mario Rocha spent ten and a half years locked up. In prison he was attacked twice with a shank, and stabbed multiple times. The second time was serious. He was lucky he didn't die.
This brings me to my point: Although Mario is an incredibly bright and winning young man with no previous record, and even though there was plenty of evidence suggesting his innocence, and inconsistant evidence suggesting his guilt, and even though he had an extremely talented legal team—plus a feisty, takes-no-prisoners nun, for God's sake—who were willing to move heaven and earth to have him released……it nearly didn't happen.
The truth is, there are too many people serving time right now for whom it did not happen, and likely won't. They have no feisty nuns or first rate legal teams.
Look, don't get me wrong: most people serving time in California prisons are guilty of the crimes for which they were convicted. But some are not. I know some personally who are not. I don't say this as a bleeding heart, or out of naivete. I am simply telling you the facts. You work long enough in and around LA's poorer neighborhoods and you run across these cases.
When my friend David Winett, who is a former Chief Deputy Warden of one of California's prisons, saw Mario's story, he articulated what I was thinking. "There are a lot of Mario's," he said.
Right. And that, for me, was the most terrifying part of Mario's Story. That's the part I can't shake.