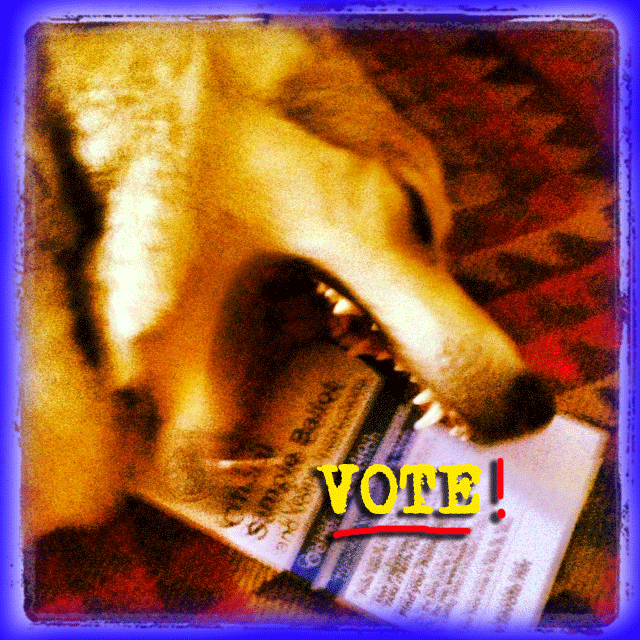 ---
With Celeste Fremon
---
TAKE TO THE POLLS LIST OF QUICKIE RECS FOR PROP VOTING:
(We posted our full-length recommendations list on Friday.)
30: YES! – Jerry Brown's must pass initiative that raises essential funds for CA schools and public safety.
---
31: NO. – Hideously written attempt at legislative reform.
---
32: NO WITH EXTREME PREJUDICE – Out of state millionaires and corporate interests attempt to cripple influence of labor unions, while handily exempting themselves.
---
33: NO! – Creepy auto insurance bait and switch. Run!
---
34: YES – Replaces the death penalty in California with life without the possibility of parole.
---
35: NO – Good issue (lock up sex traffickers), very bad law.
---
36: YES – Reforms 3-Strikes to make it effective, not overbroad.
---
37: YES – Labeling genetically engineered foods (GMOs).
EDITOR'S NOTE: We were wobbly about this for about ten minutes, on Sunday. I mean, after all the LA Times and many of the state's newspapers have come out against it. And, hey, we're not experts on these matters. So we doubled down on our research and continued to find compelling reasons to vote in favor, and a lot of inaccuracies on the NO side. Finally, we wondered: WWBMD? What would Bill Moyers do? Moyers has an excellent team of researchers, is still one of the brightest reporters in the business, and the least swayed by partisanship. So did Bill have a stand on the GMO labeling issue in general, and Prop. 37 in particular. Yes Bill did. And he urges a YES vote.
There's a lot of disinformation out there. Don't buy it.
---
38: NO – Molly Munger's water-muddying and problematic tax alternative to Prop. 30.
---
39: YES – Closes loophole for multistate, non-CA companies, raises an extra $1 billion for the state.
---
40: YES – Re-approves California's newly redrawn state Senate districts.
---
---
PROP 30: WHAT IS SCHEDULED TO HAPPEN IF IT IS DEFEATED
(And, no, these aren't scare tactics. These are the cuts that are already voted on and enshrined in the budget to balance the state's ailing cashflow. To reverse them would require a vote of the legislature and the signature of the governor.)
*THE UC SYSTEM BRACES ITSELF
The Daily Californian's Jamie Applegate describes in no unclear terms what will happen to UC schools if Prop 30 doesn't pass. Here's a clip:
If voters reject Prop. 30 at the polls Tuesday, the state budget dictates that the University of California will be dealt a $250 million cut this fiscal year and another $125 million cut in 2013-14.

Though UC officials have said that if the cuts go into effect the university would be forced to implement a mid-year tuition hike of around 20 percent, other possible courses of action have been discussed to deal with longer term funding shortfalls.

At their Sept. 12 meeting, The UC Board of Regents discussed the possibility of bringing in additional funding by increasing the number of out of state students admitted to the system, charging differential tuition based on campus or course of study and restructuring the UC's revenue, investments and endowments.
*OC SCHOOLS STRUGGLE FOR FUNDS WHILE OC CONSTITUENTS ARE IN AN ANTI-TAX MOOD
KPCC's Tami Abdollah gives an expert run-down on the current OC conflict over Prop 30. Here's how it opens:
During the last few months, California school districts have scrambled to prepare budgets and contingency plans for Prop. 30 — in some cases, walking a tightrope between advocacy and education.

But school officials in Orange County have been trying to balance the case for their survival with the fact that their conservative constituents are often ideologically opposed to tax hikes that would stave off more cuts.

This difficult balance is evident at the Capistrano Unified School District, the county's second-largest school district. The district, known locally as "Capo Unified," is located in relatively affluent, majority white, mostly Republican south Orange County. Its student population is 61 percent white and less than 25 percent Hispanic.

The district's students have already lost a week of instruction this year and stand to lose two more weeks if Prop. 30 does not pass. But Capo Unified administrators don't talk about that.

At least, not comfortably or openly.
*COMMUNITY COLLEGES LOOK AT SCARY SLASHES TO COURSES AND STUDENTS
If the above stories weren't enough, Peninsula Press' Ileana Najarro gives us a clear picture of the extreme budget slashing CA community colleges would see sans Prop 30. Here's a clip:
California's 112 community colleges face a $338-million, mid-year, collective budget cut should the proposition fail. The new cuts would come on the heels of more than $800 million in cuts to the state's community colleges over the past four years.

Foothill College and De Anza College – which together serve the most secondary education students in Santa Clara County—face a $9.8-million mid-year cut if Prop 30 fails.

Foothill and De Anza colleges would need to eliminate 800 courses and accept 4,485 fewer students annually, effective Jan. 1, 2013, school officials said. The schools are in the midst of discussing which positions would be cut.

"The process for deciding which positions to eliminate is taking place at the colleges and the district office, and those recommendations will subsequently come to the Board of Trustees," Becky Bartindale, coordinator of public affairs and communications at the Foothill-De Anza district wrote in an email.
---
---
THOSE PESKY RED STATE/BLUE STATE DIVISIONS
This American Life's brilliant election show (once again doing what mainstream cable news would do if it had any interest in substance). Host Ira Glass delves into the effect political divisions have on families and friendships.
---
---
UNBEARABLE PANDA CUTENESS
AND for those who need a short break from all things election-related….. the San Diego Zoo's latest baby Panda, which KPCC rightly says, "Like 1,ooo cotton balls squished together with eyes and claws, the San Diego Zoo's new baby panda video is cuter than whatever you are doing at this moment."
Plus there's…yes….you guessed it…A PANDA CAM!