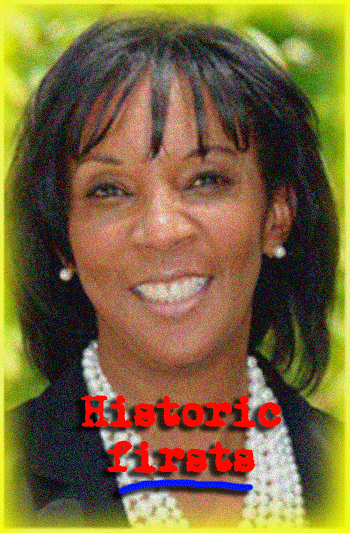 LOS ANGELES DISTRICT ATTORNEY-ELECT JACKIE LACEY'S HISTORIC WIN (AND WHAT'S NEXT)
Newly elected LA District Attorney Jackie Lacey appeared on KCRW's Which Way, LA? with Warren Olney Wednesday night to discuss the significance of her win, both as the first African American and first woman LA DA, and what made her the most qualified contender for the position.
KPCC's Frank Stoltze also has a great piece on Lacey's first press conference after the election. Here's a clip:
At her first news conference the day after her historic election as L.A.'s top prosecutor, District Attorney-elect Jackie Lacey was asked about becoming the county's first female and first African-American D.A. But before she could answer, her boss suggested a response.

"Tell 'em it was on the merits," said L.A. District Attorney Steve Cooley as he stood next to Lacey on the 18th floor of the downtown criminal courts building. It was kind of a whisper, but everyone in the D.A.'s conference room could hear him.

"I'm sorry Steve, I think I've got this one," Lacey retorted. Everyone laughed. Lacey and Cooley are friends, and his endorsement was key to her election. She serves as his second-in-command.

It's probably not the first time Lacey's wrangled a white man butting into her business. And Cooley did not shut up when Lacey indicated she was prepared to give her own answer about why voters elected her.

"Its not about race or gender," Cooley said. "This was the best candidate."

"I could not have said it better," Lacey said, chuckling at her soon-to-be ex-boss. "I have worked hard to get where I am today. I've tried a tremendous amount of cases. I never turned down an assignment."
---
CAPITAL PUNISHMENT: THE BATTLE'S NOT OVER YET, SAY PROP 34 SUPPORTERS
Prop 34 advocates say the fact that Prop. 34 did not lose in a landslide shows that death penalty repeal is steadily gaining ground. Alternately, the measure's defeat means that the current appeals and execution processes may now be accelerated.
The San Jose Mercury's Howard Mintz has the story. Here's a clip:
"A lot of things slowed down with this initiative on the horizon," said Douglas Berman, an Ohio State University law professor [and editor of WLA's favorite Sentencing Law & Policy]. "The pregnant question going forward in California is, OK, with (Proposition 34) cleared out, do we get a serious progression toward executions and, then, what's the public response to that going to be?"

Death penalty foes may not wait. In their view, the 53-47 percent vote against Proposition 34 showed that California is moving toward abolition, given the fact more than 70 percent of the voters put the law on the books in 1978. While not pinpointing when the issue could return to the ballot, they made it clear Wednesday there could be a repeat campaign — and this one raised more than $7 million compared to a few hundred thousand Proposition 34 opponents gathered.

"Fifty-three percent is not a mandate for carrying out executions," said Natasha Minsker, Proposition 34's campaign manager.

Law enforcement officials and victims' rights groups disagree. They say the vote shows the public wants executions and that they may push for a ballot measure to streamline the appeals process as soon as 2014.
---
OBAMA WIN MAY CHANGE SHAPE OF SCOTUS
With four justices past seventy years old and eligible for full-salary retirement, SCOTUS watchers contemplate the ways in which President Obama might change the face of the sharply divided US Supreme Court during his second term.
The Wall Street Journal's Jess Bravin has the story. Here's how it opens:
With the incoming leadership of the executive and legislative branches nearly a carbon copy of the current versions, Tuesday's election could have the biggest effect on the sole unelected branch of government: the federal judiciary.

President Barack Obama will need help from the Republican-controlled House to enact legislation, but he needs only the Senate, where Democrats strengthened their majority, to approve judicial nominations. Should vacancies arise on the narrowly divided Supreme Court, Mr. Obama, who appointed two justices during his first term, could leave a lasting imprint on constitutional law.

No current justice has indicated a desire to surrender his or her lifetime post. But with four justices older than 70 and eligible to retire at full salary, a single departure could buttress the court's liberal wing—or end the tenuous conservative majority that Republicans have labored to build since the Nixon administration.
(Forbes' Daniel Fisher also assesses the impact Obama's reelection could have on the U.S. Supreme Court.)
---
PASSAGE OF PROP 36 BRINGS HOPE TO CALIF. INMATES SERVING LIFE TERMS FOR MINOR THIRD STRIKES
Potentially thousands of 3-strikes cases could be up for review following the passage of Proposition 36. The LA Times' Jack Leonard and Maura Dolan have the story.
Here's how it opens:
A day after California voted to soften its three-strikes sentencing law, defense lawyers around the state Wednesday prepared to seek reduced punishments for thousands of offenders serving up to life in prison for relatively minor crimes.

The process of asking courts to revisit old sentences could take as long as two years and benefit roughly 3,000 prisoners. They represent about a third of incarcerated third-strikers.

Proposition 36 garnered about 69% of the vote. The initiative won in all 58 counties, amending one of the nation's toughest three-strikes laws, one that had overwhelming voter support when it was approved in 1994 amid heightened anxiety over violent crime.

"People want a fair and just criminal justice system," said Michael Romano, who helped write the proposition and runs a Stanford Law School project that represents inmates convicted of minor third strikes. "The passage of Proposition 36, especially by its margin, has given some hope … to people behind bars who have been forsaken by their families and society."

Courts can reject a request to reduce a sentence if they determine the prisoner is a danger to public safety. Inmates with prior convictions for rape, murder and child molestation cannot be released under the measure.

"This is not going to open the prison floodgates," said Garrick Byers, a senior attorney with the Fresno County public defender's office.
Read the rest here.