As we celebrate and give thanks to our nation's veterans today, we are reminded that a great many of the men and women who have served, find they need legal help in order to get some of their most critical needs filled when they get home.
With this reality in mind, in 1999, in LA County, the Legal Aid Foundation of Los Angeles (LAFLA) began offering free legal help for low-income veterans through what was then known as the Bill Smith Homeless Veterans' Project, which has now become the Veterans Justice Center. 
Now, year after year, LAFLA provides legal services to hundreds of veterans, helping them with such issues as acquiring safe and stable housing, if that is their need, getting access to healthcare, and/or making sure they receive other service-related benefits to which they are legally entitled, yet often have to fight to actually receive.
For example, although the U.S. Department of Veterans Administration provides disability benefits to veterans who have mental or physical conditions that developed or worsened as a consequence of their service, getting those needed benefits is, too often, anything but easy.
Such was the case with a man named Stanley Gardner. Born in Mound Bayou, Mississippi, Gardner grew up, in part, in southern California, and enlisted into the U.S. Marines in the 1990s, before his last year of high school, then subsequently switched to the U.S. Army.
Gardner ended his service term early, due to "psychiatric distress," in the form of a severe case of PTSD.
When he was once again a civilian, Gardner struggled to lead a stable and productive life, before realizing he needed help. Yet, when he applied for aid through the VA, the Veterans Administration repeatedly concluded there was not enough evidence to substantiate Gardner's claims that his problems were service related.
Years went by, and Gardner continued to struggle — and continued to reapply to the DA for aid without success.
Then someone told him about LAFLA and the Veterans Justice Center, where an attorney named Louis Truong said he thought the best way to help Gardner, was to up the ante by filing a request for a hearing with the Board of Veterans' Appeals.
The attorney and the veteran filed the request, but for more than a year, the appeals board appeared to simply ghost Gardner and his new request.
Finally, in February 2021, the veterans board replied to say that they had indeed scheduled the requested hearing. Prior to the hearing, Truong worked with his client to further develop his case, which included digging up additional concrete evidence of the debilitating (and service related) nature of Gardner's PTSD. Truong helped Gardner figure out how to best to present the evidence that the two now hoped would demonstrate the validity of the case.
"It was basically the first time I was able to talk directly to a judge about what I had experienced," Gardner said of the hearing.
A few months after appearing before the Board of Veteran's Appeals, Gardner received the longed for notification: his claim had been approved.
In practical terms this meant that Gardner would now receive VA disability benefits and several years' worth of back pay.
"Stanley has been fighting for this for years," said Louis Truong, explaining that, while Gardner had received treatment at the VA for his PTSD, "the Veterans Benefits Administration had refused to provide benefits for his condition."
With the help of the Legal Aid Foundation of Los Angeles, all that changed.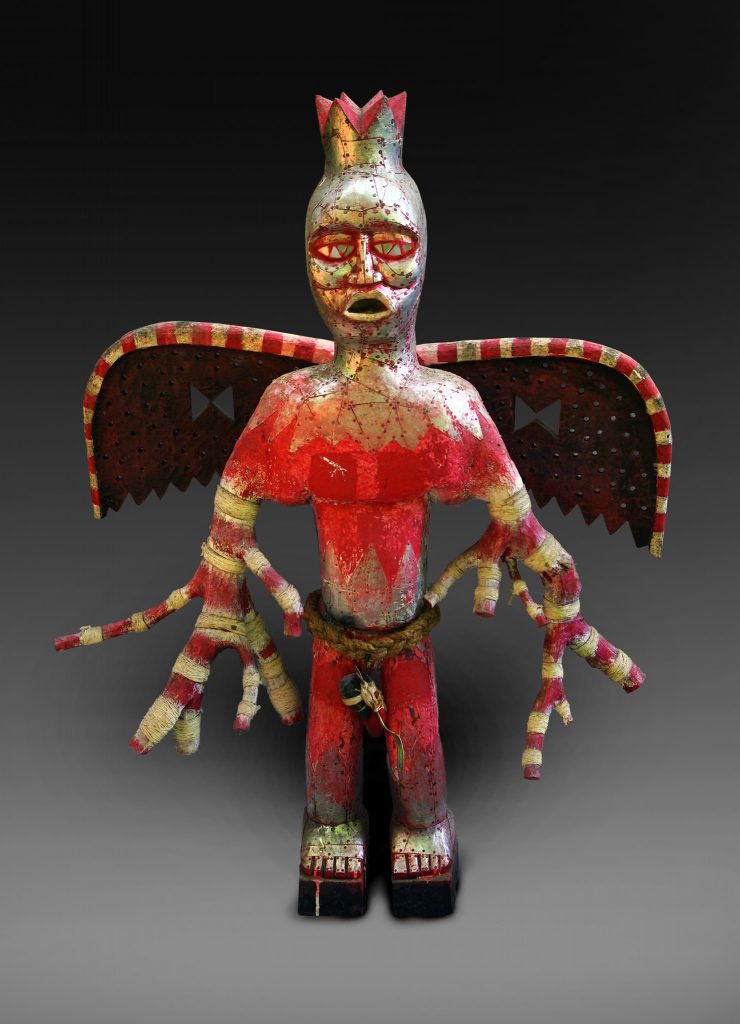 Now Gardner reportedly devotes his time continuing to heal, and to the woodcarving he art began when he was in Marine Corps. 
These days Garner goes by the name of Odinga Tyehimba and, as an artist, he has gained enough of a reputation that his dramatic carvings are exhibited all around the nation.
"It's been my therapy for all these years, the one thing that I used to process a lot of my internal issues," he said.
In recent years, Gardner/Tyehimba's work has been described by experts as "powerful" with an ability "to challenge, to shake, to transform" the experiences of others. Now living in Durham, North Carolina, Tyehimba believes his carving speaks about, among other things, black history and spirituality, and to his experiences as a veteran, father, spiritual seeker and black man living in the South. 
And so it was that, for at least one veteran, a little help on the path to justice led to healing and to the ongoing practice of art that moves and heals others.
If you are or know of a veteran in need of civil legal services, contact LAFLA at 800-399-4529 or apply for help online.
Happy Veterans Day.