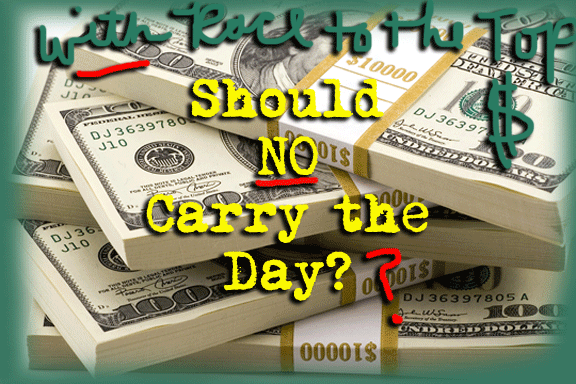 WANT FEDERAL $$$ FOR LA SCHOOLS? TOUGH, SAYS THE LA TEACHER'S UNION
The Los Angeles Unified School District hoped to get $40 million in federal Race to the Top grant money with a 150-page grant application that envisioned a rigorous program designed to help 9th graders who didn't have enough credits to move up to 10th grade, which has become a problem of depressing proportions at the district.
However the application required a sign-off from the LA's teachers union.
And the UTLA higher ups declined to put their collective signatures on the dotted line. (The actual rank and file teachers were not consulted about their opinion in the matter.)
The deadline for the application's submission was originally this week, but has now been extended because of the storm. (No one seems to know the date of the new deadline.)
UTLA Prez Warren Fletcher says his union's objection to the grant ap is that the federal RTTT grant will leave the district holding the bag fiscally for some of the future costs of the program.
LAUSD Superintendent John Deasy says this objection is nonsense—or words to that effect.
Most observers figure the real reason is something having to do with the union's aversion to teacher evaluations, although Fletcher says otherwise.
This is not the first time a teachers union has spiked California's chances for Race bucks.
According to reform advocates, the primary reason that California missed out on Race to the Top. grants for two years running in the past was due to a similar lack of enthusiasm (which some have called pig-headed obstructiveness) on the part of the statewide union, the California Teachers Association.
Tammy Abdollah for KPCC and Howard Blume for the LA Times and Hillel Aron at the LA School Report all have more.
Here's a clip from Abdollah's story:
Citing long-term budget concerns, the union for schoolteachers in the Los Angeles Unified School District has refused to sign off on the district's Race to the Top grant application, effectively taking the nation's second-largest school district out of the running for $40 million in federal funds.

L.A. Unified Superintendent John Deasy, sounding deflated, said Tuesday morning that the district had tried to work with United Teachers Los Angeles and couldn't understand why no deal was reached.

"They gave a number of different reasons and every single reason they gave we accommodated," Deasy said.

Initial concerns about ongoing discussions to meet a Dec. 4 court-imposed deadline for a new teacher evaluation system were addressed by the district. The Race to the Top competition requires districts to adopt an evaluation system that incorporates student test scores. Deasy said L.A. Unified provided the union with a legal assurance that plans for Race to the Top would be treated separately from negotiations.

But UTLA President Warren Fletcher said "a big part of the problem" was the cost.

L.A. Unified's 150-page application proposes a $43.3 million budget for reforms that would require $3.3 million in funds outside of the $40 million government award. Deasy said union officials were informed that the additional money would have been granted through philanthropy.

But Fletcher said it wasn't just about the money for the grant right now that was the problem.

"When you sign on to a Race to the Top grant, you make commitments that go on long beyond the four-year period of the grant itself," Fletcher said.
Vexing.
---
NEW JERSEY EXPERIMENT SHOWS ITS BETTER NOT TO LOCK UP JUVENILE DEFENDANTS
In a multi-part series, the Philadelphia Enquirer tells about a new report from the Annie E. Casey Foundation that shows, among other things, how New Jersey found that, except for the most serious cases, kids who ran afoul of the law were less likely to reoffend if they were given some kind of alternative sanction that did not involve lock-up.
Here's their report that ran Wednesday:
For years, New Jersey sent juveniles awaiting trial to county detention centers, locking them up even for minor crimes. But a new report on juvenile justice reform shows that there is another, more effective, alternative that saves taxpayer money and protects society.
The number of juveniles jailed across New Jersey has declined by more than half since the state started a program eight years ago to divert them to other options, according to the Kids Count Special Report.

Funded by a $200,000 grant from the Annie E. Casey Foundation, the program has been implemented in 16 counties. Similar programs have been adopted in other states. The results in New Jersey are staggering. Last year, there were 4,093 juveniles admitted to county detention centers, compared with 10,191 before the program began in 2004.

For young defendants not considered a threat to public safety, the program changed the misguided focus of solely locking them up to allowing alternatives, such as electronic monitoring and home visits. They also receive job training, counseling, and other services more in line with the intent of juvenile justice – giving youths a second chance.

Providing compelling evidence that some youths are good candidates for rehabilitation, the report found that only 3 percent of participants committed another crime while in the program.

According to the report released by Advocates for Children of New Jersey, youths detained are more likely to commit another crime, more likely to have trouble in school, and more likely to have difficulty finding a job.

In a continuation of a disturbing trend, minority youths still make up the majority of those being locked up – about 89 percent. But that mirrors national statistics that must be addressed.

With fewer juveniles held in lockup facilities, some counties, including Gloucester, were able to close their detention centers. Across the state, $16 million a year has been saved as a result.

New Jersey's laudable efforts should be replicated elsewhere to help prevent so many of today's youthful offenders from becoming tomorrow's adult criminals.
Here's one of the earlier parts to the story.
---
A 17-YEAR-OLD-GIRL WAS ABOUT TO HAVE A SECOND BOUT OF COMPLEX SURGERY—AND THEN THE STORM HIT
It is just one of the many stories that will continue to unfurl from this still ongoing catastrophe, but the snapshot of fear, coping and caring by the New Yorker's David Remnick is worth reading. Here's how it opens;
Virginia Rossano is seventeen years old and has been suffering from epileptic seizures since she was six. She and her family live north of Boston. After consulting with Orrin Devinsky, a renowned neurologist and epilepsy specialist at the N.Y.U. Langone Medical Center, the Rossanos decided to pursue a surgical course for their daughter. Virginia and her mother, Cathy, came to N.Y.U. last week, and on Thursday Virginia underwent a craniotomy. Surgeons removed skull tissue and connected electrodes to the brain to monitor her brain functions. The next step was to wean Virginia from her medications and induce a seizure. Doctors could then locate the source of the seizures and remove the offending tissue. "Dr. Devinsky said that surgery could be a home run for us," Cathy Rossano told me.

Then came Hurricane Sandy.

Virginia's first surgery was a success. While she and her mother waited, word came that the ominous storm approaching New York would be powerful beyond prediction. Doctors and nurses started discharging patients from the Langone Medical Center, in the East Thirties, near the East River. Hundreds of patients were sent home or to other facilities. But many of the sickest and most fragile patients—some of them infants—stayed in the hospital. What no one had counted on was that when the power failed all over downtown Manhattan on Monday night, so, too, did the hospital's backup generator. Now everyone would have to be evacuated, and in terrifying conditions.

"It was incredibly frightening for the patients," said Alyson Silverberg, a nurse practitioner at N.Y.U. "There were babies that had to be evacuated down nine flights. We had to do their breathing manually for some of them." One of the patients that was evacuated was Kenneth Langone, the chairman of the hospital, who is suffering from pneumonia. Langone gave N.Y.U. Langone Medical Center two hundred million dollars in 2008….
---