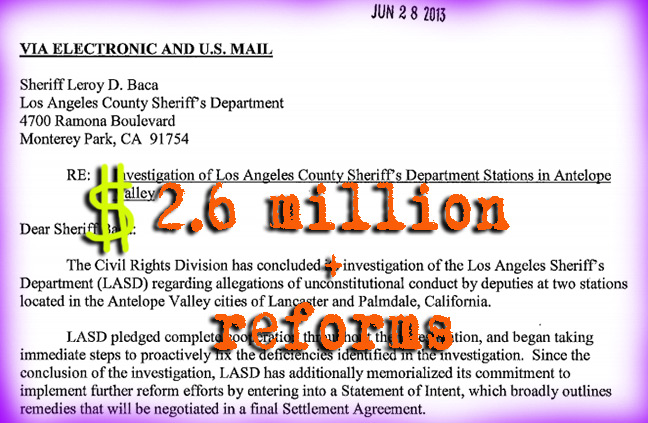 US DEPARTMENT OF JUSTICE COURT-ENFORCEABLE SETTLEMENT OVER RACIAL DISCRIMINATION MEANS LA HOUSING AUTHORITY WILL PAY $2 MILLION TO RESIDENTS
On Monday, the US Department of Justice announced a settlement with the Housing Authority of Los Angeles County (HACLA), as well as the cities of Lancaster and Palmdale, after a DOJ investigation into an alleged inter-agency pattern of housing discrimination.
In April, the DOJ agreed on a separate court-enforceable settlement with LA County to reform the Lancaster and Palmdale sheriff's stations. The settlements follow two years after a 46-page "findings" letter from the DOJ detailing systemic discrimination against black (and to a lesser extent, Latino) Antelope Valley residents. The DOJ investigation found that officers from the LA County Sheriff's Department's Antelope Valley stations were conducting racially biased searches and seizures, using excessive force against people already in handcuffs, and harassing and intimidating Section 8 housing voucher holders along with the county Housing Authority with the intent to oust residents and push them into moving out of the area.
The county agreed to 150 reform requirements that the department must meet to fulfill the terms of the settlement, as well as paying $700,000 to compensate the Section 8 housing voucher holders whose rights had been violated—a far cry from the $12.5 million the Justice Department originally demanded of the county in 2013.
Through Monday's settlement, HACLA will be forced to cough up $1,975,000 to compensate residents. And HACLA and the county each have to pay a $25,000 civil penalty to the United States. The Housing Authority is required to reform the way it enforces the housing voucher program, and will not be allowed to perform surprise compliance checks on residents. HACLA will also have to stop giving residents' information to the sheriff's department and Lancaster and Palmdale.
U.S. Attorney Eileen M. Decker of the Central District of California said the $2.6 million in damages and the court-enforceable reforms "will ensure [the racially discriminatory enforcement] does not recur."
---
CHILDREN'S ADVOCATE SAYS THERE ARE BETTER WAYS TO FIX OVERDRUGGING OF FOSTER KIDS THAN CA BILL TO CREATE MORE COURT OVERSIGHT
A package of four reform bills addressing over-drugging in California foster care system is working its way through state legislature.
The main bill, SB 253, would put judges in charge of deciding when and how much doctors can prescribe psychotropic medications to foster kids, and would require second medical opinions for prescriptions to kids under five.
Patrick Gardner, founder of Young Minds Advocacy Project, says this bill is not the answer to the problem. Gardner argues that SB 253 will only waste time and resources, instead of getting at the root of the problem—kids' quality of mental health care. Here's a clip:
The problem is in its premise: that the medications are the problem. In fact, quality of care is the real challenge. Foster children who are overmedicated are getting inadequate mental health care. In an improved system of care, foster children would be offered individualized, intensive therapies that allow them to live at home whenever possible; provided interventions before crises happen; treated with effective evidence-based practices; and receive coordinated care consistent with their expressed needs and treatment goals.

By focusing on improving quality of care instead of limiting access to medication, S.B. 253 could be much improved. Mandating second opinions doesn't directly improve health care practice. In most cases, nothing happens, except added time and costs, because the two doctors' opinions will be the same. In cases where there's a difference of opinion, the decision maker has more treatment options.

But, as the decision making judge has no mental health training, what you will get is a somewhat random decision on which of two proposed courses of action is "better." Taking a quality-based approach can improve both individual interventions and the quality of mental health care overall.

Providing expert consultation to the initial prescriber (rather than a second opinion from the judge) can directly improve the quality of the assessment, diagnosis and/or prescribing, especially in cases where the prescriber is a general practitioner and the consultant is a child or adolescent psychiatrist. Systemic consulting can also improve overall care as doctors become better trained through expert mentoring. It's been done in other states and it works.