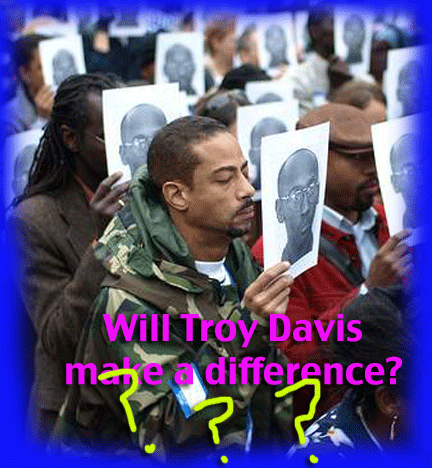 THOUGHTS IN THE AFTERMATH OF THE EXECUTION OF TROY DAVIS
The execution of Troy Davis was deeply disturbing for large numbers of Americans—and for many elsewhere in the word.
In the hours since Davis died at 11:08 Georgia time on Wednesday, September 22, there has been a flood of columns, news stories, tweets and random opining.
Some of the opinions have featured sloppy thinking. For instance, there were many comparisons to the Casey Anthony case that, when pulled apart, don't hold up logically.
Then the cyber vigilante group Anonymous reportedly plans a "Day of Vengeance" against the Georgia Board of Pardons and Parole. (NOTE TO ANONYMOUS: YOU'RE NOT HELPING!)
Yet there are other essays and articles that surfaced after Davis' death that are very much worth your time. —like this story by Mansfield Frazier writing for the Daily Beast.
Frazier tells how, on Wednesday morning, the day of the execution, six high ranking retired corrections officials, people who had personally "been there" when it comes to state executions, weighed in forcefully on the Troy Davis case. The six—including Dr. Allen Ault, the retired director of the Georgia Department of Corrections and former warden of the Georgia Diagnostic and Classification Prison, and California's own former CDCR director and former warden of San Quentin Jeanne Woodford—sent a joint letter to Georgia corrections officials and Gov. Nathan Deal asking them to urge the Georgia Board of Pardons and Paroles to reconsider the decision they made Tuesday, Sept. 20, to deny Davis clemency.
Here is some of what they wrote:
"Like few others in this country, we understand that you have a job to do in carrying out the lawful orders of the judiciary. We also understand, from our own personal experiences, the awful lifelong repercussions that come from participating in the execution of prisoners. While most of the prisoners whose executions we participated in accepted responsibility for the crimes for which they were punished, some of us have also executed prisoners who maintained their innocence until the end. It is those cases that are most haunting to an executioner.

"We write to you today with the overwhelming concern that an innocent person could be executed in Georgia tonight. We know the legal process has exhausted itself in the case of Troy Anthony Davis, and yet, doubt about his guilt remains. This very fact will have an irreversible and damaging impact on your staff. Living with the nightmares is something that we know from experience. No one has the right to ask a public servant to take on a lifelong sentence of nagging doubt, and for some of us, shame and guilt. Should our justice system be causing so much harm to so many people when there is an alternative?

"We urge you to ask the Georgia Board of Pardons and Paroles to reconsider their decision. Should that fail, we urge you to unburden yourselves and your staff from the pain of participating in such a questionable execution to the extent possible by allowing any personnel so inclined to opt-out of activities related to the execution of Troy Anthony Davis. Further, we urge you to provide appropriate counseling to personnel who do choose to perform their job functions related to the execution. If we may be of assistance to you moving forward, please do not hesitate to call upon any of us…."
Two more stories that might interest you: one is by death row attorney and law professor David Dow. The second is by Slate's legal reporter, Dahlia Lithwick. The two essays are interesting to read together in that Dow and Lithwick each take a different side of the question: Will Troy Davis be the tipping point in America's feeling toward capital punishment?
---
AS LA CRIME CONTINUES TO DROP, LASD SHOOTINGS OF UNARMED SUSPECTS GOES UP
The LA Times' Robert Faturechi reports on the study just released on Thursday by Merrick Bobb, special counsel to the LA County Board of Supervisors and the founding director of the Police Assessment Resource Center (PARC)
Here's a clip:
Those shootings jumped from nine in 2009 to 15 last year, according to the report. Last year also saw the highest proportion of people shot by deputies who turned out to be unarmed altogether.
The Sheriff's Department already requires its patrol deputies to do scenario-based shooting training every two years. According to the report, though, almost a third of the deputies who shot at people before seeing an actual gun failed to meet that training requirement.
According to the report, the number of officer-involved shootings generally correlates with the criminal homicide rate. But in the last two years, as the homicide rate in Los Angeles County has fallen, the number of Sheriff's Department shootings has risen.
---
NOTE: LIGHT BLOGGING today. Back to full force on Monday.