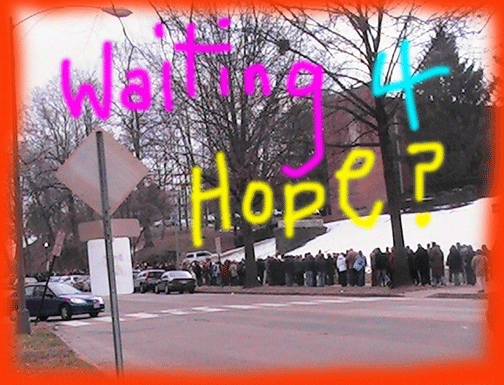 My good friend and longtime Middle East expert Mark Bruzonsky attended the event today at American University in Washington, D.C. where Ted Kennedy formally announced his support of Barack Obama. This is Mark's first very quick report on the mood outside the event:
***********************************************************************************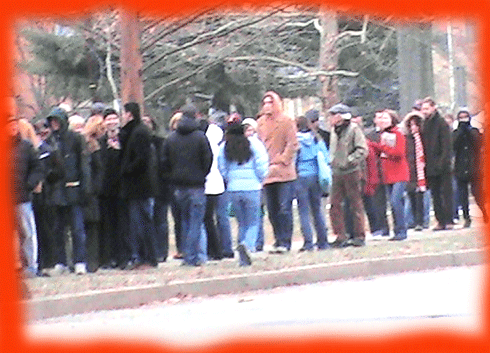 "I'm 26 and I've never seen anything like this."

That was the first comment from a smartly dressed fellow as he walked by this scene a few minutes ago.

More like a rock concert, or an iPhone first-day, the line snaked for blocks and blocks throughout the residential streets near American University in Washington where today Barack Obama got Ted Kennedy's endorsement for the Presidency of the United States of America.

Rumor began spreading that everything was totally full, so others who had parked blocks away strolled back to their cars disappointed.
******************
As to what went on inside the AU event, The Boston Globe has the full text of Kennedy's speech. But here's a big clip:
Now, with Barack Obama, there is a new national leader who has given America a different kind of campaign—a campaign not just about himself, but about all of us. A campaign about the country we will become, if we can rise above the old politics that parses us into separate groups and puts us at odds with one another.

I remember another such time, in the 1960s, when I came to the Senate at the age of 30. We had a new president who inspired the nation, especially the young, to seek a new frontier. Those inspired young people marched, sat in at lunch counters, protested the war in Vietnam and served honorably in that war even when they opposed it.

They realized that when they asked what they could do for their country, they could change the world.

It was the young who led the first Earth Day and issued a clarion call to protect the environment; the young who enlisted in the cause of civil rights and equality for women; the young who joined the Peace Corps and showed the world the hopeful face of America.

At the fifth anniversary celebration of the Peace Corps, I asked one of those young Americans why they had volunteered.

And I will never forget the answer: "It was the first time someone asked me to do something for my country."

This is another such time.


I sense the same kind of yearning today, the same kind of hunger to move on and move America forward. I see it not just in young people, but in all our people.
Yeah. Me too. I see it in my son who, at 22, is a fanatically enthusiastic voter but has never had the experience of voting for someone he didn't view as just more of the same. I see it in my 30-year-old nephew who, until this month, didn't bother to register because he didn't think his vote made any damned difference.
I saw it in my wonderfully intellectual writer colleagues at Bennington College who robed themselves in cynicism and wanted to ignore the election altogether as something that was mostly painful—until Obama's Iowa win, after which cynicism melted curiously away and a frail kind of hope became visible.

I see it in my friends in Boyle Heights many of whom have felt marginalized in fundamental ways nearly all their lives, but now glimpse a different kind of possibility.

I see it in myself.