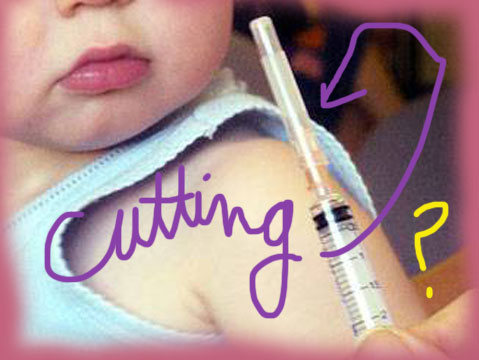 Mother Jones lays it all out. Here's the deal:
In the past year, California has experienced the worst whooping cough outbreak in more than 50 years, an epidemic that has killed 10 infants and resulted in 6,400 reported cases. But even as the state's public health officials have struggled to curb the disease, Republicans in Congress have proposed slashing millions in federal funding for immunization programs. Public health advocates warn that these cuts threaten efforts across the country to prevent and contain infectious and sometimes fatal diseases. And they add that lower vaccination rates could eventually result in more outbreaks that endanger public health at a major cost to taxpayers.

The House GOP's 2011 budget would chop $156 million from the Centers for Disease Control's funding for immunization and respiratory diseases. The GOP reductions are likely to hit the CDC's support for state and local immunization programs, the agency's ability to evaluate which vaccines are working, and its work to educate the public about recommended vaccines for children, teenagers, and other susceptible populations. The CDC especially focuses on serving lower-income families who receive vaccines at state and local health offices and community health clinics, rather than a private doctor's office.

"When there's less money, fewer kids get vaccinated," says Dr. Georges Benjamin, executive director of the American Public Health Association….
Is everyone losing their minds? We can't cut defense spending, and had to extend the Bush tax cuts, but we're going to slash federal funds for low-cost immunization for kids? Really? Does that seem like a smart thing to do?
---
AND IN OTHER NEWS….
FOUR LINES OF CODE THAT SENT THE NYT'S NEW PAYWALL TUMBLING
Joshua Benton at the Neiman Journalism Lab reports that:
The New York Times paywall is costing the newspaper $40-$50 million to design and construct, Bloomberg has reported.

And it can be defeated through four lines of Javascript.
Read the rest.
---
AND WHILE WE'RE TALKING ABOUT NEWS AND MEDEA:
FOX NEWS SLAMS REUTERS PREPOSTEROUSLY AND REUTERS' NIC ROBERTSON SLAMS BACK WAY HARDER
As Jay Rosen pointed out, What Nic Roberston is basically saying here is that the Fox crew in Tripoli is too scared to leave their hotel… Watch it.