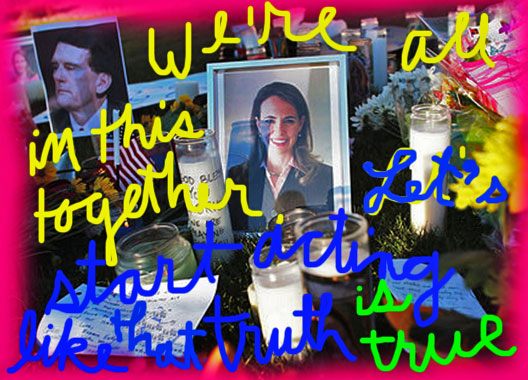 Surely we will know more in coming days about what combination of crazy thoughts and imaginings could have caused an obviously disturbed 22-year-old Jared Lee Laughner to reportedly bring a Glock 9mm pistol to a Tucson Safeway supermarket on Saturday, then to wait in line until he was close enough to Congresswoman Gabrielle Giffords to shoot her in the head—and begin blasting wildly at others, hitting 18 more people, six of whom he killed, including federal judge, John McCarthy Roll, and 9-year-old Christina Taylor Green.
To tie Laughner's acts directly to the flaming rhetoric of this or that politician or media host is almost certainly going to turn out to be an inaccurate and disingenuous exercise in partisan blame and opportunism. Whatever his final emotional trigger—according to his writing, videos and the observations of some of his Pima College instructors—Laughner seems to have been showing alarming if undifferentiated signs of mental illness for quite some time now.
Yet, all that said, one cannot escape the plain fact that words matter. Extremely polarizing and fear-inducing rhetoric repeated over and over again by those with big microphones can create a collective mental climate that has an effect—both obvious and subtle—on behavior. To say otherwise is is to deliberately blind oneself to human nature.
The violent and demonizing political imagery that has become coin of the realm in the past few years, may have exactly zero to do with Laughner's actions. But this moment is an opportunity to have the discussion about words and consequences that is long overdue.

With that in mind, below you'll find some of the thoughts of those opining on Sunday that you might want to read further. The first is from George Packer, comes the closest to representing my own thoughts on this cool Sunday afternoon in LA about the tragedy in Tucson:
GEORGE PACKER, THE NEW YORKER
Judging from his Internet postings, Jared Lee Loughner is a delusional young man whose inner political landscape is a swamp of dystopian novels, left- and right-wing tracts, conspiracy theories, and contempt for his fellow human beings. He refers to the gold and silver standard; that doesn't make Ron Paul responsible for the shootings. He is fond of "Animal Farm"; George Orwell didn't guide the hand that pulled the automatic pistol's trigger. Marx and Hitler produced a lot of corpses, but not the ones in Tucson.

But the plate-glass window of Congresswoman Gabrielle Giffords's office was shattered last March after the final health-care vote. Judge John Roll, who was among the dead, had received death threats and spent a month with a protection detail. Roll was apparently a bystander to Loughner's intended target—and maybe the gunman had no idea why he was aiming for Giffords either, maybe he didn't know how she voted on health care or what her position on Arizona's draconian immigration law was. It would be a kind of relief if Loughner operated not out of any coherent political context but just his own fevered brain.

But even so, the tragedy wouldn't change this basic fact: for the past two years, many conservative leaders, activists, and media figures have made a habit of trying to delegitimize their political opponents. Not just arguing against their opponents, but doing everything possible to turn them into enemies of the country and cast them out beyond the pale. Instead of "soft on defense," one routinely hears the words "treason" and "traitor." The President isn't a big-government liberal—he's a socialist who wants to impose tyranny. He's also, according to a minority of Republicans, including elected officials, an impostor…..
JAMES FALLOWS THE ATLANTIC
That's the further political ramification here. We don't know why the Tucson killer did what he did. If he is like Sirhan, we'll never "understand." But we know that it has been a time of extreme, implicitly violent political rhetoric and imagery, including SarahPac's famous bulls-eye map of 20 Congressional targets to be removed — including Rep. Giffords. It is legitimate to discuss whether there is a connection between that tone and actual outbursts of violence, whatever the motivations of this killer turn out to be. At a minimum, it will be harder for anyone to talk — on rallies, on cable TV, in ads — about "eliminating" opponents, or to bring rifles to political meetings, or to say "don't retreat, reload."
MATT BAI, THE NEW YORK TIMES:
The problem here doesn't lie with the activists like most of those who populate the Tea Parties, ordinary citizens who are doing what citizens are supposed to do — engaging in a conversation about the direction of the country. Rather, the problem would seem to rest with the political leaders who pander to the margins of the margins, employing whatever words seem likely to win them contributions or TV time, with little regard for the consequences.
EZRA KLIEN, THE WASHINGTON POST (posted the day before the shooting)

Given the extremism of the rhetoric at the top, is it any wonder that there is incredible fear trickling down to the grass roots? If those are the stakes, then of course criminalizing any implementation of the [health care reform act] makes sense. Frankly, if those are the stakes, then violent resistance might be required.

Those aren't the stakes, of course. They're just the words. And words slip sometimes. Things come out too angry, or too quickly, or too sharply. I've had my share of experience with this. But words matter. And the Republican Party hasn't been slipping up: It's been engaged in a concerted campaign to scare the population into opposing health-care reform. That may be good politics, but it can have bad consequences.
JOAN WALSH, SALON
…But while we wait to learn the motivation behind Saturday's shooting, which killed six, including federal Judge John Roll, nine-year old Christine Taylor Green and Gabe Zimmerman, Giffords' community outreach director, is it really controversial to suggest that the overheated anti-government rhetoric of the last two years, with its often violent imagery, ought to be toned down? Really?
I'll post more as I find it.
In the meantime….what these people said.