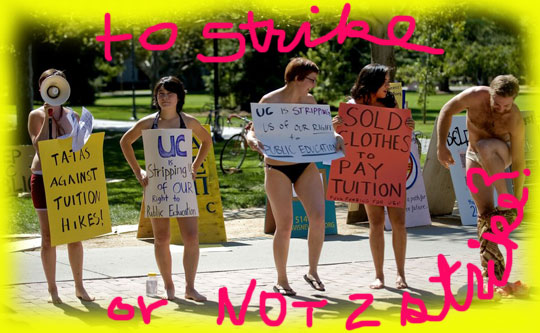 Today, Thursday, September 24, is the first day of classes for nearly all University of California students. (UC Berkeley for some reason started earlier.)
It is also the day of a system-wide strike in which a great many faculty, students and UC staff plan to walk out in order to protest a bunch of the policies and cuts of that have been instituted by the University of California President Mark Yudof and the UC Board of Regents in the wake of California's ghastly budget cuts, which snipped 4 percent out of the the University of California's budget. (To kick things off, UC Davis held a "naked" protest yesterday, pictured above.)
In order to balance the budget, 100,000 full-time UC employees got a 4-10 percent cut in pay, plus mandatory furloughs.
This has meant fewer classes offered to students and pared down educational services while at the same time students are being hit by a 9.3 percent increase in tuition—with more tuition hikes slated.
Plus there is the little matter of some upper echelon UC employees getting raises rather than cuts.
Bottom line: although everyone understands that cuts were necessary, students, staff and faculty are pretty unhappy at the way those cuts have been done.
The Bay Guardian and the SF Chron have additional details. (For the striker's POV there this much forwarded open letter from UC Berkeley professor, Catherine Cole.)
---
I teach at one of the UCs. To be specific, I drive to UC Irvine to teach a journalism workshop that meets once a week for three hours. My first class of the Fall quarter is not until Friday so thankfully I am not faced with the unholy choice of either not supporting my striking colleagues (not good) or yanking away from my 20 students of one tenth of their ever-more-costly instructional time. (Really not good. Ten weeks isn't long enough as it is.)
The novelist Susan Straight was not as fortunate with her schedule. Susan is a longtime faculty member at UC Riverside. Unlike me, her first class is September 24, the day of the strike. In Wednesday's LA Times she wrote about how she intends to resolve the dilemma. And because Susan is wonderful Susan, she also wrote about writing and teaching in general and about life.
You'll be missing out if you don't read the whole thing, but here's a clip from the middle of the essay:
….Over the years, some people have said to me that it's frivolous to teach writing — compared with a practical skill like auto mechanics or biology or engineering. But I say that each of my students who learned to tell a story, who taught someone else how to tell a story, who read a story and thought about it and kept it inside until its meaning was clear, learned something vital. The world runs on stories. It is how we humans survive.

What I tried to give them, and what I hope to give my students this fall, is the power that comes with the freedom to write about themselves, to tell their own stories and the stories of their communities, populated by people they know, real or imagined.

My students are like me: Often the first in their families to attend college. I say to them, you have stories no one else has, and you write about places no one else does, and you give voice to people no one else knows. Don't let anyone tell you that a Huntington Beach surfer's story doesn't deserve to be told (that student went on to teach English in Japan). Don't ever let anyone tell you a migrant farmworker picking grapes in Coachella doesn't deserve poetry (that student teaches at the New School in New York City).

What to do tomorrow, then?

I agree passionately with the demands behind the strike. My sister-in-law is a custodian at UC Riverside, a single mother of three. Close friends work as clerical staff or in food service. Anyone who makes less than $40,000 a year should be insulated from the cuts. The faculty, the students and all of us who "own" UC should know precisely how it is spending its money. The faculty should not be powerless, and the latest tuition increases — 50% by the time this academic year is over — only make it all worse.

And yet, what is the right thing to do?
Read her solution here.
---
Photo by Renée C. Byer for the Sacramento Bee rbyer@sacbee.com