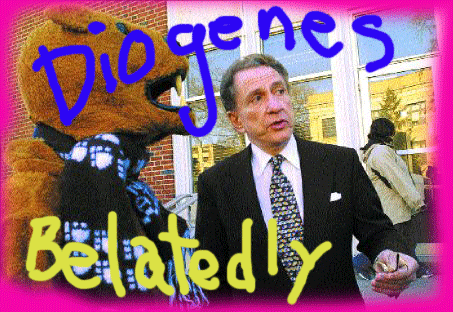 Someone might have done well to have reminded Arlen Specter a year or two ago that certain items have a no return policy—like, say, the Supreme Court. You buy 'em. You keep 'em.
Or more precisely, we keep 'em.

And largely because of you, Arlen dear, we're stuck with Justices John Roberts and Samuel Alito.
The issue that worries Specter is whether Roberts and Alito were truthful during their Senate confirmation hearings that Specter chaired. (He's the ranking Republican member on the Senate Judiciary committee.) To be specific, Specter wants to go back through SCOTUS decisions to review whether the men have followed through with their respective claimed commitments to stare decisis. This is the legal doctrine that translates as "to stand by things decided"—in other words, except in extreme cases, one should honor legal precedent to avoid having the law whipsawed every time the court composition changes its political slant.
(Plessy v. Ferguson would be a swell example of an extreme case.)

During the hearings, both men claimed to believe in the doctrine, and evidently Specter bought it. Now it seems that Arlen Specter is beginning to get the feeling that Roberts and Alito were….you know….lying.
According to Politico's Carrie Budoff, "the idea for a review came to Specter when he said he ran into Justice Stephen G. Breyer at the Aspen Ideas Festival in Colorado." Breyer told Specter that the justices were kicking stare decisis in the teeth—or words to that effect.

"I only noticed it in a couple of cases," Specter said of the court overturning or undermining precedents. But Breyer, in their Aspen conversation, said "there were eight."
PS: This week, Specter's mistrust politicians' veracity in general seems to be on a roll, as evidenced by the way, yesterday, he stared Alberto Gonzales in the face and told him, "I do not find your testimony credible, candidly."
Go, Arlen. Better late than never, I guess.