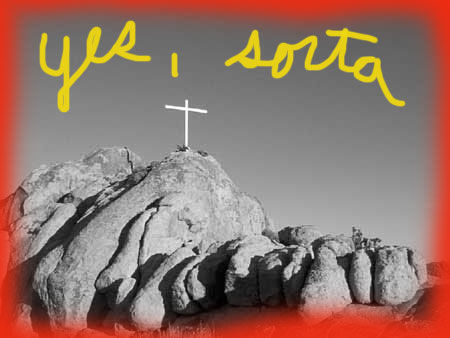 UPDATE:
The LA Times has an editorial about the Mojave cross decision. It begins like this:
The Supreme Court on Wednesday sent a simple — and disturbing — message in a complicated ruling about an 8-foot cross in California's Mojave National Preserve. The message is that the government can treat the preeminent Christian symbol as a national emblem and display it on public property.
Here's the rest.
---
On Wednesday, in a 5/4 decision, the Supreme Court ruled that the much squabbled over cross, erected years ago on federal parkland in the Mojave Desert, may stay. The cross was originally put up to honor war veterans but, for years, it has been a symbol of disagreement over the sometimes ill-defined boundary between church and state.
Here's more back story.
Although the ruling to some degree split along the usual political lines (5/4 with Kennedy the swing vote), it was nonetheless a decision that pretty much split the baby and gave no one faction exactly what it wanted.
For instance, this is what the LA Times reported:
In a shift away from strict church-state separation, the Supreme Court gave its approval Wednesday to displaying a Christian cross on government land to honor the war dead, saying the Constitution "does not require the eradication of all religious symbols in the public realm."

Speaking for a divided court, Justice Anthony M. Kennedy said the 1st Amendment calls for a middle-ground "policy of accommodation" toward religious displays on public land, not a total ban on symbols of faith.
And CNN added:
But even among the conservatives who voted to allow the cross to stand, there was strong disagreement about how similar disputes should be settled, an indication of the contentious nature of church-and-state cases.
And here is the opening of what the Wall Street Journal had to say.
It ended not with a bang, but a whimper.

What else to say about the Mojave Desert Cross opinion, handed down on Wednesday by the Supreme Court? The case could have been a contender (to quote Brando in 'Waterfront'): it had a vivid factual setup and a great legal question concerning the separation of church and state.

But the Court on Wednesday handed down a fractured opinion with a less-than-riveting impact: the court kicked the case back to the district court for reconsideration. Even Justice Anthony Kennedy, the author of the plurality opinion, conceded the case wasn't exactly a blockbuster. The case, according to Justice Kennedy, made no "sweeping pronouncements" on the line between church and state….
As is often the case, one of the best and fullest reports on what the court did on Wedenesday comes from NPR's Nina Totenberg.