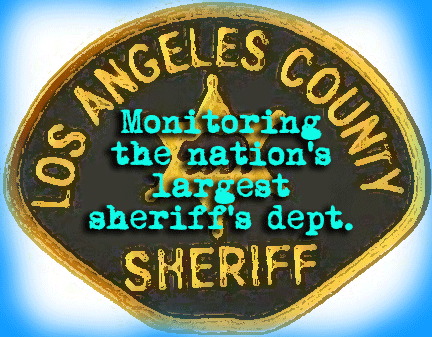 DOES LASD CIVILIAN WATCHDOG MAX HUNTSMAN HOLD ENOUGH SWAY TO CLEAN UP THE DEPARTMENT?
In January Max Huntsman took on the role of Inspector General over the scandal-plagued Los Angeles Sheriff's Department. But as civilian oversight of a department with an elected sheriff, Huntsman does not have the power to enforce reform. The only way he can turn up the heat on the department is by focusing a public spotlight on areas in need of reform, and making recommendations.
Monday NPR's Morning Edition takes a look at Huntsman's power as IG, and whether it will be enough to bring some lasting change to the department.
Here's a clip (but go take a listen):
Max Huntsman's job — in the newly created role of watchdog — is to help clean up the department. The only problem is, he doesn't have any real power.

In a sign perhaps of how unglamorous his new job will be, Huntsman's new digs are a cramped collection of dark offices and cubicles, two floors above the famous food stalls of LA's Grand Central Market.

On a recent visit, he had just one employee — a receptionist — but soon a team of 30 lawyers, auditors and retired law enforcement officers will be in place here. They'll help Huntsman set up a system to monitor the Sheriff's Department — namely its jails.

Just blocks from here, at the Men's Central Jail, deputies are accused of beating and choking inmates without provocation, harassing visitors, then conspiring to cover it all up. In the indictments last fall, federal prosecutors portrayed a "culture of corruption" inside the agency.

"The bottom line is, I think you need to have people looking over your shoulder and knowing what you're doing in order to make sure those cliques don't develop, that you don't get a group of people in the jail who think of themselves more as a gang than as deputy sheriffs," says Huntsman. "That's when you don't have that light shining that that happens."

That "light" is really the only tool Huntsman will have. Unlike a police chief in a big city who answers to the mayor or a civilian commission, LA's sheriff is elected and enjoys a lot of autonomy. Huntsman can only present his findings and recommend reforms.

So far he's gotten a warm welcome and promises of cooperation — but it's early.

"They really, really want to respond to all these problems," says Huntsman, "as they should. I mean, there are federal indictments on the table, there's talk of a federal consent decree, or a memorandum of understanding."
---
THE BLUE RIBBON COMMISSION ON FOSTER CARE'S FINAL RECOMMENDATIONS FOR REFORMING DCFS AND BETTER PROTECTING LA'S MOST VULNERABLE
The Chronicle of Social Change's John Kelly has a helpful analysis of the Blue Ribbon Commission on Child Protection's recommendation for a new and separate entity to oversee and unite the Department of Children and Family Services and other county departments involved in child welfare.
Kelly also breaks down the rest of the commission's final report and recommendations presented to the Board of Supervisors, including lower caseloads for social workers and boosted funding for relatives taking care of children in the DCFS system who would otherwise be in foster care.
---
DOJ OPENING UP CRITERIA FOR CLEMENCY APPLICATIONS TO PRE-FAIR SENTENCING ACT NON-VIOLENT DRUG OFFENDERS
The Fair Sentencing Act of 2010 (mostly) balanced out the 1-100 sentencing discrepancy between prison terms handed down for powder cocaine sale convictions and those for crack cocaine sales. Still, there are thousands of drug offenders serving longer sentences than they would be given under the FSA.
On Monday, US Attorney General Eric Holder announced that the Justice Dept. is launching an initiative to grant clemency to non-violent crack cocaine offenders sentenced under pre-FSA outdated and harsh mandatory minimums.
The DOJ will also be beefing up the number of attorneys in the pardons office to handle the influx of clemency applications.
The Washington Post's Sari Horwitz has the story. Here's a clip:
"The White House has indicated it wants to consider additional clemency applications, to restore a degree of justice, fairness and proportionality for deserving individuals who do not pose a threat to public safety," Attorney General Eric H. Holder Jr. said Monday. "The Justice Department is committed to recommending as many qualified applicants as possible for reduced sentences."

Holder has announced a series of initiatives to tackle disparities in criminal penalties, beginning in August, when he said that low-level nonviolent drug offenders with no connection to gangs or large-scale drug organizations would not be charged with offenses that call for severe mandatory sentences. He has traveled across the country to highlight community programs in which nonviolent offenders have received substance abuse treatment and other assistance instead of long prison sentences.

Underlying the initiatives is the belief by top Justice Department officials that the most severe penalties should be reserved for serious, high-level or violent drug traffickers. On April 10, after an endorsement from Holder, the U.S. Sentencing Commission — the independent agency that sets sentencing policies for federal judges — voted to revise its guidelines to reduce sentences for defendants in most of the nation's drug cases.

In the meantime, however, thousands of inmates are still serving federally mandated sentences that imposed strict penalties for the possession of crack cocaine. The Fair Sentencing Act, which President Obama signed in 2010, reduced the disparity between convictions for crack and powder cocaine, and Obama has called sentences passed under the older guidelines "unduly harsh." The law also eliminated the five-year mandatory minimum sentence for the simple possession of crack cocaine.

"There are still too many people in federal prison who were sentenced under the old regime — and who, as a result, will have to spend far more time in prison than they would if sentenced today for exactly the same crime," Holder said Monday. "This is simply not right."

[SNIP]

On Wednesday, Deputy Attorney General James M. Cole is expected to announce details about the new criteria the Justice Department will use in considering clemency applications and how the department plans to review those applications.

The department has asked the American Civil Liberties Union and other nonprofit groups to help identify candidates for clemency. Some of those groups are likely to help inmates submit the necessary paperwork.
---
PARTISAN SHIFTS IN SENTENCING REFORM STANCES
As sentencing reform is picking up steam at national and state levels, once stark party lines are blurring. The realities of mass incarceration, especially the fiscal consequences, have created a shift in positions. Conservatives, formerly of a tough-on-crime mindset, are now some of the strongest supporters of sentencing reform.
For instance, the Texas-based conservative program Right on Crime has—successfully—led Texas' prison reform agenda. Once faced with an overwhelming over-incarceration crisis, the state has built up rehabilitation programs and incarceration alternatives. Instead of building new prisons and leasing more space in private facilities (looking at you, California), Texas is closing prisons and saving millions.
The LA Times' Timothy Phelps has more on the partisan shift. Here's a clip:
…As the U.S. Senate prepares to take up the most far-reaching changes in years to federal sentencing and parole guidelines, some conservative Republicans are flipping sides, driven by concerns about the rising cost of caring for prisoners and calls for compassion from conservative religious groups seeking to rehabilitate convicts.

A surprising number of high-profile Republicans are working arm in arm with Democrats on legislation to shorten jail terms and hasten prisoner releases. At the same time, in their own reversal of sorts, key Democrats are arguing against the legislation in its current form.

"It's a little counterintuitive," said Sen. John Cornyn (R-Texas), a conservative former judge who is co-sponsoring a proposal to let tens of thousands of inmates out of federal prisons early if they complete rehabilitation programs.

[SNIP]

As soon as this month, the Senate is expected to take up legislation that combines two bills that easily passed the Judiciary Committee. One cuts in half mandatory minimum sentences for nonviolent drug offenders, and the other makes it easier to win early release. The combined measure would also make retroactive a 2010 law that reduced sentences for those previously convicted of possessing crack cocaine.

The legislation has attracted strong support from Republican conservatives such as Sens. Mike Lee of Utah, Rand Paul of Kentucky and Ted Cruz of Texas. "I think it's a mistake for people to assume that all conservatives or all Republicans have the same view in this regard, that we should kill them all and let God sort it out," said Paul Larkin, a criminal justice expert at the conservative Heritage Foundation in Washington.

Sentencing nonviolent offenders to decades in prison is "costly, not only in dollars but also the people involved," Larkin said. "Sending someone to prison for a long time is tantamount to throwing that person away."

But the new politics of crime remain complicated, with some old-line Republicans still opposed to the proposals. "Do we really want offenders like these out on the streets earlier than is the case now, to prey on our citizens?" Iowa Sen. Charles E. Grassley said in a recent Senate speech, referring to the bill to ease mandatory-minimum sentences. Grassley, however, supports the early-release proposal.

In a twist, some key Democrats are also opposed to the efforts to relax mandatory minimums and allow early releases, while others remain on the fence. Facing a Republican campaign to seize control of the Senate this fall, Democrats are concerned about appearing soft on crime, a vulnerability that has haunted them in the past.