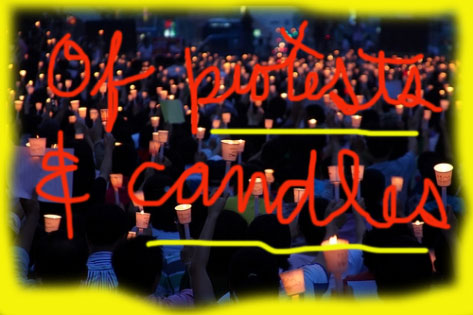 As most of you are aware, there was another demonstration about the situation in Gaza yesterday. This one was held in front of the Israeli Consulate and was organized by ANSWER, with a competing demonstration across the street.
Three more demonstrations are scheduled in LA in the next few days. Yet it is clear that not all of the demonstration organizers share the same point of view.
On Saturday there will be another ANSWER organized event. This one is being billed as a "National Day of Emergency Mass Action."
Sunday, LA Jews for Peace are organizing another event at noon at the Federal Building.
And then today at 5 p.m. the American Friends Service Committee has organized a silent candlelight vigil at the Israeli Consulate in which American Jews for Peace and Code Pink are also participating.
On first bounce one might wonder why these various factions don't combine their efforts rather than having multiple separate actions. Yet, when one skims the literature promoting each of the events—most particularly the ANSWER event and the AFSC event—-the differences become clear.
For instance, the literature for ANSWER's demonstration is impassioned, but also a little shrieky—using rhetoric that seems designed to rouse mostly the true believers but likely nobody else.
In contrast, at the American Friends Service Committee website the tone is somber and shrieking is firmly discouraged.
For instance, although participants are encouraged to bring their own homemade signs to the vigil, there is the cautionary note: "as long as the emphasis is on the humanitarian crisis in Gaza, calls for a cease-fire, and ending the siege."
Even Code Pink, which is not generally known for its low key attitude, was restrained and serious in its press release about the AFSC event.
In other words, ANSWER and company intends to righteously protest in outrage, while AFSC (along with American Jews for Peace and Code Pink) seeks to persuade.
While outrage can be tempting, in a situation this complex and emotion-fraught it is hardly effective. That's why, speaking personally, I much prefer the approach of the guys (and women) in group two.