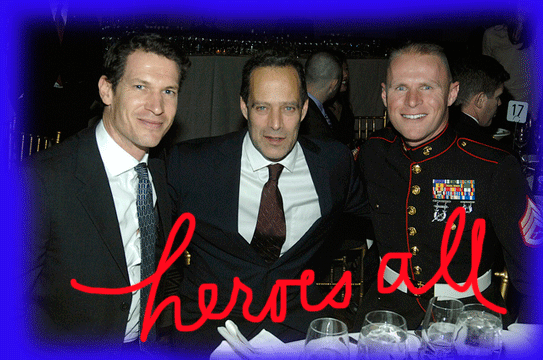 The Iraq and Afghanistan Veterans of America were already planning to honor photojournalist Tim Hetherington and author Sebastian Junger at the IAVA's yearly gala dinner—their Heroes Dinner—that will take place tonight at 7 pm at on the Twentieth Century Fox studio lot. The two are being honored for their work in general, but specifically for their film, Restrepo, which follows one platoon of soldiers stationed in the Korengal Valley, Kunar Province, Afghanistan, a location generally considered to the the most dangerous of the Afghan war.
Both veterans and those in active military service embraced Restrepo with an unusual amount of affection. It was a film that really got it, they said, that really showed with no b.s. what it was like to be in combat in the 21st century. The official Twitter feed of the U.S. Army Reserve tweeted in support of Restrepo after it was nominated for an Oscar, as did IAVA's founder and executive director, Paul Rieckhoff, who had come to regard Hetherington as a personal friend.
Then, on April 20—just a week ago—Rieckhoff got the call that Tim Hetherington had been killed in the Libyan town of Misrata.
Although most veterans have known more than their share of death, still the news about Hetherington was a blow.
Reickhoff posted the following statement online late that same day:
The IAVA family is deeply saddened by the loss today of our dear friend Tim Hetherington. Tim was not only a renowned filmmaker and photojournalist, but also a tremendous leader, advocate and partner to Iraq and Afghanistan veterans everywhere. He was one of the few journalists willing to risk his own life to tell our toughest stories. Tim understood the harshest realities facing troops on the front lines because he stood there right alongside us in the fight. Our community has lost a brilliant journalist and a true brother. From his Oscar-nominated film Restrepo to his involvement with military and veterans charities, Tim lived his life with unparalleled passion, energy and commitment. Our thoughts and prayers go out to Tim's family and friends. His legacy will live on through his historic contributions to our community and to the world at large. He never forgot us. And we'll never forget him.
Now, in addition to the recognition of the two filmmakers, the glittery gala will will include a memorial retrospective of Hetherington's work and life.
It should be a good night, but a bittersweet one.