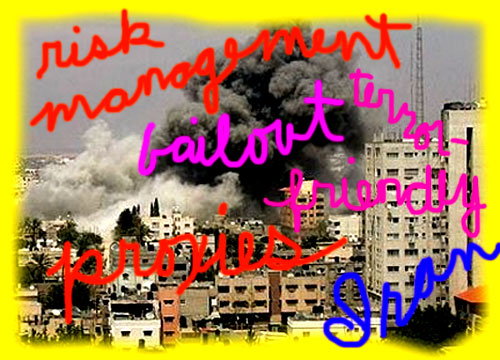 A variety of must reads below:

WHEN WALL STREET'S RISK MANAGEMENT STRATEGY BECAME THE BIGGEST RISK OF ALL
Yesterday's New York Times Magazine ran a very smart feature article by Joe Nocera about those gee-whiz risk management theorems we heard so much about during the early days of the financial meltdown. Here's how it opens:
THERE AREN'T MANY widely told anecdotes about the current financial crisis, at least not yet, but there's one that made the rounds in 2007, back when the big investment banks were first starting to write down billions of dollars in mortgage-backed derivatives and other so-called toxic securities. This was well before Bear Stearns collapsed, before Fannie Mae and Freddie Mac were taken over by the federal government, before Lehman fell and Merrill Lynch was sold and A.I.G. saved, before the $700 billion bailout bill was rushed into law. Before, that is, it became obvious that the risks taken by the largest banks and investment firms in the United States — and, indeed, in much of the Western world — were so excessive and foolhardy that they threatened to bring down the financial system itself. On the contrary: this was back when the major investment firms were still assuring investors that all was well, these little speed bumps notwithstanding — assurances based, in part, on their fantastically complex mathematical models for measuring the risk in their various portfolios.

There are many such models, but by far the most widely used is called VaR — Value at Risk. Built around statistical ideas and probability theories that have been around for centuries, VaR was developed and popularized in the early 1990s by a handful of scientists and mathematicians — "quants," they're called in the business — who went to work for JPMorgan
Read the rest: [The art's particularly good too.]
***************************************************************************************************************

FORGET THE CASUALTIES IN GAZA, IT'S REALLY ALL ABOUT IRAN
Sunday's LA Times and New York Times both featured opinion pieces that rationalize the staggeringly disproportionate bombings of Gaza by advancing the theory that Israel really isn't fighting the Palestinians or even Hamas, that the real target is Iran.
First here's a clip from the LA Times Op Ed by Yossi Klein Halevi and Michael B. Oren:
The images from the fighting in Gaza are harrowing but ultimately deceptive. They portray a mighty invading army, one equipped with F-16 jets that have bombed a civilian population defended by a few thousand fighters armed with primitive rockets. But widen the lens and the true nature of this conflict emerges. Hamas, like Hezbollah in Lebanon, is a proxy for the real enemy Israel is confronting: Iran. And Israel's current operation against Hamas represents a unique chance to deal a strategic blow to Iranian expansionism.
(I'm sure it's comforting for the loved ones of the dead to know that those killed are merely proxies, and "deceptive" ones, at that.)
Then over at the NY Times, Bill Kristol doesn't bother with civilian deaths—"deceptive" or otherwise—as he babbles with breathtaking lack of anything resembling human concern about how Israel will succeed in Gaza:
An Israeli success in Gaza would be a victory in the war on terror — and in the broader struggle for the future of the Middle East. Hamas is only one manifestation of the rise, over the past few decades, of a terror-friendly and almost death-cult-like form of Islamic extremism. The combination of such terror movements with a terror-sponsoring and nuclear-weapons-seeking Iranian state (aided by its sidekick Syria) has produced a new kind of threat to Israel.

But not just to Israel. To everyone in the Middle East — very much including Muslims — who aren't interested in living under the sway of extremist regimes. And to any nation, like the United States, that is a target of Islamic terror.
It always makes the collateral damage so much less…you know….damage-y if one can simply monsterize the enemy as other with terms like "almost death-cult-like" and "terror-friendly."
PS: By comparison, the editorial from today's Haaretz takes a much saner tone and urges the Israeli government to listen to French President Nicolas Sarkozy's recommendation of a "lull" in the fighting. The Haaretz editors point out that more days of attack "…and hundreds more dead on the Palestinian side will not enhance Israeli deterrence; it will only undermine the political and moral basis of the operation."
*****************************************************************************************************************
A FIRST CLASS MUSIC EDUCATION COSTS….NOTHING
This last is not really a must read. Instead, the LA Times article by Charles Koppelman falls more into the category of a much welcomed and pleasant read, coming as it does on the same day that we read that our lousy fiscal climate may drive the California Universities to accept fewer than usual deserving in-state students because the UCs need the bucks provided by the higher ticket out-of-state tuition that non-California students are required to pay.
Koppelman's article profiles the Colburn Conservatory of Music, a world class music performance school located across from Disney Hall in downtown Los Angeles, which takes students based simply on talent and merit and charges…..nada, nothing, zip, zero for tuition. The late businessman Richard Colburn made the tuition-free school possible, with ongoing support from the Colburn Foundation.
Anyway, it's a nice piece. Read the rest here.