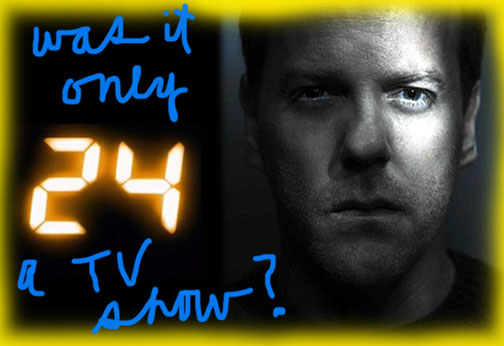 After 8 seasons, Monday night was the last night of the series, "24."
Most times, no matter its popularity, a TV series is just a TV series. But in the case of this TV show, when the series' main character, Jack Bauer, was referenced more than once on the floor of Congress, and Bauer's actions were trotted out as an exhibit A in the middle of a panel discussion about torture and terrorism law, by none other than Supreme Court Justice Antonin Scalia, and then in 2007, the Dean of West Point, Brigadier General Patrick Finnegan, along with some FBI interrogators and representatives of Human Rights First, traveled to LA to ask the show's creative team to tone down the torture scenes because of the impact they were having both on troops in the field and America's reputation abroad. ….I think we can safely say that we're in some other kind of realm that transcends the "it's only a TV show" trope.
The series showrunner and exec-producer, Howard Gordon, was on Fresh Air on Monday and had his own answer to the controversy:
"To say that we've been some … mouthpiece for some political point of view — it's not only specious — but I promise you, it is insane. Any fly on the wall and anyone who's been there would tell you the same. So unfortunately, look — the show is a show for one thing. It's a thriller in the vein of Bourne Identity or Rambo or Dirty Harry. And the hero finds the bad guy and shakes out of him where the bomb is. And again, the real-time scenario lent itself really well to that. Frankly, for the first five years, I don't think you could find a single article or op-ed piece that used the word 'torture' or described that this was somehow morally repugnant or corrosive or anything. I think what happened was, when Abu Ghraib happened and Guantanamo happened — the show certainly benefited from some kind of post-9/11 wish fulfillment; you had a guy who cut to the chase, who did whatever was necessary, and again there was some wish fulfillment involved — I do think the show experienced some of the blowback. We did understand that the climate had changed, because of Guantanamo and Abu Ghraib, it had changed. … [A]nd it put us into a conundrum. Honestly, at the end of Season 6 — where Jack had been acting a certain way — we had a choice: Either we renounce the series and admit we're a bunch of torture-mongering, morally corrosive torture pornographers or we find a way of confronting this issue and this changed world that we're in. And, in a strange way, it gave us fodder for the seventh season."
Yes, well…
As a die-hard "24" fan I have long been ambivalent about some of the show's script choices, but have hung in faithfully because the delights of the series seemed always to outweigh its unsettling downsides.
(That is with the exception of 2007's notorious Season 6, which went completely and creepily off the rails, both in terms of its over embrace of brutality, and frankly, in terms of the quality of the writing in general. But then, as Gordon said, it recovered in Season 7 where it articulated some of the moral issues around torture, plus had some very nifty plot twists, so all was forgiven.
Or sort of forgiven. It was somewhat vexing that both Fox and Friends and Glenn Beck—whose moral compasses, such as they ever were, seem to have long ago rusted—became so ooozily enamored of the show in Season 7, that they failed to perceive its ambiguities and still managed to use it as ajustification for torture not a caution against it.)
And, nearly any pronouncement from former "24" producer, and co-creator, Joel Surnow, was enough to make some of us wonder if we were, oh, I don't know, risking the health of our immortal souls by watching the show at all. But Surnow is thankfully long gone.
Now the last few hours of Season 8 have taken us into what is, in many ways, the darkest place of all.
In hour 20, we had to watch as Jack coldly executed the latest CTU insider traitor, Dana Walsh. ("24" has pioneered a whole new class of evil broads—13 female villains in total. They have ranged from the queen of them all, Nina Myers, through the very, very bad first lady, Sherry Palmer, to this season's Dana Walsh, who managed to project a sort of sloe-eyed, sexy spawn of Satan look that became its own kind of special effect.)
In hour 21, there was the matter of Jack disemboweling the Russian sniper/assassin who killed FBI agent and Bauer paramour, Renee Walker—AKA Jack's Last Chance for Happiness. Now most of us might honestly have wanted to disembowel the guy too, but most of us also, I trust, would have stopped short of it (even if there was the vague justification of getting the guy's recently swallowed cell phone sim card).
Hour 22 featured Jack clad in an Imperial storm troopers-like outfit as he prepared to kidnap the divinely Nixonian ex-President Charles Logan who, after seeing the scarily helmeted Bauer approach in the distance, screams in high hysteria to his secret service agent "That's Jack Bauer, he's coming to get me!" (A great "24" moment, as were nearly all of actor Gregory Itzin's scenes this season.)
Finally, there was the very last two hours—which I am reluctant to give away here if you haven't yet watched the finale. I can tell you that the poet Rumi was quoted well in a crucial moment of foreshadowing—and that, in the end, everything came down to Jack and Chloe O'Brien—Mary Lynn Rajskub's sour-faced and fabulously courageous character creation.—which was exactly as it should be.
I can also tell you that, for me anyway, the finale was a worthy two hours with which to cap the best of the eight seasons—complicated, multi-shaded, possessed of the courage of its convictions, and fraught with the knowledge that cleaving to what is just and right and true is the only worthwhile path, no matter the cost (and that there will be a cost), but when the cleaving grows too single-minded and brittle, it has its own soul corroding moral dangers.
So what, in the end did it all mean? Was it only a TV show as its producers say? Was it a pop cultural reflection of our desire for good and evil to be clearly demarcated with bright, shining lines in a manner that real life rarely provides? Or did it start to actually affect in troubling ways the culture it purported to merely reflect in fantastical broad strokes (with no meal times or bathroom breaks)?
Or was it all of the above—and, on occasions, like Monday night, satisfyingly more.
I'll go with the latter.
What do you think?