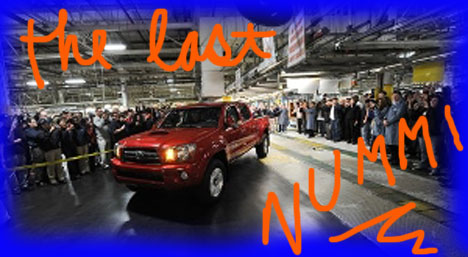 After 25 years and 7.7 million cars, Toyota Motors closed its manufacturing plant in Fremont on Thursday, tossing 4700 Californians out of work and into the worst job market since the great depression, imperiling, according to the NY Times approximately 20,000 collateral jobs.
The last car the factory made was a bright red Toyota Corolla. Dozens of workers walked the Corolla reverently through the assembly line.
The plant, originally opened in 1984 as a joint venture between Toyota and General Motors, was called the New United Motor Manufacturing Inc.—otherwise known as NUMMI.
NUMMI's purpose was to allow Toyota to establish its first manufacturing beachhead in the U.S. and, in turn, the Japanese car maker taught the American unionized employees the secret to its amazing efficiency and what was, for many years, stellar quality conrol—all of which GM badly needed. But, in an astonishing and irrational display of pigheadedness, it took a stubborn GM management nearly 20 years to learn the lesson, too late to stave off its bankruptcy. Last year GM announced it was pulling out.
Although, at the end the GM cars represented only around 10 percent of those coming off the NUMMI line, Toyota said it was shutting down the plant.
Many tried to talk the Japanese company out of it. Why close the plant now? they argued. It had a stellar production record and, after all, this was a time when Toyota most needed to mend its PR profile—particularly in California, which according to the NY Times Bob Herbert, accounts for 18 percent of all Toyotas sold, worldwide.
Toyota officials say NUMMI simply wasn't economically viable, but many workers suspect that [the closing] may have something to do with their union. This was Toyota's only unionized workforce.

"Toyota has never shut a plant down in 73 years, and we were the only plant to get a zero-defect audit, ever, in the Toyota history," said Ann Ezra, who worked for NUMMI for more than two decades. "Only another Lexus plant has ever done it, and they're going to shut us down? Why? So yeah, it's because of the union
Whatever the real reason for the shutdown, NUMMI's joint venture history is unique. This past week, This American Life, did a full show on NUMMI—the opportunity that the NUMMI plant once represented, and how General motors squandered it.
A car plant in Fremont California that might have saved the U.S. car industry. In 1984, General Motors and Toyota opened NUMMI as a joint venture. Toyota showed GM the secrets of its production system: how it made cars of much higher quality and much lower cost than GM achieved. Frank Langfitt explains why GM didn't learn the lessons — until it was too late.
It is a remarkable victory story of one factory utterly transforming it's way of working (and its attitude toward the work itself), and a tale of a stupendous opportunity lost by the whole of the American car industry, at a time when it needed it most.
And it is great hour of radio—brilliant, really—made all the more poignant now that the very last car has rolled off NUMMI's line.