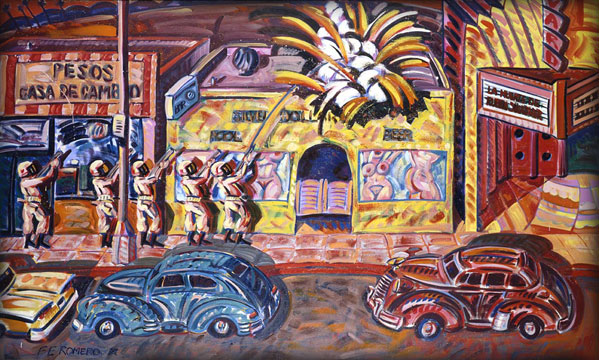 NOW THAT SHERIFF BACA IS GOING TO RELEASE THE SALAZAR FILES TO REPORTERS AND SCHOLARS, AND THE OFFICE OF INDEPENDENT REVIEW REPORT IS IN, LA TIMES' ROBERT LOPEZ EXPLAINS WHY THE BIG QUESTIONS ARE FAR FROM SETTLED
The LA Times Robert Lopez is writing a book about Ruben Salazar and he is one of those who has been pushing hard for the release of the Salazer files that have been held by the LA Sheriff's Department for four decades.
On Tuesday, Lopez and KPCC' Franks Stoltz were on the Larry Mantel Show talking about the case and what those boxes might and might not contain.

---
GROVER NORQUIST WANTS TO TALK PRISONS AND MONEY
I rarely find myself cheering for something Grover Norquist has written, but this Op Ed from the Orange County Register is dead on.
Conservatives pride themselves on relentlessly questioning government agencies: Is this program producing results? Do the results justify the cost? Can the project be done less expensively? These are typical conservative questions about education, pensions, health care and dozens of other government functions – except one: criminal justice.

The size and cost of America's prisons has quadrupled in the past three decades. In states like California, the annual cost of incarceration is around $50,000 per inmate. When looking for reasons why California is going bankrupt, just multiply that figure by the 170,000 inmates that live in the state. Moreover, 34,000 California prisoners are serving life sentences as a result of the "three strikes" law, for which the state prison guards' union lobbied intensely. Certainly, some violent criminals should be out after the first strike, but the law applies to many low-level, nonviolent offenders, too.

Criminal justice expenses continue to grow – even during a recession. For instance, Delaware's Department of Corrections is seeking a 5 percent budget increase, while other agencies are desperately looking for ways to cut costs.

The costs of incarceration is worthwhile to the extent that it is the most cost-effective means of protecting the public; however, research indicates we have reached the point of diminishing returns.

Further, more prison spending provides less safety per dollar than other approaches…
---
PROP 36 IS THE LAW….BUT HAS NO MORE FUNDING (AND THIS IS A PROBLEM)
The Oakland Tribune has the story:
County officials who administer the state's treatment-not-jail program for certain drug offenders are struggling with a lack of funding that's not likely to improve, but advocates say ignoring the mandate simply isn't an option.

Instead, officials are trying to figure out how they'll continue to provide the same treatment without the money to pay for it.

Enacted by 61 percent of voters in November 2000 as Proposition 36, the law says first- and second-time nonviolent, simple drug possession offenders must be given the opportunity to receive substance-abuse treatment instead of jail time.

That "must" isn't a suggestion; it would take another voter-approved ballot measure to undo it.

But Prop. 36 allocated $120 million per year for only five years, and as the state's budget crisis worsened, the Legislature and governor declined to ante up. They set aside $108 million in 2008-09 but just $18 million in 2009-10, and then zeroed it out for this current fiscal year. Gov. Jerry Brown's budget proposal includes no money for it in 2011-12.

A $45 million infusion of federal economic stimulus funds in 2009 is now all but gone, and the coffers are empty.

So, it's a mandate with no money, but a mandate nonetheless: Someone who's eligible and demands treatment can't just be sent to jail……
---
CALIFORNIA MOM ASKS FOR CLEAN WATER FOR PRISONS
It doesn't seem like a whole lot to ask. Yeah, it's prison. But nobody's asking for bottled water, just running water that won't actively poison you when you drink it.
Change.org has the details:
Blanca Gonzalez's son spent years at California's Kern Valley State Prison, where she says he was sickened by the foul water he was forced to drink – water that the state knows is contaminated with arsenic, a carcinogen that can cause serious skin damage and circulatory system problems. And she wanted to do something about it.

But where to start? For years California officials have been promising to fix the facility's water problem – promising to provide its more than 5,000 inhabitants water that meets the standards of the EPA and World Health Organization. And for years they have failed to deliver, extending and then extending again their self-imposed deadlines for when they "anticipate" resolving the issue; indeed, just this year the supposed deadline for installing water treatment equipment has been extended from October 2011 to February 2012 – and then again to August 2012.

After reading an article last fall about Kern Valley State Prison's dirty water, Gonzalez contacted your humble criminal justice editor here at Change.org, asking that I write more about the problem. And for weeks … well, I didn't – hey, I'm a busy guy, alright? But after a few more friendly reminders, her persistence paid off. And now her campaign is drawing the attention of California's top prison officials.

Since her petition was first featured here a few weeks ago, more than 2,100 people have joined Gonzalez and other mothers of sickened, incarcerated men in California in demanding that the state stop poisoning its prisoners with arsenic-laced water.
---
LIBYAN JOURNALIST VANISHES AFTER DEMONSTRATIONS BEGIN
The Committee to Protect Journalists has posted about the disappearance of Libyan journalist Atef al-Atrash,. His absence has many worried.

The Committee to Protect Journalists is alarmed by the ongoing deterioration of conditions for the media in the Middle East, including the disappearance of Atef al-Atrash, a critical Libyan journalist, since anti-Qaddafi demonstrations began February 17. The Internet has been intermittently down since Saturday in the country, according to international news reports, and foreign journalists continue to be denied entry. Al-Jazeera's signal in Libya remains jammed, according to the network. In Yemen, security forces confiscated the print run of an independent newspaper and at least one reporter was injured as demonstrations turned violent. And in Iraq, 50 gunmen reportedly shot up an independent television station while the staff of a local newspaper was forced to evacuate their offices.
"The Libyan authorities and their supporters should know that violence against journalists reporting on political turmoil will not be tolerated," said Robert Mahoney, CPJ's deputy director. "We are concerned for the safety of all journalists, in particular Atef al-Atrash."
Al-Atrash disappeared after reporting live on Al-Jazeera from demonstrations in Benghazi on Thursday, the network reported. He also reported that "several journalists" had been detained in the second largest city of Libya but did not provide names.
---
The painting above is Frank Romero's 1986 work, the Death of Rubén Salazar. It is free of my usual…um…artwork, because I cannot possibly scribble on Frank Romero.