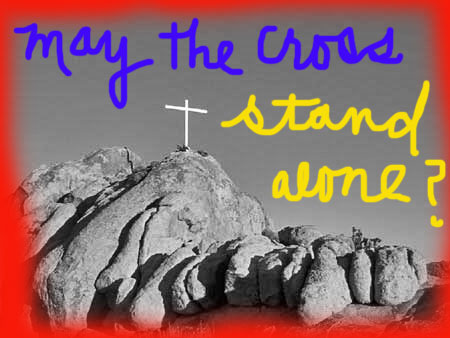 The Los Angeles Daily Journal-–the publication that lawyers and judges read—has an interesting article about attorney Peter Eliasberg and the unlikely case about a cross on an out of the way piece of public land, that will heard before the Supreme Court in October. (Chapeau tip to the always excellent How Appealing)
Here is the opening:
When Los Angeles-based American Civil Liberties Union lawyer Peter J. Eliasberg first heard about a controversial cross erected on federal land, it didn't seem like a case that would end up at the U.S. Supreme Court.

They never do.

But 10 years later, Eliasberg is frantically preparing for his first argument before the high court in an Establishment Clause case that is one of the highlights of the term that begins Oct. 5.

[SNIP]

The case that will bring him to the Supreme Court on Oct. 7 grew out of a long-running religious dispute over a cross in the Mojave Desert that was erected to commemorate war veterans but has instead sparked years of debate about the proper roles of church and state.

At issue is whether the 9th Circuit was correct to bar the federal government from transferring to the Veterans of Foreign Wars a parcel of land in the Mojave National Preserve on which the cross sits in exchange for another parcel of equal value.
Further details of the case-–Salazar v. Buono—may be found here.
This case has roughly a zillion implications, so will be worth watching.