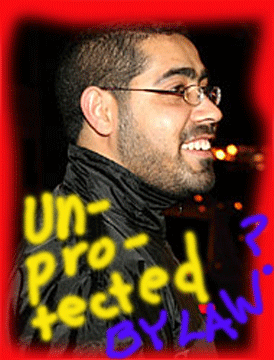 As we think about what kind of Attorney General Judge Mukasey might make, it is worth reading today's troubling New York Times story, the heart of which has to do with a student from San Diego, California, who was held in detention as a possible federal witness and it, appears, beaten, before being cleared of perjury five years later. (He has recently graduated with honors from San Diego State University). I'm running off for the day, so am not commenting further than simply to post the piece, but the situation speaks for itself:
The 21-year-old Jordanian immigrant was in shackles when he was brought into the courtroom of Judge Michael B. Mukasey in Federal District Court in Manhattan.

It was Oct. 2, 2001, and the prisoner, Osama Awadallah, then a college student in San Diego with no criminal record, was one of dozens of Arab men detained around the country in the days after the Sept. 11 attacks as potential witnesses in the terrorism investigation.

Before the hearing, Mr. Awadallah told his lawyer that he had been beaten in the federal detention center in Manhattan, producing bruises that were hidden beneath his orange prison jumpsuit. But when his lawyer told this to Judge Mukasey, the judge seemed little concerned.
Here's the rest of the story.