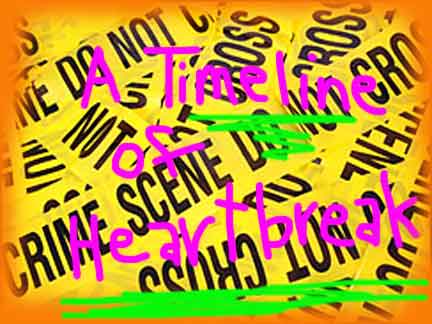 Here's what we know about the death of 17-year-old Lily Burk.
This terrible thing happened within a comparatively short period of time and started with no hint of anything dangerous when Lily went to run an errand for her mother in the middle of the afternoon.
She left her parents home in Los Feliz around 2:30 p.m. and drove to Southwestern School of Law that is located on Wilshire Blvd. just east of Vermont. She was going to pick up some papers that her mom, lawyer and law school prof Deborah Drooz, needed from the school. She arrived at the law school at about 2:45.
At around 3 p.m., on her way back to her car, Lily encountered a 50-year old man named Charlie Samuel near to the school. Somehow Samuel allegedly persuaded/ threatened/forced Lily back into her own car and the two drove into downtown Los Angeles where Lily tried more than once to get money out of various ATMs with her credit card, presumably to give to her abductor.
It does not appear, according to police, that Lily's kidnapper was armed with a gun or a knife.
But he had some kind of sharp weapon.
During that same time period, she called her parents twice to ask how to withdraw funds from an ATM with a credit card (as opposed to an ATM card)—one call to her mother, Deborah, one to her father, music journalist, Greg Burk.
Greg told Lily that she couldn't use a credit card to get money from an ATM. They arranged that Lily would drive home to get the money from from her dad. It appears Lily kept her head and was acting strategically. But she did not make it home.
Sometime in the next two hours Lily Burk struggled for her life and died in her car. The exact cause of death has not been released, but we do know there was blunt force trauma.
UPDATE: And we now know that her throat was slashed.

Sometime within that same two hours Samuel allegedly drove Lily's black Volvo to 458 S. Alameda Street, where he abandoned the car with this lovely, smart, funny, talented girl's body inside in the passenger seat.
He walked less than a mile away where he began to drink. A little after 5 p.m., two Metropolitan Division, mounted division officers, Miguel Dominguez and Gary Copeland, were patrolling downtown when they spotted Samuel drinking in public. They detained him and found a crack pipe in his possession. (Samuel is on parole, thus subject to search at any time.) At around 5:30 p.m., Samuel was arrested for Possession of Narcotics Paraphernalia, which would have been a violation of the terms of his parole at the very least. (Samuel was downtown to take part in a court-mandated drug treatment program that was a condition of an earlier conviction.) The mounted police had no way of knowing that their drunk would soon be accused of having caused the death of a promising young woman and ruining a string of lives in the process.
[Zach Behrens at LAist has constructed a Google map showing the locations. I don't know why this seems important, but it does. For those of us who sometimes must report grief-producing stories, drowning ourselves in details is a productive way of coping. ]
When Lily never came home, her parents, Greg Burk and Deborah Drooz, realized that something was terribly wrong. Too much time had passed after those odd calls. Lily was not the type of kid who would have just left her parents waiting and wondering. At around 7 p.m., they called the LAPD and reported their daughter to be missing. The case landed at the department's Northeast division missing persons and sex crimes desk.
In the meantime, Greg and Deborah did everything they could think to do to find their daughter. They called Lily's cell phone carrier to find out where exactly she had been when she made those two calls and found that they had been made east of the law school. They also called the bank to find out about the withdrawal attempts. Greg and Deborah gave all this information to the Northeast officers.
Deputy Chief Sergio Diaz, the commanding officer for Central Bureau of the LAPD, which includes Northeast, said that, from the beginning the case was treated seriously. Lily was not considered a runaway. Northeast detectives searched all night but found nothing, he said.
Everything changed at 6:15 on Saturday morning. That is when an employee of a downtown business saw a woman's body in a parked car and called 911. The dead woman turned out to be young, a teenager. It was Lily Burk.
Central division homicide was quickly called in. The lead detective on the case was Robert Nelson.
The Central detectives—a group that eventually would quickly grow to six detectives, and some additional uniformed officers—- caught one small break because Samuels was stupid. Or maybe he just panicked, or was too high to think rationally, or alternately was too desperate for a fix to cover his tracks very thoroughly. In any case, police found fresh fingerprints on the driver's side of the car that were not those of a young woman. On Sunday morning, he discovered that the prints matched a man who was already in custody.
However prints alone are not enough for a case. For the next nearly 48 hours detectives worked in the field getting what they hoped would be the rest of the evidence needed for a solid prosecution.
At 9 p.m. Sunday night, Samuel was officially arrested for Lily's murder. According to the sheriff's department inmate information site, he was booked at 11:27 that same night.
A law enforcement source told the LA Times that Samuel had a "previous history of assault with a deadly weapon, robbery and kidnapping."
Although the arrest was made Sunday night, Central homicide detectives had not yet gone home when officers came into the station for the 6:15 a.m. shift change on Monday morning, a Central officer told me.
The official announcement of the arrest was made around 7. After that Detective Nelson, Detective Thayer Lake, and their core crew went to breakfast.

The department held a press conference at 11 a.m on Monday.
"This case strikes close to home for all of us with children," said LAPD Deputy Chief Sergio Diaz when he was in front of the press microphones. "This is really a parent's worst nightmare."
Yes. It does. I have already talked to my own 23-year-old son twice today because I had the irrational need to hear his voice.
I know that Chief Diaz was speaking—not just in the professional abstract, but personally. He has two kids of his own on whom he completely dotes. Two smart and talented and beautiful daughters.
Assistant Chief Jim McDonnell, who was also at the press conference, has a daughter too. She is 17.
Just like Lily Burk.