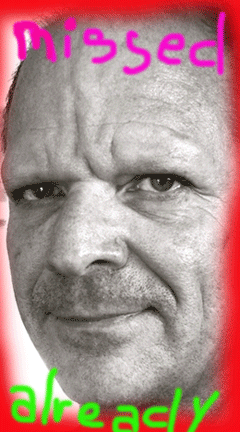 The idiocy going on at the management level in our local print media never fails to astonish. As the various management bean counters become ever more panicked about their respective bottom lines, they continue to demonstrate the old maxim my mother used to favor— penny wise and pound foolish—in new and interesting ways seemingly on a weekly basis.
The latest in LA media's STUPID MANAGEMENT TRICKS is the decision of LA Citybeat's shot callers to eliminate the job of its news editor and columnist (and my close pal) Alan Mittelstaedt.

I've known about this for days but have not been able to say anything. However I notice that Kevin Roderick at LA Observed announced it yesterday with a follow-up today, and Alan sent a wonderfully eloquent (and gracefully humorous) letter to friends, writers and colleagues today—so I guess the word's out.
The irony is that, aside from the fact that Alan is an excellent editor, he is Citybeat's best bet for saving money, not spending it—that is if Citybeat also wants to retain….what's the word I'm looking for?….oh, yeah, quality.

Along with being a news editor with great instincts and a stellar Rolodex (metaphorically speaking since Rolodex's are now museum artifacts), Alan wrote LA Sniper, a fabulously muckraking column that was one of the paper's main pleasures—AND he talked terrific pro-writers like Jeff Anderson into writing for the paper for near to nothing.

Even better, by mentoring smart interns and graduate students, Alan managed to get a string of kick-ass cover stories out of the aforementioned for pennies.
In other words, Alan is not the dude you want to eliminate if you're looking to produce hot shot news writing, while nipping and tucking the budget.
But whatever.
Rebecca Schoenkopf AKA the columnist Commie Girl, formerly of the OC Weekly, is the editor-in-chief—for the moment anyway. I understand Schoenkopf is a very nice person, and her Commie Girl column—while resolutely personal and sorta life-style-ish—was also edgy and amusing as she poked sticks at the rich and the mega-rich.
But, thus far, her leanings are in the the direction of, shall we say, soft news (read life style) and not hard news. So will Rebecca have a sudden issue-oriented conversion and be able to guide young reporters into covering the hard but great stories that the LA Times and the LA Weekly have missed?
One never knows, I guess. But frankly I'm not over confident.

If she cannot, this means that, as LA readers, we have lost the goals
that Alan shared with (also fired) founding editor Steve Appleford, namely (as Alan wrote in his letter):
CityBeat must pursue week after week the duplicitous, self-serving politicians who too often put their own interests ahead of the public's, and spotlight those community leaders who are fighting to improve Los Angeles. We made our top priorities transportation, air quality and increased coverage of city and county government. We were outstaffed by the dailies, but we still carved out a spot to be heard above the rest. On good weeks, we had an additional full page for news and produced cover packages on the subway, the mayor and city politics.
Not to put too fine a point on it, but THIS SUCKS.