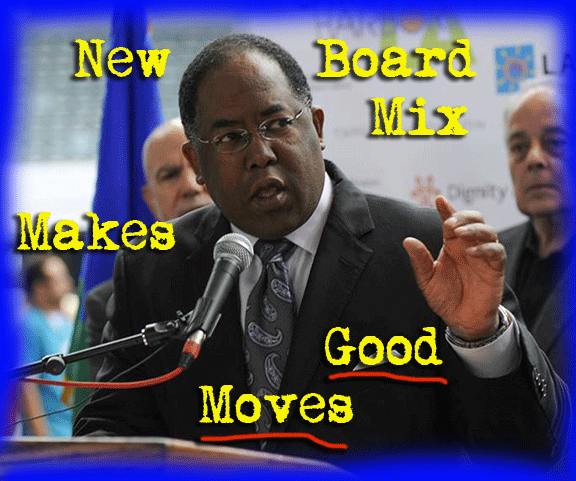 AFTER MUCH STALLING BY THE OLD BOARD, THE NEW LA BOARD OF SUPES QUICKLY MAKES 2 NEW FOSTER CARE FIXES
It looks like those two new members added to the LA County Board of Supervisors have changed the mix enough to make a big difference when it comes to social issues. (Let's hope it continues.)
To wit: On Tuesday, the board added two important–-and long-stalled—safeguards to the child welfare system.
The LA Times' Garrett Therolf has the story. Here's a clip:
After a year of stalled efforts to address breakdowns in Los Angeles County's child protection system, the Board of Supervisors on Tuesday adopted two key recommendations of a blue ribbon commission established in the aftermath of a beating death of an 8-year-old Palmdale boy.

In what is believed to be the nation's first program, the board voted unanimously to pair public health nurses with social workers to investigate every allegation of abuse involving children younger than 2, an age group identified as being the most at risk of fatalities from mistreatment.

The public health nurses will help medical and child welfare workers evaluate children and determine whether they are in danger of abuse or need immediate medical attention. Deploying the additional personnel is expected to cost $8 million annually.

Supervisors said they hope the nurses will help connect families with needed child healthcare and keep families together when appropriate. Initially, the nurses will be added to two child welfare offices serving areas in and around South Los Angeles.

Lack of adequate medical evaluations have been tied to some child fatalities in recent years. In 2008, 2-year-old Isabel Garcia starved to death — two months after social workers visited her and wrote that she appeared healthy, despite the toddler's sharp weight loss.

The board also moved forward with a recommendation to ensure that children are taken to specialized county medical clinics for health screenings when a nurse in the field deems it medically necessary. The clinics are equipped with sophisticated equipment and staff trained to detect and document child abuse. To accommodate the increased health screening, the county is spending $2 million on additional clinic staff.

"The time is now to move on the blue ribbon commission's recommendations. The protection and well-being of children in our care should always be top priority," said Supervisor Mark Ridley-Thomas, who co-sponsored the motion with Supervisor Sheila Kuehl.
Now if the board will keep up the good work and move on the rest of the Blue Ribbon Committee's recommendations, most notabley the hiring of a child welfare czar.
(cough) Judge Michael Nash (cough, cough)
---
SAN FRANCISCO TURNS TO COMMUNITY COURT TO BREAK THE INCARCERATION CYCLE
With a U.S. incarceration rate that increased more than seven-fold between 1980 to 2010, and national recidivism rates at 67.8 percent (and far higher for drug offenders), some of the nation's more forward-looking communities have been turning to alternative forms of justice such as community courts as a means to stop the revolving door that keeps many low-level offenders cycling in and out of jail or prison.
But do such strategies work?
Community courts have many of the same purposes as regular criminal courts: reducing crime, protecting public safety, and ensuring due process. But unlike most criminal courts, community courts are particularly focused on improving outcomes for offenders by addressing some of the key factors that often underlie certain kinds of criminal behavior—-things like mental and emotional health issues, unemployment, substance abuse, and an unstable home situation.
With such variables in mind, the community courts attempt to match services—not just sanctions—with offenders.
The first community court opened its doors in the U.S. in 1991, in New York City. Now there are more than three dozen such courts in the nation.
California's two main community courts are located in Orange County and in San Francisco.
San Francisco's community court, which is known as the Community Justice Center (or CJC), opened in 2009 in the Tenderloin.
Those involved with the court believed from the beginning that they were seeing a drop in recidivism among the CJC's clients. But were they really?
"Success can be hard to measure in community courts," writes the Christian Science Monitor's Henry Gass in a story that looks at the emerging national trend. "The most common criticism leveled against the community court system is that it is often unable to prevent relapses into criminal behavior…."
As a consequence, he writes, "criminal-justice researchers are trying to put together solid statistical evidence of how community courts are performing."
With this in mind, the RAND corporation decided to take a statistical look at whether or not the CJC really cut the likelihood of returning to the criminal justice system.
RAND researchers analyzed approximately 10,000 cases involving 6,000 defendants that the court heard from its opening in March 2009, through December 2013. When matching the CJC offenders with a control population, they did their best to compare apples with apples, by looking at those who committed similar offenses in the same general geographic area, but before CJC opened. They also looked at those who committed similar offenses after CJC came along in 2009 but who, for some reason, didn't get funnelled to community court.
The results were published in late 2014 and they were extremely encouraging. They showed that those tried in SF's Community Justice Center were 8.9 to 10.3 percent less likely to be rearrested within a year than those non-CJC offenders tried in convention court. Over time, the stats got even better. It turned out that the likelihood of not being rearrested rose the longer the CJC people were out. Whereas for those tried in regular courts, the opposite was true; they were more likely to reoffend as time passed.
So why did SF community court system work? One of the study's authors, Jesse Sussell, said that he and his co-author, Beau Kilmer, weren't 100 percent sure how to answer that question.
"Policymakers in the United States are aware of the enormous potential gains to be had from reducing recidivism," he wrote in a paper for Social Policy Research Associates. "They also know that the status quo approach for handling offenders has done a poor job of preventing re-offense…"
But as to why CJC having a better effect?
"We still don't know precisely why the San Francisco CJC appears to reduce recidivism," Sussell admitted. But he thought the fact that the program wasn't a one size fits all system might have something to do with it. "The CJC itself is really a collection of interventions," he said. "A suite of services,"—some to address addiction, others to address homelessness and other situational problems, and so on.
The court was also speedy, Sussell noted. "Community court participants are also ordered to report to the court much sooner following initial arrest (about one week) than are offenders processed by the traditional court (a month or more)."
Bottom line, the RAND researchers found the study's results to be very promising, but they'd like to now drill down a bit and look at "the relative contributions of these different program components."
Sounds fine to us.
---
NEW YORK CITY BANS SOLITARY FOR INMATES 21 OR UNDER AT RIKERS
In a move that startled many, members of New York City's board of corrections voted on Tuesday—7-0—to eliminate the use of solitary confinement for all inmates 21 and younger, a move that it is hoped would place the city's long-troubled Rikers Island complex at the forefront of national jail reform efforts.
Los Angeles County has yet to come close to such a sweeping decision—although in the last few years it has greatly reduced its dependence on solitary confinement in response to a raft of public criticism by juvenile justice advocates.
Michael Winerip and Michael Schwirtz have the story for the New York Times on Tuesday's policy change.
Here's a clip:
The policy change was a stark turnaround by the administration of Mayor Bill de Blasio [whose corrections guy supported the surprise move], which recently eliminated the use of solitary confinement for 16- and 17-year-olds but, backed by the powerful correction officers union, had resisted curtailing the practice more broadly.

Even the most innovative jails in the country punish disruptive inmates over age 18 with solitary confinement, said Christine Herrman, director of the Segregation Reduction Project at the Vera Institute of Justice. "I've never heard of anything like that happening anywhere else," she said, referring to the New York City plan. "It would definitely be an innovation."

The Correction Department has faced repeated criticism over the past year after revelations of horrific brutality and neglect of inmates at Rikers, the country's second-largest jail system. Preet Bharara, the United States attorney for the Southern District of New York, is suing the city over the treatment of adolescent inmates at the jail complex.

[SNIP]

A large body of scientific research indicates that solitary confinement is particularly damaging to adolescents and young adults because their brains are still developing. Prolonged isolation in solitary cells can worsen mental illness and in some cases cause it, studies have shown.

Inmates in solitary confinement at Rikers are locked in their cells for 23 hours a day, with one hour of recreation, which they spend by themselves in a small caged area outdoors. A report published in August by Mr. Bharara's office described the use of solitary cells for young people at Rikers as "excessive and inappropriate." Inmates can be locked away for weeks and months and, in some cases, even over a year.

As of Jan. 9, according to recently released city data, there were 497 inmates between ages 19 and 21 at Rikers, with 103 of them held in solitary confinement.

"The majority of inmates in the 18- to 21-year-old cohort are young men of color whom we presume innocent under our laws because they are awaiting trial," said Bryanne Hamill, one of the board's strongest voices for eliminating solitary for young inmates. "The evidence showed that solitary confinement will not improve their future behavior, but will reliably convert anger and frustration today into rage and violence tomorrow."
The president of NYC's 9,000-member correction officers' union, Norman Seabrook, said the plan would endanger correction officers by leading to more inmate attacks. Seabrook told the NYT that he planned sue the board for every guard assaulted.
---
SAM QUINONES ON "DEADLINE LA" TALKING ABOUT DRAMATIC REDUCTIONS IN GANG CRIME
For those of you who were interested in the discussion that resulted from Sam Quinones' story for Pacific Standard magazine, provocatively titled "The End of Gangs," you'll likely enjoy listening to the podcast of Monday's Deadline LA on KPFK, featuring Barbara Osborn and Howard Blume interviewing Quinones about whether or not the gangs are disappearing from LA's streets and, if so, why.
As you may remember, Quinones' story is thought-provoking and deeply reported, but also controversial.
For instance, we still find his analysis far too law-enforcement centric. And it has made gang experts nuts that, in discussing the gangs' lessened grip on day to day life in our urban neighborhoods, his story completely left out the essential role played by non-profit programs that offer jobs and other crucial support to former gang members, plus the powerful effect of grassroots community involvement, along with a host of other factors that have contributed to the drop in gang crime.
Yet, all that said, Osborn and Blume ask some great questions. And Quinones' highly informed answers having to do with the measurable successes gained by policing "smarter, not harder," along with the LAPD's brass enlightened move some years ago to treat the most violence-afflicted communities they police as partners, not adversaries—and other intriguing topics regarding the world of cops and gangs—are very much worth your time.
So, listen. Okay? Okay.
---
THE PAIN OF LOSING AL MARTINEZ
Al Martinez, LA's glorious storyteller, our city's bard, as the Huntington Library called him, our deeply humanistic, gloriously poetic and wildly funny chronicler of the zillion extraordinary and ordinary facets of life in Southern California, has left us.
Martinez died Monday at West Hills Hospital of congestive heart failure, said his wife, Joanne, when she called LA Observed's Kevin Roderick, for whom Al wrote his last columns. He was 85 and had been suffering from chronic obstructive pulmonary disease.
Al wrote for the LA Times for 38 years—most notably as a columnist—before stupid management decisions forced him out during the worst of the Times' staff purges, first once, then again. (After panicking at the furious response from readers, the Times rehired him after the first push out in 2007.)
Yet, the ongoing demand for his unique voice was such that Martinez easily placed his columns elsewhere after he parted with the Times, LA Observed being his last home.
He also wrote a string of non-fiction books, a novel and, since this is LA, after all, he wrote occasionally for television, when it suited him.
The LAT's Valerie Nelson has a lovely obit on Martinez, and Roderick writes about his friend and columnist here, plus Al's longtime friend and colleague, Bill Boyarsky writes his own tribute, "The Storyteller Exits."
PS: Al settled himself and his family in Topanga Canyon when he moved to Southern California in the early 1970s. Thus, we who also make Topanga our home always felt that LA's fabulously gifted teller-of-stories belonged to us personally. We understood we couldn't keep him forever. Yet, losing him still seems unimaginable.