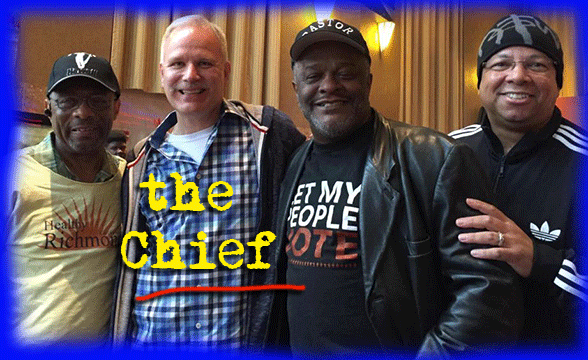 RICHMOND, CA, POLICE CHIEF STRESSES COMMUNITY POLICING OVER SHOW OF FORCE
When Richmond CA hired Chris Magnus, an openly gay white guy from Fargo, North Dakota, to take over its scandal ridden police department, local cops and members of Richmond's primarily minority communities were….how to put it?….skeptical.
But Magnus didn't blink at the initially less-than-enthusiastic reception. He immediately disbanded the department's "street teams," units of heavily armed officers deployed in high-crime areas. He didn't like the impression that the the street teams gave of being an occupying army that arrested people for small amounts of drugs and other minor crimes. Instead, he asked his officers to attend community meetings and employed a system he called a "Neighborhood Beat Policing" model. "Our goal is to build continuity of presence and the strongest possible relationships between officers and the public in every area of the city, he wrote on the Richmond PD website.
Now crime is down and morale in the Richmond PD is up.
Aron Pero of the Associated Press has more. Here are some clips:
Magnus also eliminated the seniority system that allowed officers to choose the areas they would patrol. He required officers to take on more responsibilities on their beats beyond responding to calls. Beat officers are required to attend neighborhood meetings and to maintain a high profile at churches, schools and businesses. They're encouraged to hand out their mobile phone numbers and email addresses to residents.

"A lot of people were skeptical at first … I know I was skeptical. I mean, not only was he coming from outside the department, he was coming from Fargo, of all places," said Officer Virgil Thomas, a 19-year veteran of the force and the newly installed president of the police union. "But he came in with a plan and stuck to it, and the image of the city and of the police has changed dramatically. Morale has improved greatly."
Controversy erupted in December, however, when at a local protest over events at Ferguson and in New York City, Magnus held up a sign reading "#blacklivesmatter." But even that criticism dissolved quickly.
The [police] union initially objected to the police chief's participation in the Dec. 9 demonstration. The association's lawyer said Magnus' appearance in uniform "dishonored the department" and violated a law barring political activity on duty. But Thomas said the union backed away from those claims after sitting down and talking with Magnus about the demonstration.

"We talked about it, and I understand what he was trying to do," Thomas said. "He's trying to bridge the gap, like we all are."
It helped, of course, that policing in Richmond is effective under Magnus' stewardship.
The city in 2014 recorded 11 murders, the lowest rate per capita in recent decades. It was the fifth straight year the murder rate declined in Richmond. Violent crimes and property crimes alike have plummeted, as have officer-involved shootings. The U.S. Department of Justice recently added Magnus to a panel of experts investigating police relations with the community in Ferguson, Missouri.
---
ALBUQUERQUE POLICE: A RASH OF KILLINGS
While the relationship between members of the Richmond PD and those it serves has blossomed, in Albuquerque matters appear to be going in a less positive direction.
In 2007, crime was higher than the national average in Albuquerque, NM, and the city's police department was having trouble recruiting police officers, despite the perks the APD offered to those who signed up. Pressured, the department higher-ups started cutting corners. They stopped consistently using psych exams for applicants, and began taking men and women who had washed out of other departments, and others whom the department's training officers warned had….issues.
By 2011, the rate of fatal shootings by police in this city of five hundred and fifty thousand, was eight times that of New York City. More half of those killed were mentally ill. No officer had ever been charged, and few were disciplined.
Writing for the New Yorker, Rachel Aviv tells the story of one of those fatal shootings. It's a tale that involves threats, intimidation, the DOJ and one more shooting last March. But this time the shooting of a homeless mentally ill man named James Boyd was caught on video and, in January, resulted in charges.
Here's a clip from Aviv's story:
Stephen Torres was meeting with a client at his law office, in downtown Albuquerque, on April 12, 2011, when he received a call from a neighbor, who told him that police officers were aiming rifles at his house. He left work and drove to his home, in a middle-class suburb with a view of the mountains. There were more than forty police vehicles on his street. Officers wearing camouflage fatigues and bulletproof vests had circled his home, a sand-colored two-story house with a pitched tile roof. Two officers were driving a remote-controlled robot, used for discharging bombs, back and forth on the corner.

Stephen's wife, Renetta, the director of human resources for the county, arrived a few minutes later, just after three o'clock. A colleague had heard her address repeated on the police radio, so her assistant pulled her out of a meeting. When Renetta saw that the street was cordoned off with police tape, she tried to walk to her house, but an officer told her that she couldn't enter the "kill zone." "What do you mean 'kill zone'?" Renetta asked. "Ma'am, you can't go any further," the officer said.

Renetta knew that the only person at home was the youngest of her three boys, Christopher, who was twenty-seven and had schizophrenia. Two hours earlier, he had stopped by her office for lunch, as he did a few times a week. Then he visited an elderly couple who lived two houses away. He said that he needed to "check up on them"; he often cleaned their pool or drove them to the grocery store. Because he found it overwhelming to spend too much time among people, he tried to do small, social errands, so as not to isolate himself.

When Stephen asked the police what had happened to Christopher, he was told only that there was an "ongoing criminal investigation." Stephen offered to let the officers inside the house, but they refused. Stephen called a close friend on the force, who said that a person had been taken off in an ambulance earlier in the afternoon, at around two o'clock. Stephen called the three main hospitals in Albuquerque, but Christopher hadn't been admitted to any of them.

Stephen called a neighbor, Val Aubol, who lived across the street, to find out what she could see. Aubol peeked through the shutters of her front window and saw ten officers lined up against a neighbor's garage, next to the Torreses' house. The SWAT team's Ballistic Engineered Armored Response Counter Attack Truck was parked in front of them. When Aubol went into her back yard, she saw a rope dangling from her roof. An officer had climbed up and was pointing his gun at the Torreses' house. Another officer was crouching behind the gate at the side of her house. She told the officers that she'd spoken with Christopher's father, but an officer waved her back inside. "Stay in the house!" he shouted.

At around five-thirty, a female officer stepped out of a mobile crime unit, an R.V. where detectives processed evidence, and waved the family over. "She was so detached," Renetta said. "All she said was 'I regret to inform you that your son is deceased.' " She did not tell them how their son had died or where they could find his body. The Torreses asked if they could go home, but the officer said that it was still an active crime scene.
---
RECKLESSNESS & DEADLY FORCE
Nick Pinto at RollingStone has another feature on the Albuquerque police, which has the details on the James Boyd shooting.
Here are some clips from Pinto's story:
…On the afternoon of March 16th, 2014, Albuquerque police received a 911 call from this part of town, a man complaining that someone was illegally camping in the foothills. Two Albuquerque officers responded and, sure enough, encountered James Matthew Boyd, a 38-year-old homeless man who suffered from schizophrenia. Boyd was clearly not well, ranting, telling police that he was an agent for the Defense Department.

Unauthorized camping is a petty misdemeanor. The officers could have told Boyd to move along and left it at that. But as Officer John McDaniel approached, Boyd wouldn't show his hands and McDaniel drew his gun. When the officers moved to pat him down, Boyd pulled out two small knives; the cops stepped back and called for backup, setting off a spectacular circus, with as many as 40 police officers reportedly joining the standoff. Among them were uniformed cops and members of the SWAT team, the tactical K-9 unit and the Repeat Offender Project squad.

Not present, Boyd's family would later allege in a complaint, was anyone clearly in charge. Keeping Boyd surrounded, often with guns drawn, officers tried to get him to surrender his knives. Finally, after three hours, Boyd prepared to come down from the hills. "Don't worry about safety," he told the police. "I'm not a fucking murderer." But as Boyd packed his stuff, both hands full of possessions, Detective Keith Sandy — who hours before, on arriving at the scene, boasted on tape that he was going to shoot "this fucking lunatic" with a Taser shotgun — tossed a flash-bang grenade, a nonlethal weapon designed to disorient and distract. Another officer fired a Taser at Boyd, and a third released a police dog on him. Boyd drew his knives again. Advancing on him, officers ordered Boyd to get down on the ground. Boyd began to turn away, and Detective Sandy of the ROP squad and Officer Dominique Perez of the SWAT team each fired three live rounds at him, hitting him once in the back and twice in his arms. Boyd collapsed, face down, crying out that he was unable to move. "Please don't hurt me," he said. Another officer fired three beanbag rounds from a shotgun at Boyd's prone body. The K-9 officer again loosed his German shepherd on Boyd, and the dog tore into his legs. Finally, officers approached and handcuffed him.

After roughly 20 minutes, Boyd was transported in an ambulance to the University of New Mexico hospital. In the final hours of his life, Boyd had his right arm amputated and his spleen, a section of his lung and a length of his intestines removed. At 2:55 a.m., he was pronounced dead. He was the 22nd person killed by the Albuquerque police in just more than four years.

Boyd's death conformed to many of the patterns governing deadly police violence in Albuquerque. Living with mental illness, Boyd fit the profile of the marginal Albuquerqueans most likely to find themselves shot to death by the city's police. The escalation of a low-level encounter to a standoff involving numerous heavily armed officers wasn't anything new, either. Few were surprised when footage from the lapel camera that Officer Sandy was required to keep running was inexplicably absent. And, as in so many previous officer-involved shootings, Boyd's death was followed by a press conference by the chief of police, who declared the shooting justified and painted Boyd as a dangerous criminal….
Finally, a group of families whose loved ones had bend killed by members of the APD persuaded the Department of Justice to take a look at what was going on with the high number of deadly shootings.
Reviewing 20 fatal police shootings from 2009 to 2012, the [DOJ] report found a majority of them to be unconstitutional. "Albuquerque police officers shot and killed civilians who did not pose an imminent threat," the report found, noting that "Albuquerque police officers' own recklessness sometimes led to their use of deadly force."
---
PROP 47 ALREADY BRINGING DROPS IN JAIL POPS ACROSS CALIFORNIA
It's early still, but the effect of Prop 47 on the state's jail populations, thus far, has been to lower them. This drop is particularly welcome after jail numbers had been driven higher due to the state's 2011 AB 109 realignment strategy that shifted the incarceration burden for certain low level offenders to the various counties.
The AP's Don Thompson has the story. Here's a clip:
Inmate populations are falling in once-overcrowded California county jails since voters decided in November that certain drug and property crimes should be treated as misdemeanors instead of felonies.

While some are avoiding jail, many of those who are sent to county lock-ups for crimes not covered by the ballot initiative dubbed Proposition 47 are spending more time there because jail officials no longer must release them early due to overcrowding.

Fresno, Kern, Los Angeles, Riverside and San Diego counties are among those with fewer early releases, according to an Associated Press survey of the 10 counties that together account for about 70 percent of California's total jail population.
---
LUIS RODRIGUEZ & THE POWER OF WORDS
KCET's So Cal Connected is doing a story on Los Angeles poet laureate, Luis Rodriguez, on Wednesday at 8 pm. If you're around, be sure to tune in. Rodriquez is the best known for his classic memoir Always Running– La Vida Loca, Gang Days in L.A, about how he escaped Los Angeles gang life in the 1960's. It's a wonderful book, and one that dozens of disaffected kids I've met over the years told me was the first book they'd ever read, cover to cover, a book that introduced them to the joys of reading ever after.
Rodriguez has also published poetry, fiction, and other works of nonfiction, along with acting as the publisher for Southern California poets and writers. If that was not enough, he founded and runs Tia Chucha's, a bookstore and cultural center in Sylmar, teaches writing inside California's prisons, and mentors at risk young men and women looking to get out or to stay away from gang membership. He changes lives. I've seen it happen.
"Luis is a great man," Father Greg Boyle once said to me, summing the matter up with simplicity.
Yes, He is. And we're so lucky to have him here in LA. So, check out So Cal Connected Wednesday evening, and get to know him.
---
AND WHILE WE'RE ON THE SUBJECT OF ICONIC LA WRITERS…WE ARE GOING TO MISS REPORTER/COLUMNIST RICK ORLOV, R.I.P
Respected LA Daily News city hall reporter Rick Orlov died on Monday of complications of diabetes and the city's reporting community is completely in shock.
Mayor Eric Garcetti had this to say about Orlov on Twitter: