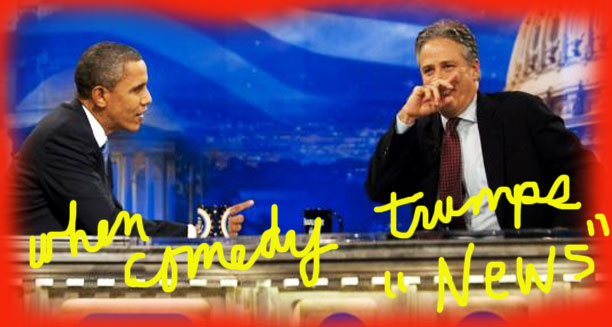 This is why Jon Stewart matters.
The interview with President Obama on Wednesday night's Daily Show was much better than that which we see…well…pretty much anywhere.
For one thing, it was a more serious and, frankly, smarter exchange—comedic moments included— than we see on, say, Meet the Press, and equivalent shows.
Stewart repeatedly asked critical questions of the president, but he did so, not from an attitude of journalistic remove, but rather from the position of one who voted for the man, but is now genuinely disappointed and perplexed at how it has all played out. He wants to know—as many of us do— why Obama made some of the decisions he has made.
Like why in the %$#&@$ did he hire Larry Summers. (Just for example.)
It helps that when Stewart asks a question he allows himself to become fully engaged with the give and take of the inquiry. It is not just one more check mark on the list. He's not going for a sound bite. He wants an answer.
"Legislatively, it felt timid at times," he said at one point of Obama's way of dealing with Congress.
And then, "You ran on the idea that this system needed basic reform. It feels like some of the reforms that have been passed, like health care, have been done a very political manner that has papered over a foundation that is corrupt."
Each time, Obama answered. Often he fought back aggressively, and spun things in his favor. He brought it. But he didn't dodge. It was a genuine exchange.
(Plus at some point Stewart called the President, "dude.")
Anyway, watch it, if for some reason you haven't already.