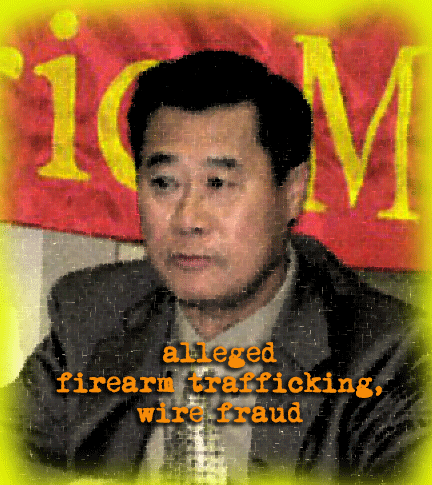 CALIFORNIA SEN. LELAND YEE INDICTED ON CORRUPTION CHARGES
State Senator Leland Yee (D-San Francisco) was arrested Wednesday morning as part of an FBI corruption sting operation, along with "Shrimp Boy," head of an international crime ring, and 24 others. Yee, who is was running for California Sec. of State, has, among other things, been accused of discussing gun trafficking (with an undercover FBI agent) in exchange for campaign donations.
We at WLA are saddened by this news, as Yee has authored a number of important juvenile justice and foster care bills (some of which we have pointed to here and here).
The LA Times' Scott Gold, Joe Mozingo and Maura Dolan have the story. Here are some clips:
An affidavit filed in federal court in San Francisco by FBI Special Agent Emmanuel V. Pascua said there was probable cause to believe that Yee had conducted wire fraud and had engaged in a conspiracy to deal firearms without a license and illegally import firearms.

Yee, 65, was taken into custody in San Francisco on Wednesday and was seen being loaded into an unmarked law enforcement vehicle under an umbrella, his wrists handcuffed behind his back. He was set to be released on $500,000 bond after surrendering his passport.

The affidavit paints a portrait of Yee that is by turns seedy and bumbling, and one deeply at odds with the high-minded image he had long cultivated. Yee, a candidate for secretary of state, is accused of being willing to take varied and numerous steps to solicit campaign donations and sidestep legal donation limits.

For instance, he is accused of seeking an official state Senate proclamation in the spring of 2013 praising the Ghee Kung Tong Freemason lodge in San Francisco. Yee sought the proclamation, according to the court complaint, in exchange for a $6,800 donation to one of his campaigns — a donation that was paid by an undercover FBI agent.

The organized crime figure known as Shrimp Boy, whose name is Raymond Chow, identifies himself as the "dragon head" of that Freemason organization on his Facebook page. The indictment says that Chow, 54, whose criminal history includes racketeering and robbery, has a position of "supreme authority" in the Triad, an international organized crime group.

Yee is also accused of brokering an introduction between a prospective campaign donor and state legislators who had influence over medical marijuana legislation. It allegedly came in exchange for cash campaign donations that far exceeded legal limits — and were paid by the FBI.

The affidavit says that in August 2013, a prominent California political consultant who had been working to raise money for Yee's campaigns told a prospective donor — an undercover federal agent — that Yee "had a contact who deals in arms trafficking."

In exchange for campaign contributions, according to the affidavit, Yee would "facilitate a meeting with the arms dealer" so that the donor could buy a large number of weapons. The firearms would be imported through a port in Newark, N.J. At one meeting, the affidavit said, Yee and the prospective donor discussed "details of the specific types of weapons."

All told, 26 people were identified as having violated federal statutes in the complaint. It was unclear how many were in custody. They were accused of participating in a free-ranging criminal ring that dabbled in a spectrum of activity, from illegal marijuana "grows" to a scheme to transport stolen liquor to China.
Read the rest of this strange and disappointing tale.
The San Jose Mercury's Aaron Kinney looks from a different angle at Yee's background and political history in light of Wednesday's indictments. Here's how it opens:
He was the first Asian-American speaker pro tempore of the California Assembly and a source of pride to many in the Bay Area's thriving Chinese community. After rising to the highest ranks of the state Senate, he had a good shot at becoming California's next secretary of state.

But Sen. Leland Yee's political life effectively ended Wednesday when he was allegedly caught in a sordid web of murderous gangsters, gun runners and narcotics traffickers. And the breadth of the federal charges against him left his colleagues in the Legislature almost speechless.

"He's been a leader on human services, foster care and juvenile justice issues," said Jim Beall, D-San Jose. "For me, to see this happen to someone with that record, I just can't understand it. I can't comprehend it at all."

The Democratic Party establishment, however, never really trusted the enigmatic Yee. That much became clear when Yee failed to gain a single endorsement from a top Democrat during his unsuccessful 2011 campaign for San Francisco mayor.

Born in China, Yee came to San Francisco when he was 3. He studied at UC Berkeley and received a doctorate in child psychology from the University of Hawaii. He began his political career in 1988 on the board of the San Francisco Unified School District.

In 1996, the child psychologist was elected to the San Francisco Board of Supervisors, where he began pushing for open government with his Sunshine Ordinance and established his independence from Mayor Willie Brown. He carried that reputation for bucking the party line to the Assembly in 2002, but his opponents claimed and his colleagues whispered that his true allegiances were to special interests and pay-to-play politics.

Mike Nevin, a former San Mateo County supervisor who ran against Yee for state Senate in 2006, echoed a common refrain in 2011 when he told the Bay Area News Group that Yee was an opportunist with no substance.

"He's a personable enough guy," said Nevin, who died in 2012. "There's just no 'there' there."
---
TANAKA TAKES THE LEAD IN LA SHERIFF RACE FUNDRAISING, NEARLY DOUBLING CLOSEST COMPETITOR
Former Undersheriff Paul Tanaka has raised about $648,000 in sheriff campaign funds, almost double that of candidate with the next highest total, according to the latest fundraising records.
The candidates with the second and third highest numbers are Assistant Sheriff James Hellmold, who has raised $330,676, and Long Beach Police Chief Jim McDonnell with $307,000. (It should be noted that both Hellmold and McDonnell—along with Assistant Sheriff Todd Rogers—entered the race when former Sheriff Lee Baca announced his retirement January, months after the other four candidates began raising campaign money.)
The LA Times' Robert Faturechi has an informative rundown on the fundraising numbers. Here's a clip:
While Tanaka is leading the field, many of the race's higher-profile candidates only entered the race in January and have had less time to raise money. During the most recent period, Tanaka came in third in fundraising.

During that period, which started in January when the current field of candidates was set, Assistant Sheriff Jim Hellmold led the field, bringing in over $330,676 in total contributions. His records show he has more than $205,000 in cash on hand, with less than $11,200 in outstanding debt.

Hellmold was one of the two internal candidates former Sheriff Lee Baca tapped to replace him.

Long Beach Police Chief Jim McDonnell came in second during the most recent period, raising more than $307,000. He's got over $132,500 in cash left, but roughly $277,000 in outstanding debt.

His donor list included high-profile backers such as current and former district attorneys Jackie Lacey and Steve Cooley.

Tanaka raised just over $266,885 during this period, which ended in mid-March. He has more than $186,440 in cash on hand, but also more than $91,000 in debt.

Records show he accepted contributions from several sheriff's officials who left the department under a cloud, including a captain blamed for problems with jail abuse, a charity director ousted because of her ties with pot dispensaries and a captain who prosecutors said funneled secret information to an alleged Compton drug trafficker.
Read on for Todd Rogers, Bob Olmsted, Lou Vince, and Patrick Gomez's numbers.
---
OP-ED: JURISDICTIONS SHOULD EVALUATE JUVENILE PROBATION DEPTS. AND COURT SERVICES TO BETTER SERVE KIDS
In an op-ed for the Juvenile Justice Information Exchange, John Tuell says that juvenile probation and court departments across the nation don't collect enough data to make sure that the services they provide are effective, and that system-involved kids are getting the help they need. Tuell, the Executive Director for the Robert F. Kennedy National Resource Center for Juvenile Justice, suggests jurisdictions should follow the lead of Jefferson Parish, Louisiana (part of Greater New Orleans) where a system-wide probation evaluation resulted in a lowered recidivism rate, access to evidence-based treatment, and 16% fewer kids in lock-up.
Here's a clip from Tuell's op-ed:
Do current policies and procedures support effective practice? In many departments it is unclear what outcomes probation officers are seeking — or even that client outcomes should be the focus of their activities. Without this focus, probation officers often turn their attention to meeting contact frequency and paperwork requirements, which often has little if any impact on adolescent behavior.

Traditional interactions between probation officers and young people are frequently brief and focus too heavily on monitoring compliance and court-imposed conditions rather than developing rapport and supporting an intrinsic motivation to improve behavior. This is truly a missed opportunity, as current research suggests the relationship established between probation officers and youth is of the utmost importance in securing positive outcomes.

Are standardized and validated risk and needs assessments used to guide decision-making and planning? Even where such assessments are routinely used, case plans and targeted treatment interventions are often not developed in accordance with the results. Research indicates that too often when forming treatment plans, priority is given to court mandated interventions rather than what is indicated by assessments. Despite the best intentions of probation officers, the failure to use the assessment findings to inform structured professional judgment undermines the ability to ameliorate the risks for re-offending. This often translates to decreased community safety and a deeper penetration of the youth into the costly deeper-end alternatives of the juvenile justice system.

Do programs reflect an evidence-base of efficacy? Often, programs are adopted without sufficient consideration of empirical research regarding effectiveness of the program with the specific population being referred. The National Academy of Sciences, in a recent and comprehensive report, urges that "Programs for delinquents, whether evidence-based or not, should be subjected to rigorous evaluation to determine whether or not they are helpful, not just assumed to be so." Data collection, management and analysis efforts are underutilized in routine oversight of program and department activities. The evaluation process frequently focuses only on outputs and not outcomes and is not effectively incorporated into policy and program reviews.

Our collective failure to consider these key aspects have resulted in less than ideal outcomes for youth involved with probation and court service interventions.