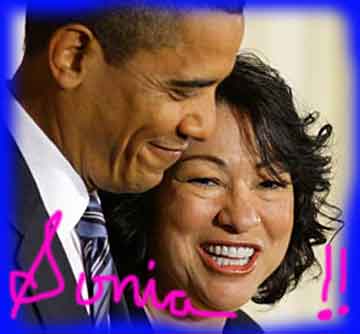 AND WHILE WE'RE ON THE SUBJECT OF SUPREME COURTS…
" A rigorous intellect, a mastery of the law... a commitment to impartial justice….an inspiring woman whom I believe will make a great justice…"
"Walking in the door she would bring more experience on the bench and more varied experience on the bench" than anyone currently sitting on the court had when they walked in.
Originally nominated to the District Court for the Southern District of New York in 1992 by George H.W. Bush.
Wooo-hooo! Go Sonia!
(This column over at HuffPost has some great Sonia links, including the story of how Judge Sonia Sotomayor arguably "saved baseball.")
I'm personally fond of the story about how—in addition to her single mom—one of Judge Sotomayor's inspirations was….Nancy Drew. (Me too, girlfriend. Me too.)
(A reread of those 1930's and 1940's-written novels reveals some very creepy Jim Crow moments, but despite the downsides, for thinking girls of certain generations, they provided one of the few available models.)
THE ROSEN FACTOR
The big buzz around the blogosphere right now has less to do with the choice of Sonia Sotomayor, and more to do with the very negative take on Sotomayor and her intellect by the New Republic's Jeff Rosen, who used a string of anonymous sources to question Sotomayor's braininess or lack thereof.
Here's a bit of what Amy Davidson at the New Yorker said:
[Rosen's] was an ugly little piece—it suggested that she was shrill and not so smart, never mind the summa from Princeton and the editorship on the Yale Law Journal. Its flaws, tonal and reportorial, are obvious even to the lay person, just as its conclusions are attractive to a certain political set: "So she's dumb and obnoxious. Got it," a National Review blog said.
Over at the Atlantic, Ta-Nehisi Coates had this to say:
"…I haven't read enough of Sotomayor's opinions to have a confident sense of them, nor have I talked to enough of Sotomayor's detractors and supporters, to get a fully balanced picture of her strengths."

I can't get past that line–mostly because, as Greenwald said yesterday, it drips with unintentional irony–Rosen is attacking Sotomayor's ability to do the necessary intellectual heavy-lifting, while explicitly neglecting to do any of his own. In this instance, His piece reads like a burglar's brief against rampant criminality. Authored mid-robbery, no less.
Here's what Constitutional law professor Darren Hutchenson said in rebuttal, tearing Rosen's points limb from limb.
Here is an essay from a former law clerk, Gerard Magliocca, who worked around her for thirteen years.
And here is what Professor Rob Kar, former clerk for Sotomayer said at length—on the record (as opposed to the off-the-record gossip and smearing that Rosen quoted)—about his former boss. Below is one tiny snip:
Judge Sotomayor is much smarter than most people in the legal academy, and much smarter than most judges who are granted almost universal deference in situations like this. And while I have worked with numerous people who are thought of as some of the best minds in the nation, and about whom the question of brilliance would never even arise, most of them are—quite frankly—pedantic in comparison.
UPDATE: GLENN GREENWALD at Salon has the most thorough critique of Rosen's piece and Rosen's subsequent defense of his story, which at this point is looking increasingly indefensible. Greenwald's long rundown is worth reading because it points beyond the Rosen/Sotomayor issue to much of what is maddening about many mainstream media stories. (Greenwald is, by the way, a former constitutional law and civil rights litigator.)
Here's the link.