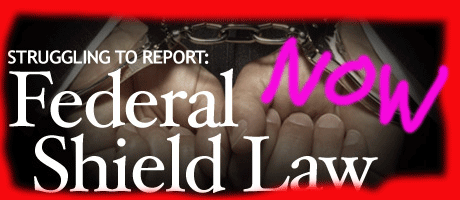 Today, the House of Representatives will vote on the bill called The Free Flow of Information Act of 2007—or what most of us know as the Journalists' Shield law.
It's about time.

In 1972, in Supreme Court case of Branzburg v. Hayes, SCOTUS opined that "news gathering is not without First Amendment protections." The Supremes, however, could not agree about the form or breadth of those protections. As a consequence, journalists, editors and others have pushed for a national shield law for years, without success—although 33 states plus DC have passed their own journalistic shield laws.
That isn't enough. In the last year alone, around two dozens journalists have subpoenaed or questioned about their confidential sources in Federal court.
Today, the LA Times has an editorial that lays out many of the issues surrounding this possible shield law.
Contrary to what critics claim, this proposed "shield law" isn't a concession to special pleading by the news media. Its ultimate beneficiary is the public. Without confidential sources, the American people wouldn't have known about misconduct in the Nixon administration, the secret history of the war in Vietnam or excesses in the war on terror such as the wiretapping of Americans by the National Security Agency. Locally, the historic abuses of the LAPD — from spying on its enemies to its destructive use of force against minorities — came to public light because sources shared facts with reporters who kept their identities secret.

By the way, the law doesn't include bloggers.
And it does have exceptions, which have mollified some critics: For instanced, in certain cases where prosecutors consider the information crucial to their case, a court will decide if the shield applies or not. Also, in cases of national security the shield would not reply,
Several newspapers around the country have pushed for the bill's passage. Here's how the Buffalo News Opinion puts it:
As we have frequently been reminded in recent months, if we, the people of the United States, want to know what our government is doing, in our name and with our money, we cannot always count on our government to tell us. We are often going to have to read it in the newspaper.
Or find it on a blog.

(Graphic from the Society of Professional Journalists)