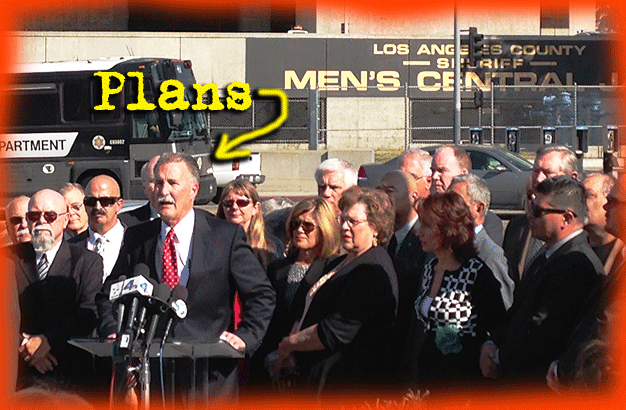 SHERIFF'S HOPEFUL BOB OLMSTED HAS A PLAN
On Wednesday morning, as TV cameras rolled, retired Commander Robert Olmsted stood in front of Men's Central Jail to introduce a 9-Part Plan that outlines how he hopes to "transform" the Los Angeles Sheriff's Department "and root out its corruption."
Olmsted is one of the six candidates competing to replace Lee Baca for the job of LA County Sheriff.
Those also in the race include Long Beach Chief of Police Jim McDonnell, former LASD Undersheriff Paul Tanaka, Assistant Sheriff Todd Rogers and Assistant Sheriff Jim Hellmold.
Hellmold formally announced his candidacy this week in front the iconic First AME Church in South Los Angeles with civil rights attorney Connie Rice endorsing him.
The LAPD detective Lou Vince and retired LASD lieutenant Pat Gomez are also vying for votes.
Olmsted's plan is smart and thoughtful—in short, something that other candidates would do well to peruse.
It features various ways to improve nuts and bolts policing, while also outlining ideas to "institute systemic safeguards" to ensure that, as he puts it, "nobody can ever again do what the current top brass have done to undermine the primary mission of the LA County Sheriff's Department."
These proposed safeguards include pushing for a permanent Citizen's Oversight Commission, similar to that which is proposed by Supervisor Mark Ridley-Thomas, plus adding an additional office for internal oversight inside the LASD itself, with the idea of helping the department better police itself.
In other points, Olmsted says he would hire independent auditor to do a forensic audit to find out where the department's money has been spent. (We really hope other candidates will embrace this idea as we have long believed a deep and rigorous forensic audit of the LASD's fiscal matters is sorely needed.)
The candidate also notes department programs that have been woefully underfunded, like the The LASD's Special Victims Unit, which investigates sexual and physical abuse against children and, according to Olmsted has an alarming backlog of some 2000 cases.
In the arena of realignment, Olmsted promises to look at "best practices" around the state, thereby "using the county as a laboratory for criminal justice" reform. (This is another principle we applaud.)
Olmsted declares himself a strong believer in the importance of "rehabilitative not just punitive, incarceration" so recommends continuing to support Baca's education-based incarceration but also beefing up the department's gang and drug prevention programs aimed at helping kids before they hit the justice system, programs that of late seem to have been drastically slashed.
You can find more on Olmsted's "Pathway to Reform" here.
Attention all you other candidates….now it's your turn.
---
ASSISTANT SHERIFF TERRI MC DONALD IS LACKING LEGAL CREDENTIALS TO BE INTERIM SHERIFF
Ever since Lee Baca recommended Assistant Sheriff Terri McDonald, as his interim replacement earlier this month when he announced that he'd be leaving the department, we'd been hearing that Ms. McDonald didn't have the proper credentials to step into the gap Baca is leaving.
Terri McDonald oversees the LASD's custody division
Now the LA Times' Robert Faturechi has a story about this very issue and more. Here's a clip:
The law enforcement leader many expected would replace Sheriff Lee Baca when he steps down next week does not have the required credentials, complicating the job of Los Angeles County supervisors who must pick an interim sheriff.

When Baca unexpectedly announced his plans to drop his reelection bid and retire at the end of this month, he recommended that supervisors appoint Assistant Sheriff Terri McDonald to run the department until voters select a permanent sheriff later this year.

McDonald, a former state corrections official, was brought in last year to oversee the department's massive and troubled jail system and is highly regarded by the supervisors. But state law requires that sheriff's candidates have either advanced certification through the state Commission on Peace Officer Standards and Training or specific types of field experience and education as a law enforcement officer. McDonald has neither.
The supervisors will meet in closed session on Thursday to further discuss the interim appointment.
---
DCFS BLUE RIBBON COMMISSION RECOMMENDS A CHILD SAFETY CZAR
While the rest of us were getting ready to ring in the new year late last month, LA County's Blue Ribbon Commission on Child Protection issued an interim report calling for—among other changes— the appointment of a Child Welfare Czar. This post, if created, would be "empowered by the Board of Supervisors to have the ability to transcend structure and propose the movement of financial and staff resources without regard to department lines."
If you'll remember, the commission was formed last year to make recommendations as to how to fix LA's chronically and tragically dysfunctional foster care system.
Now Christie Renick of the Chronicle of Social Change writes about the proposal to create such a position.
Here's a clip:
The Los Angeles Blue Ribbon Commission on Child Protection, established more than six months ago in the wake of a tragic child death and on the heels of a scathing report on 13 others, submitted a far-reaching set of recommendations to Los Angeles County's Board of Supervisors just before the New Year.

The question is whether or not the recommendations, submitted as a first step towards a complete overhaul "of the current 'dysfunctional' County child protection system," will be funded in such a way as to have impact.

[BIG SNIP]

The commission suggested the Board of Supervisors name a lead agency to oversee implementation of its recommendations by the end of January. Further, the recommendations suggest, this lead agency should have sweeping powers.

"The lead agency must be empowered by the Board to have the ability to transcend structure and propose the movement of financial and staff resources without regard to department lines," the report said.

The commission suggested as a possible lead agency the District Attorneys office, the Violence Intervention Program at University of Southern California Medical Center, or a combination of the two.

In essence, the commission envisions a Child Safety Czar, with an expectation to present implementation plans, specific to the other agencies involved, as early as March.
Here's an earlier post about a LA Times editorial noting the commission's views on the catastrophic lack of coordination between agencies who interact with foster kids, or potential foster kids, and what can be done about it.