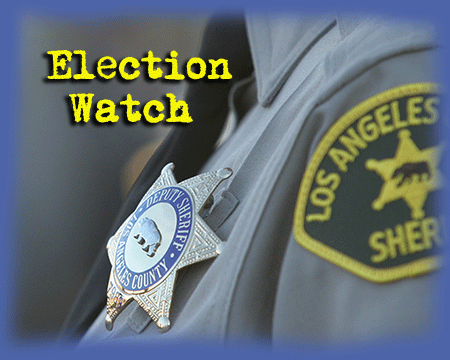 CHALLENGERS FOR SHERIFF BACA'S JOB SPEAK OUT
After federal indictments were unsealed Monday morning triggering the arrest of 18 members of the Los Angeles Sheriff's Department, there was initially no comment from former LASD undersheriff Paul Tanaka, who is now running for sheriff against Lee Baca.
But then on Wednesday, Tanaka released a statement that, while it didn't address the indictments directly, seemed to be a gesture that direction. The LA Times' Seema Mehta has a story on the matter. Here's a clip:
Paul Tanaka, the former undersheriff who is challenging his old boss Sheriff Lee Baca in next year's election, made his first public statement Wednesday since news broke that the federal government had arrested 18 current and former members of the Sheriff's Department in a jail abuse and corruption scandal.

"The residents of Los Angeles County deserve better, as do the hard-working men and women of the Los Angeles Sheriff's Department. It's time for the sheriff to take responsibility for the decisions he has made as the top public safety official in the county," Tanaka said in a written statement.
Former LASD commander Bob Olmsted, the strongest dark horse challenger in the sheriff's race, had already released a statement about the indictments on Monday, along with making several media appearances, where he pointed to the involvement of Sheriff Baca and Paul Tanaka in the alleged hiding of FBI informant, Anthony Brown, which resulted in seven of Monday's indictments.
For instance, in his appearance on Which Way LA? with Warren Olney, Olmsted noted that when Tanaka was interviewed by the LA Times, and by ABC-7, earlier in the year, the former undersheriff admitted his involvement with the operation to hide informant Brown, claiming that Baca ordered him to do so.
"He said it was Lee Baca's idea and I was just following orders," said Olmsted. "[The hiding of Anthony Brown] could not have occurred without being condoned all the way to the top."
Then on Wednesday, in response to Tanaka's statement, Olmsted put out a second press release, again taking both Tanaka and Baca to task in relationship to the indictments. It reads in part:
"Rather than telling the whole truth about who permitted sheriffs' officials to use excessive force, abuse inmates, obstruct justice, or intimidate an FBI agent, on Monday, Sheriff Lee Baca neglected to detail how all of this happened or what the chain of events transpired under his watch. Even worse, he didn't take responsibility or hold himself fully liable for these failures.

Either Sheriff Baca was asleep at the wheel, or he purposely separated himself from the daily operations of his department, or he's hiding his involvement in this train-wreck.
This week, retired LASD lieutenant and candidate for sheriff, Pat Gomez, also released a statement that was critical of Baca and Tanaka.
---
RIDLEY-THOMAS CALLS FOR POSSIBLE CHANGE IN STATE CHARTER TO APPOINT, NOT ELECT LA COUNTY SHERIFF
On Tuesday, on Which Way LA? Warren Olney did a second show relating to the indictments, this time asking guests if Sheriff Baca's bid to be reelected for a fifth term in office is imperiled by recent events.
With Olney on the show were LA County Supervisor, Mark Ridley-Thomas, attorney Mark Geragos, who is a strong Baca Supporter, Ralph Sonenshein, head of the Pat Brown institute at Cal State LA, and former County Counsel and Police Commission president, Andrea Ordin.
The notable moment on Tuesday's show came when Ridley-Thomas again called for stronger oversight of the sheriff's department and said that perhaps it's time to change state law so that sheriffs, like chiefs of police, are appointed, not elected.
Be sure to listen to the show's podcast here.
---
LASD badge and patch photo by Jaime Lopez
..