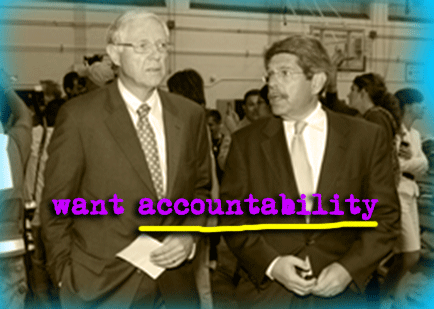 LA SUPERVISORS WANT EXPLANATION FROM SHERIFF BACA ON RECENTLY REVEALED CONTROVERSIAL HIRING PRACTICES
In a continuing reaction to Sunday's LA Times story on the hiring practices of the Los Angeles Sheriff's Department, on Tuesday, the LA County Board Supervisors called on Sheriff Lee Baca to report back to the board regarding who was responsible for hiring a considerable number of unqualified officers in 2010. (Find the backstory here.)
Zev Yaroslavsky spoke out on Monday. Then at Tuesday's meeting, it was Supe Michael Antonovich who introduced the motion to compel Baca to report.
Here's some of what Antonovich had to say:
188 had been rejected for jobs at law enforcement agencies before being hired by the sheriff's department, 97 were hired who showed evidence of dishonesty, 92 applicants were hired who were disciplined previously by other police agencies for misconduct on duty, 29 were fired or pressured to resign from a previous law enforcement job, and 15 were flagged by background investigators for trying to manipulate the result of a polygraph exam.

We ought to know who made these exceptions to the rule that…only qualified men and women would be accepted into the sheriff's department from the Office of Public Safety…and we need to hold these people responsible and accountable… I would like to have a report back on that.
The LA Times' Seema Mehta and Ben Poston reported that the sheriff will be submitting a final report to the supervisors in two weeks. Here's a clip:
Sheriff's spokesman Steve Whitmore said Tuesday that the department had completed its initial review of the hirings, but declined to release any preliminary findings.

He said sheriff's officials will present a final report to the board in two weeks, saying that Baca "understands the urgency … and he has given the direction to his folks, 'Let's get this done.'"

"We have no problem with what they've asked for," Whitmore said. "We are well aware of the necessity to bring this to light, and that's exactly what the sheriff wants to do."

Michael Gennaco, who heads the sheriff's civilian monitoring agency, said he is conducting a separate review of the county police hires. He said he expects that report will be coordinated with the department's newly selected inspector general, Max Huntsman, who is expected to start his watchdog role next year.
On Monday, Kevin Roderick of LA Observed covered the controversial story, and shared thoughts on how it may, or may not, impact Sheriff Baca's chances of reelection next year. On Tuesday, Roderick posted a flier for a Baca campaign fundraiser hosted by both former governor Gray Davis, Carmen Trutanitch, the former city attorney, and Mark Geragos, a prominent defense attorney, indicating that the current sheriff still has important political friends.
The LAT editorial board also weighed in on the hiring story here. Here's a clip:
Especially noteworthy among those were the deputies who improperly drew or fired their county-issued weapons. Consider, for example, Linda Bonner, who shot at her husband during an argument. Or John Dall, who as a county public safety officer was reprimanded for pointing his loaded weapon at a subordinate officer. He said the action was unconscious, and that drawing his gun was a habit of his that had been remarked on.

It is indeed a remarkable habit, and not in a good way.

Any large law enforcement agency is going to have a few problem deputies, but the Los Angeles County Sheriff's Department is in danger of developing a reputation as the place where law enforcement officers go when they can't make the cut — or get rejected — in other police departments. So what is to be done?

Baca faces at least two challengers to his reelection in June, and candidates are vying to succeed two termed-out members of the Board of Supervisors, which sets the sheriff's budget and authorizes hiring. This is the perfect opportunity for county government to reexamine its standards and for voters to demand that candidates lay out, in depth, what they would do to improve the county's accountability in hiring — and in all other aspects of public performance.
---
MORE SCHOOLS MOVE TOWARD RESTORATIVE JUSTICE POLICIES
A growing number of school districts around the country (including LAUSD) are moving away from destructive zero-tolerance discipline practices, in favor of effective alternatives like counseling, community service, and social skills training.
The NY Times' Lizette Alvarez has an excellent article on the encouraging shift. Here are some clips:
Perhaps nowhere has the shift been more pronounced than in Broward County's public schools. Two years ago, the school district achieved an ignominious Florida record: More students were arrested on school campuses here than in any other state district, the vast majority for misdemeanors like possessing marijuana or spraying graffiti.

The Florida district, the sixth largest in the nation, was far from an outlier. In the past two decades, schools around the country have seen suspensions, expulsions and arrests for minor nonviolent offenses climb together with the number of police officers stationed at schools. The policy, called zero tolerance, first grew out of the war on drugs in the 1990s and became more aggressive in the wake of school shootings like the one at Columbine High School in Colorado.

But in November, Broward veered in a different direction, joining other large school districts, including Los Angeles, Baltimore, Chicago and Denver, in backing away from the get-tough approach.

Rather than push children out of school, districts like Broward are now doing the opposite: choosing to keep lawbreaking students in school, away from trouble on the streets, and offering them counseling and other assistance aimed at changing behavior.

These alternative efforts are increasingly supported, sometimes even led, by state juvenile justice directors, judges and police officers.

In Broward, which had more than 1,000 arrests in the 2011 school year, the school district entered into a wide-ranging agreement last month with local law enforcement, the juvenile justice department and civil rights groups like the N.A.A.C.P. to overhaul its disciplinary policies and de-emphasize punishment.

[SNIP]

In Broward County, the shift has shown immediate results, although it is too early to predict overall success. School-based arrests have dropped by 41 percent, and suspensions, which in 2011 added up to 87,000 out of 258,000 students, are down 66 percent from the same period in 2012, school data shows.

Under the new agreement, students caught for the first time committing any of 11 nonviolent misdemeanors are no longer arrested and sent to court. Rather, they attend counseling and perform community service.
---
POLICE CHIEF ASSOCIATION CALLS ON POLICE DEPARTMENTS TO REDUCE WRONGFUL CONVICTIONS
On Tuesday, the International Association of Chiefs of Police (IACP) in alliance with the Department of Justice and the Innocence Project, released a set of 30 recommendations for police departments across the nation to alter investigative practices in order to prevent wrongful convictions. The recommendations were conceived at a national summit by 75 experts from law enforcement, the justice system, and community members.
The Washington Post's Spencer S. Hsu has more on the important call to action. Here's a clip:
In a joint effort with the Justice Department and the Innocence Project, an advocacy group for prisoners seeking exoneration through DNA testing, the International Association of Chiefs of Police (IACP) will urge police departments nationwide to adopt new guidelines for conducting photo lineups, videotaping witness interviews and corroborating information from jailhouse informants, among 30 recommendations.

The group also calls for new tools to identify investigations at high risk of leading to a wrongful arrest, as well as formalizing the ways flawed cases are reviewed and claims of innocence are investigated.

"At the end of the day, the goal is to reduce the number of persons who are wrongfully convicted," said Walter A. McNeil, the police chief in Quincy, Fla., and past president of the chiefs association, which convened a national policy summit on wrongful convictions. "What we are trying to say in this report is, it's worth it for all of us, particularly law enforcement, to continue to evaluate, slow down, and get the right person," McNeil said.

Legal experts said the findings, which were funded by the Justice Department's Office of Justice Programs, mark a milestone in the deepening engagement by police and prosecutors in correcting breakdowns in the criminal-justice system. Those errors have been exposed in recent years by advances in DNA profiling.

The findings also reflect a new emphasis by police on preventing mistakes from occurring, as well as a growing willingness to investigate past errors by adopting what the IACP called a "culture of openness" in rethinking how police analyze evidence and tackle problems such as investigative bias.

"We may appear to some to be strange bedfellows, but in fact we all support these reforms because they protect the innocent and enhance the ability of law enforcement to catch the guilty," said Barry Scheck, co-founder of the Innocence Project.