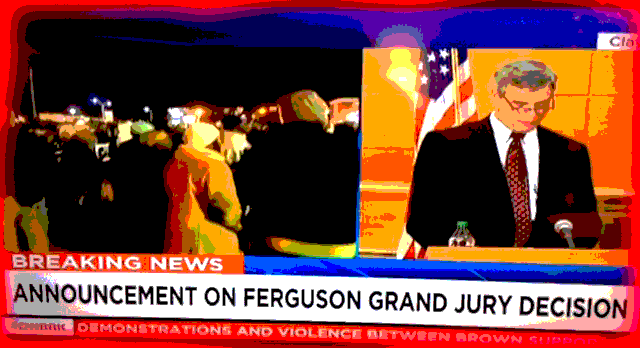 Here are a few of the early reactions to the news Monday night that a Missouri grand jury decided not to indict Ferguson Officer Darren Wilson in the August 9 shooting death of Michael Brown
LA COUNTY SHERIFF-ELECT JIM MCDONNELL
The frustration we have seen in Ferguson, Missouri demonstrates what can happen when a divide develops between government — through one of its most vital agents, law enforcement — and the community it serves. It is why community policing and engagement must not merely be something we do, but rather it must be who we are and how we operate every day.

The Grand Jury in Ferguson, Missouri has spoken. Yet a community is still fractured and many lives are forever and irreparably impacted.

I urge those who may be disappointed by today's decision to nonetheless respect the outcome and processes of our legal system. The greatness of our nation comes from our ability to come together peacefully and lawfully, to speak up about what is on our minds, and to respect one another…..

As the incoming Sheriff of Los Angeles County, I will continue to focus, as I have throughout my career, on strengthening lines of communication and fortifying trust between communities and law enforcement….
AUTHOR OF "THE NEW JIM CROW" MICHELLE ALEXANDER
As we await the grand jury's decision, I want to take this opportunity to say thank you — a deep, heart-wrenching thank you — to all the organizers and activists who took to the streets following Michael Brown's killing and who refused to stop marching, raising their voices, and crying out for justice. It is because of them — their courage, boldness, vision and stamina — that the world is paying attention to what is happening in a suburb called Ferguson. The world is not watching because an unarmed black man was killed by the police. That's not news. What made this police killing different was that the people in Ferguson — particularly the young people — rose up and said We Will Not Take It Any More. Our Lives Matter. Black Lives Matter. And their cry has been heard around the world…..
CONNIE RICE AND THE ADVANCEMENT PROJECT
"Today, the people of Ferguson and caring Americans throughout our country are devastated by the grand jury decision to not indict Officer Darren Wilson in the killing of Mike Brown," said Advancement Project Co-Director Judith Browne Dianis. "The legal system has failed again to hold someone accountable for the loss of life of an unarmed young Black man. In places throughout the United States, innocent lives are being lost at the hands of those who are supposed to serve and protect us. Mike Brown, Eric Garner and John Crawford are just a small portion of those killed by the police, while countless others have been harassed, injured and criminalized unnecessarily. Efforts for sweeping change will not stop until there is relief for communities of color."

"The family of Michael Brown deserves an immediate, thorough, and transparent investigation into this shooting," said Connie Rice, Founding Co-Director of Advancement Project. "This incident should be investigated by the federal government for possible civil rights violations. We also welcome federal action to ensure that civil rights of youth of color and of those protesting Michael Brown's death are protected in the community of Ferguson."

Here's the rest.
MAYOR ERIC GARCETTI
"Michael Brown's death has ignited deep passions across the nation, and Los Angeles is no exception.

Tonight's decision is one that will be heatedly debated — but we should do so through dialogue and peaceful action….
OAKLAND CONGRESSWOMAN BARBARA LEE
My heart continues to go out to Michael Brown's family and community. Like everyone in our community, I am devastated by the senseless murder of yet another young black man," Lee said. "The deaths of Michael Brown, Trayvon Martin and Oscar Grant, one of my constituents, serve as tragic examples of the senseless murder of young African American men.

We must come together like never before to tackle the systemic, structural and rampant racial bias endemic in our institutions and criminal justice system. We must demand change and work to realize it.
---
AND IN OTHER NEWS
GOV. BROWN NAMES YOUNG SUPERSTAR LAWYER TO STATE SUPREME COURT
In a surprise move that is very much in keeping with Jerry Brown's style of choosing unconventional but talented and high profile judicial candidates, on Monday, the governor named 38-year-old Leondra R. Kruger to the California Supreme Court, making her the youngest member of the court in memory. In his Monday statement, Brown called his nominee "a distinguished lawyer and uncommon student of the law" who has won "the respect of eminent jurists, scholars and practitioners alike."
Interestingly, Kruger, has argued twelve times before the U.S. Supreme court, but has not practiced law in California since 2008. Instead she has spent much of her career as a rising star in the nation's capital, most recently serving in the U.S. Department of Justice, in the office of legal counsel, prior to that, holding a top position in U.S. solicitor general's office.
Attorney General Eric Holder stated that Kruger would be "an excellent and thoughtful Supreme Court justice who will serve the people of California with distinction for many years."
Kruger is only African American on the court since the exit of Janice Rogers Brown in 2005 for a position on the D.C. Court of Appeals.
Howard Mintz of the San Jose Mercury News is one of those who reported on Kruger's appointment. Here's a clip from his story:
Here's a clip:
Defying convention again in his picks for the state's highest court, Brown on Monday tapped 38-year-old top Obama administration lawyer Leondra Kruger to a vacancy that has been lingering on the Supreme Court since early this year.

Most recently a deputy U.S. attorney general, Kruger would be the state Supreme Court's first African-American justice since former Justice Janice Rogers Brown moved to a federal appeals court in 2005.

Kruger, a rising legal star already mentioned as a federal appeals court and future U.S. Supreme Court prospect, replaces 73-year-old Justice Joyce Kennard, who retired in April.

The addition of Kruger to a once-aging state Supreme Court represents an unprecedented youth movement — in addition to being the youngest justice in memory, Kruger joins Brown's two other picks, Mariano-Florentino Cuellar, 42, and Goodwin Liu, 44, in bringing down the court's average age by decades.

"(The governor's) recent appointments to the California Supreme Court reflects a realization in Sacramento of something made decades ago in D.C. in connection with the U.S. Supreme Court," said Shaun Martin, a University of San Diego law professor. "The younger the justices are when they get appointed, the longer they stay there and affect the law."
---
FBI RELEASES 2013 STATISTICS FOR OFFICER DEATHS IN LINE OF DUTY, FINDS NUMBER OF OFFICERS CRIMINALLY KILLED SHARPLY DOWN
According to statistics released by the FBI on Monday, 27 law enforcement officers died as a result of felonious acts last year, and 49 officers died in accidents, for a total of 76 officers killed on the job protecting American communities.
The numbers of officers killed as a result of criminal acts by others in 2013 decreased by 22 when compared with the 49 officers feloniously killed in 2012, according to the FBI.
The FBI also looked at five- and 10-year comparisons in number of officers killed on the job by others and found a decrease of 21 felonious deaths compared with five years ago, in 2009, when 48 officers died, and a decrease of 30 felonious deaths compared with 2004's 57 officers.
Of course, for the friends, colleagues and the families of those 27 officers feloniously by others in 2013, the statistics don't really matter.
---
THE ADVERSE AFFECTS OF PRISONS ON COMMUNITY HEALTH
The millions of Americans who cycle through the nation's courts, jails, and prisons every year experience far higher rates of chronic health problems than found in the general population—including a higher rate of infectious diseases, substance use, serious mental illness, and emotional conditions such as chronic depression.
When prisoners return to their communities—as most eventually do—they bring those problems with them, in many cases, arriving home with a condition that has been exacerbated by their prison stay.
A just released report by the Vera institute of Justice called Life Support: Public Health in the Age of Mass Incarceration takes a deep look at the negative impacts of incarceration on the health of communities.
Here's the opening of the report's overview, which gives a good idea of what researchers found.
Here's how it begins:
Each year, millions of incarcerated people—who experience chronic health conditions, infectious diseases, substance use, and mental illness at much higher rates than the general population—return home from correctional institutions to communities that are already rife with health disparities, violence, and poverty….

For several generations, high rates of incarceration among residents in these communities has further contributed to diminished educational opportunities, fractured family structures, stagnated economic mobility, limited housing options, and restricted access to essential social entitlements

Several factors in today's policy climate indicate that the political discourse on crime and punishment is swinging away from the punitive, tough-on-crime values that dominated for decades, and that the time is ripe to fundamentally rethink the function of the criminal justice system in ways that can start to address the human toll that mass incarceration has had on communities…..
Here's a link to the full report.