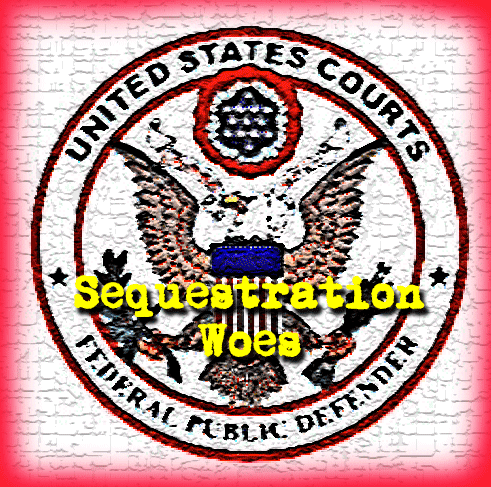 BUDGET CUTS BEAR DOWN ON PUBLIC DEFENDER SYSTEM
With federal public defenders services threatened by budget sequestration, Alabama School of Law Professor Frederick Vars has created an online petition over at PrawfsBlawg.
Here is what Vars has to say:
Sequestration imperils the constitutional right of criminal defendants to adequate legal representation. About 90% of federal criminal defendants require court-appointed counsel. In FY 2013, sequestration resulted in a $52 million cut to Federal Defender Services, bringing massive layoffs and furloughs. It is estimated that in FY 2014, if nothing is done, FDS will be forced to terminate as many as one-third to one-half of employees.

Funding for prosecutors is apparently headed in the opposite direction. The Senate Appropriations Committee last week announced a $79 million increase to the FY 2014 budget for U.S. Attorneys' offices for the express purpose of bringing more criminal cases in federal court. This radical imbalance threatens the fundamental right to counsel.

Please join me in urging Congress and the President to restore adequate funding for Federal Defender Services.
Washington Post's Lisa Rein has more on the effect sequestration is having on federal public defenders (and their clients, as a result). Here's a clip:
Public defenders and their advocates told a Senate panel Tuesday that the budget cuts known as sequestration are taking heavy toll on legal representation for the poor, causing delays and lengthy furloughs that could worsen next year.

"We are cutting ourselves to the bone," Michael S. Nachmanoff, Federal Public Defender for the Eastern District of Virginia, told a subcommittee of the Judiciary Committee, which held a hearing on the effects of sequestration on the federal court system.

"We are on the verge of being crippled, and we're a model of quality and efficiency, " he said.

Federal defenders already were facing a 5 percent budget reduction when $85 billion in spending cuts began coursing through federal agencies in March, lopping another 5 percent from the budget this fiscal year. Some courts have limited the hours they hear criminal matters. Defenders across the country are taking up to 15 days without pay, forcing postponements in many criminal proceedings.
And there are problems at the state level, too. With the 50th anniversary of the landmark Supreme Court case Gideon v. Wainwright (in which SCOTUS ruled that state courts were required to provide public legal counsel to defendants who could not afford their own attorney), there has been a lot of discussion about how underfunded and overburdened with caseloads public defenders at the state level have become.
Here's a clip from the Gideon v. Wainwright 50th Anniversary site:
States and even many individual counties have their own unique public defense systems, which struggle in unique ways to conduct their work. 50 years after the landmark Gideon v. Wainwright decision, chronic underfunding and overwhelming caseloads for public defenders are putting this country at great risk of not fulfilling one of its most important promises: to provide quality representation to those in need.

The right to counsel enshrined in the 6th Amendment to the Constitution is unmet in many states across the country because the states don't provide adequate funding, increasing the risk of wrongful convictions and costly appeals.
---
JERRY BROWN'S OVERCROWDING TROUBLES: A SONG
A new video by Mark Fiore (vocals by John Taylor) features a cartoon Gov. Jerry Brown singing the "Cruel and Unusual Blues"—a play on Johnny Cash's "Folsom Prison Blues"—about his ongoing battle with a three-judge panel's order to reduce the prison population by 9,000 inmates before the end of the year.
---
AND WHILE WE'RE ON THE TOPIC: THE CALIFORNIA PRISONER HUNGER STRIKE CONTINUES
The LA Times' Paige St. John, who continues to do a great job of tracking the issue, has an update on the prisoner hunger strike against solitary confinement conditions in California prisons. Here's a clip:
California's prison hunger strike entered its 17th day Wednesday with 707 inmates continuing to refuse meals, and inmate advocates complaining those who turn down food but drink electrolytes or Koolaid are not being included in the state's protest count.

"Some inmates said they were on a solid food-only hunger strike," said Carol Strickman, an attorney with the inmate support group Prisoners with Children. "If they want to drink tea, electrolytes, we feel they should be allowed to do that."
---
LASD SPOKESMAN SAYS NO MORE INAPPROPRIATE ENTERTAINMENT AT ANNUAL LUNCHEON
And more on our favorite story of the week: Los Angeles Sheriff's spokesman Steve Whitmore says department officials are taking measures to ensure that no future Sheriff's Day Luncheons feature racist and sexually explicit comedy acts. (If you missed Wednesday's hullabaloo, you can read about it here.)
LA Times' Robert Faturechi has the update. Here's a very small clip:
Whitmore said officials are trying to figure out how the comedian was vetted. They are also going to implement safeguards, he said, to keep it from happening again. They might, for example, hire a motivational speaker next year instead of a comedian.
Good call!