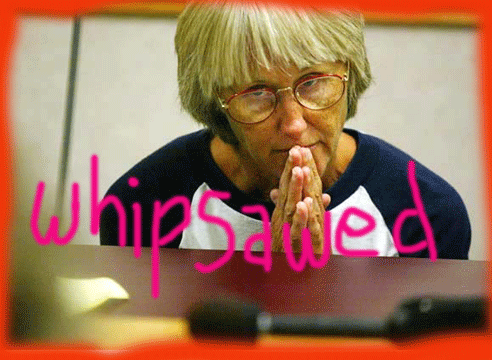 As the perplexing tale of Sara Jane Olson's release and rearrest continues, I am still unable to stop thinking of other criminal cases I've followed.
One in particular comes to mind this morning: the case of kid named Michael Duc Ta who, at sixteen, was the wrong place at the wrong time, the same year that Sara Jane Olson was arrested. I'll tell you about him in a minute. But first, an update on Olson:
In the latest chapter, Olson's attorney, Shawn Holley, announced on Sunday that she's going to use every legal remedy to prevent Olson being sent back to prison for another year.
The California Department of Corrections and Rehabilitation takes the blame for the whole mess—namely releasing Olson, then rearresting her after supposedly discovering that they'd miscalculated her sentence by a year. Many, however, believe that pressure from the furious LA Police Protective League caused the CDCR to extend her sentence.
While the latter scenario is not at all impossible, the probability of the CDCR simply screwing up in their calculations, even with a high-profile prisoner, is sadly one that is all too likely, as preposterous as it seems. (Remember this story that ran back in December about the prison system failing to calculate the sentences for as many as 33,000 California inmates?)

It hasn't helped matters that Olson's sentencing has had a more complicated history than most.

Two articles in Sunday's San Francisco Chronicle (linked here and here) give a good snapshot of where things stand now. Here are some clips:
Olson, 61, was detained Friday night at Los Angeles International Airport – where she was planning to fly home to Minnesota to serve out her parole – and was informed she no longer had a right to leave the state. Then she was transported to her mother's house in Palmdale, where authorities kept watch outside all night. A warrant for her arrest was issued on Saturday, and she was taken into custody.

She is to return to the Central Women's Facility in Chowchilla for another year, officials said Saturday.

"The department is sensitive to the effects this has had. The department sincerely regrets the mistake," said Alberto Roldan, chief deputy general counsel for the Department of Corrections.

The sentencing error was brought to light when reporters questioned corrections officials last week, Roldan said. The error was apparently made in 2004, when administrators did not add an extra year to Olson's sentence for the Sacramento crime, Roldan said.

If Olson had committed her crimes today, she would face at least 15 years to life for the second-degree murder of Opsahl and be ineligible for parole consideration for at least 10 years. But the law in effect in 1975, which governed her sentencing after her arrest in 1999, prescribed shorter, fixed-term sentences for both crimes.

After her guilty pleas, a judge sentenced her to five years and four months in prison. But the state parole board immediately classified her as a serious offender – one considered too dangerous for early release – and recalculated her term at 13 years. A judge later trimmed a year off her sentence, and with a 50 percent reduction for good behavior and work credits in prison, she was paroled Monday.

The department said Saturday it had neglected to add two years to Olson's sentence for the bank robbery and murder and that she should have received a 14-year term, with parole after seven years.
And here's more on the announcement from Olson's attorney that she would attempt to block the additional year in prison.

"We are going to explore and exhaust every remedy," said Olson's attorney, Shawn Chapman Holley. She blamed pressure from the Los Angeles police officers' union, rather than a government error, for her client ending up back in prison.

"I don't think that there was a calculation mistake," Holley said. "We all spent a long time figuring out the formulas. There had been agreement on all sides about what the calculations were. … It's our feeling that the Department of Corrections is bowing to this political pressure."
Look, I'm sure Olson is a much better person than the worst thing she ever did—which is, among other things, to attempt to murder police officers.

But, at the risk of sounding like a broken record, I fail to understand why the same hand wringing and sympathy and desire to "exhaust every remedy" is not applied to urban kids who happen to be in the car when somebody else does something stupid….which brings me to Michael Duc Ta.
Michael Duc Ta was sixteen years old in 1999, the year that Sara Jane Olson was finally arrested. That year, Michael was arrested for being in a car when another kid fired a gun at a second car filled with "enemy" gang members. The shots missed. No one was hurt. No one was hit. And everyone agrees Michael wasn't the shooter. He had no prior police record and, although he often hung out with gang members, there was no hard evidence he was a gang member himself. Nevertheless, Michael Duc Ta was sentenced to 35 to life.

But, unlike most kids who are given draconian sentences for gang crimes, Michael had a lucky break: while in juvenile hall awaiting trial, he was one of 12 kids who was filmed for a documentary called "Juvies" made by an award winning filmmaker named Leslie Neale. Through the film and through Neale's interest, Michael acquired some powerful advocates who, after years of trying, were able to get his sentenced reduced to….11 to life. He has served nearly nine of those years.
It is considered unlikely that he will be paroled when he hits the 11 year mark—although, like Olson, Michael has been a model prisoner.

Now remember, in Michael's case, no one was hurt, and even the prosecution agreed, he was not the shooter.

In Sara Jane Olson's case, a woman was shot dead and, had things been 1/16th inch different, a police officer would have likely been killed by a pipe bomb, perhaps along with some of the people nearest to the cop car. Yet, even with her added time in prison, Sara Jane Olson is guaranteed to get out earlier than Michael Duc Ta.
**************************************************************

CORRECTION: I was mistaken when I wrote yesterday that Olson had been granted permission to travel to Minnesota, which seemed unusual this early in her parole. In fact, Olson was paroled to Minnesota, since that's where her husband and children reside.