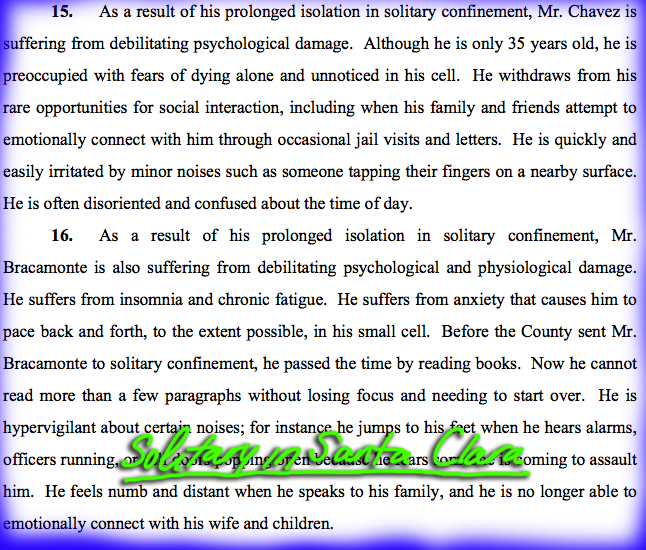 CLASS ACTION LAWSUIT OVER SOLITARY CONFINEMENT CONDITIONS IN SANTA CLARA COUNTY JAILS
Two Santa Clara County Jail inmates have filed a federal class action lawsuit challenging the county's use of solitary confinement as inhumane and in violation of inmates' constitutional rights.
The complaint alleges Santa Clara jails isolate "hundreds of men and women in tiny, filthy concrete jail cells" for 22-24 hours per day, only allowing three hours of exercise in a concrete yard each week. The Santa Clara inmates who filed the lawsuit, Brian Chavez and Brandon Bracamonte, say the men and women are held in solitary confinement indefinitely, and left in their cells for 47 or more hours at a time, causing serious psychological damage.
Both Chavez and Bracamonte are pretrial detainees. Chavez was indicted on conspiracy, narcotics, and gang charges, and Bracamonte was indicted on conspiracy, robbery, and gang charges. Chavez says that he was stripped of his trustee status one day and thrown into solitary confinement with no explanation. Chavez says that he has had no serious jail infractions. The county accused Bracamonte of participating in a "gang assault," but later backed down, saying there was no credible evidence of Bracamonte's participation. The two men accuse the county of not giving them access to the "yard," depriving them of fresh air and sunshine, for seven months. Both men say their prolonged isolation has caused them severe psychological damage.
"People isolated in tiny jail cells for 22 to 24 hours every day become depressed and suicidal. Those with pre-existing mental illness suffer from worsening symptoms including hallucinations, delusions, and paranoia," stated Kelly Knapp, a staff attorney at the Prison Law Office. "To make matters worse," Knapp continued, "many of these men and women did nothing to deserve being placed in solitary confinement in the first place."
---
SAN DIEGO TO PAY $1 MILLION AND MAKE CHANGES TO JUVENILE DETENTION AFTER TEEN HANGED HERSELF
In 2013, 16-year-old Rosemary Summers hanged herself with a bed sheet while locked up at Kearny Mesa Juvenile Detention Facility. Rosemary was reportedly left hanging for several minutes before guards were able to locate the proper tools to cut her down. She died four days later.
Rosemary had been in and out of juvenile detention for about a year-and-a-half following an arrest for marijuana possession and resisting arrest. Her final arrest, in 2013, occurred because she violated probation by not telling her probation officer that she was attending a rally for Travon Martin, the Florida teenager who was fatally shot by George Zimmerman, a neighborhood watch volunteer.
San Diego County officials have agreed to pay $1 million to settle a lawsuit from the Summers family alleging San Diego County Probation Department employees made errors that led to Rosemary's death. According to the suit, Rosemary was overmedicated, possibly contributing to increased suicidal thoughts. The detention facility was understaffed on the night Rosemary killed herself, and sent her to her room alone when she was upset.
San Diego County authorities said Rosemary's death was the first suicide by a kid in a San Diego County detention facility in 32 years. An NBC 7 investigation found that suicide attempts in San Diego juvenile facilities jumped from eight in 2011 to 25 in 2013.
The county has started making changes to prevent other adolescent suicides. The changes include splitting doors to the kids' rooms in half (so that unless privacy is needed, the top half of the door will be left open), removing door hinges that made doors swing shut automatically, and covering up vents.
San Diego reportedly plans to make other important changes, like installing cameras at the Girls' Rehabilitation Facility, improving inter-agency communication about minors in custody and mental health, increasing access to mental health services at the girls' facility, and making it easier for families to visit locked-up juveniles.
NBC 7's JW August and Lynn Walsh have the story. Here's a clip:
Summers spent a year and a half in and out of the juvenile facility after first being arrested for possession of marijuana and resisting arrest. Her last arrest occurred when she attended a 2013 rally for Trayvon Martin, the African American teen fatally shot by a neighborhood watch captain in Florida, and didn't tell her probation officer.

Her family previously spoke to NBC 7 Investigates and described Summers as a sassy and sensitive young lady; a young woman trying to find herself.

NBC 7 Investigates attempted to talk to a member of Summers' family Thursday but the family's attorney Gerald Singleton said the relative was too distraught to speak.

[SNIP]

Singleton said his legal team used over 30 depositions and other "overwhelming" evidence to reveal how the suicide came to take place.

According to documents submitted for mediation, the juvenile officers "didn't know their policies about suicide and didn't train the line workers on these policies."

"If they just had done that, trained on their policies and followed the policies, Rosemary would still be alive," Singleton said.

The night of her death, when Summers asked to talk to one of the guards, a guard looked at her and said, "Yeah, she is distressed, I need to talk to her," according to the mediation documents. The guard asked her supervisor's permission to talk to Rosemary but the supervisor told her "no."

"You just don't do that," Singleton said. "You have a kid who has tried to commit suicide twice. And the supervisor says no."

According to Singleton, the 16-year-old kept a journal in which she described her pain and confusion. The journal was part of a timeline of statements and behaviors which was submitted as part of the evidence.
---
UCLA REPORT LINKS LOWER SUSPENSION RATES TO BETTER ACADEMIC ACHIEVEMENT IN CALIFORNIA
California school districts greatly reduced the number of suspensions issued between 2011-2014, according to a study from UCLA's Civil Rights Project.
The study looked at the connection between suspension rates, which dropped from 709,580 in the 2011-2012 school year to 503,101 in 2013-2014, and performance on California's Academic Performance Index (which was ended in 2013).
Not surprisingly, lower suspension rates were connected with better academic outcomes for kids, and that correlation was especially strong for black students who saw the largest reduction in suspensions (but are still suspended at higher rates than their white peers).
"If we are serious about closing the achievement gap we need to make serious efforts to close the discipline gap," said Daniel Losen, Director of the Center for Civil Rights Remedies and lead author of the study. "Most important, the study suggests that, as discipline reform expands, there is no reason to assume achievement will suffer."
"There's been a general movement across the nation [to lower suspensions] and California has been among the leaders," said Losen.
---
LA TIMES EDITORIAL: RATHER THAN CRITICIZING FUNDING DELAY, QUANTIFY CURRENT PROP. 47 SAVINGS AND LOOK CLOSELY AT WHERE THE $$ CAN BE USED NOW
Official state funds from California's Proposition 47, which downgraded six low-level felonies to misdemeanors, will not be made available until August 2016. Critics say that one of the law's flaws is the two-year delay in funds meant to increase rehabilitation and re-entry programs and diversion efforts.
An LA Times editorial says that the wait for state funding doesn't mean those important programs have to wait. Instead, the Times editorial board says, counties could already be using the money they save from a reduction in felony cases, and initiating policy changes that make better use of freed-up prosecutorial manpower and other resources.Here's a clip:
The state Legislative Analyst's Office studied the numbers and projected savings to counties from Proposition 47 at "hundreds of millions of dollars." Counties could choose, right now, to spend their savings on all those rehab and reentry programs that critics say are not yet funded.

Because the savings mostly come in the form of reductions in workload, though, they won't easily translate into cash unless they are accompanied by sufficient staff reductions to keep the per-employee caseload constant. Most of a county's costs are in payroll.

But even without workforce reductions — and just to be clear, The Times does not advocate layoffs — the decrease in caseload has a value that presents itself in the form of policy choices. With fewer felonies to prosecute, for example, the district attorney could choose to lighten each individual lawyer's caseload, or take on felony cases the office previously would have let go. Or assign more lawyers to commendable new programs like the unit to review wrongful convictions or the task force working to provide treatment instead of incarceration for mentally ill people accused of crimes. Or assign more lawyers — or fewer — to the important task of reviewing petitions by inmates now serving felony time for crimes that Proposition 47 turned into misdemeanors.

Transforming the reduced prosecutorial and incarceration caseload into an increased drug rehab and reentry services caseload would require some creativity. But the first step is to quantify the savings and acknowledge the choices.

Los Angeles County has not yet done that. It is in the nature of bureaucracy — especially public bureaucracy — for increases in workload to be accompanied by demands for more funding but decreases in workload to be absorbed without anyone offering up or even acknowledging their savings. Spending decisions are still made, of course, but absent public discussion, they are generally made by default. They should instead be made deliberately and publicly by the Board of Supervisors, the district attorney and the sheriff, as well as by nonelected county officials, with full acknowledgment of the costs and benefits of selecting one option over another.

Service providers who are working hard to help eligible applicants clean up their felony records and apply for housing and jobs argue that the county has funding to help them but is instead spending it on prosecuting and jailing. More than a year after voters adopted Proposition 47, they ask, where is the county implementation plan that acknowledges the savings and brings advocates, community groups and providers to the table to discuss policy choices?

Supervisors Hilda Solis and Mark Ridley-Thomas are working on such a plan, which is expected to come before the full board this month. It is a belated but welcome step in the right direction.