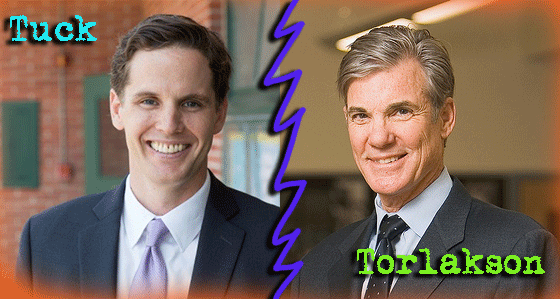 CRUCIAL STATE SUPERINTENDENT OF PUBLIC EDUCATION RACE ROUNDUP
California's race for Superintendent of Public Instruction is attracting a lot of attention, in part, because it has the potential to set a precedent for public education nationwide, but also because of the unusual amount of campaign money involved—over $20 million in contributions.
The race to oversee the state's public schools, which rank 45th in the nation, has been pegged as "reformer versus union" sets education reform heavyweight Marshall Tuck against incumbent Tom Torlakson (who, along with the state, was slammed with a Temporary Restraining Order over Jefferson High School's scheduling disaster, last month).
The NY Times' Motoko Rich points out that the superintendent race has drawn a great deal of interest from outside the state because it represents a battle taking place at the national level. Here's how it opens:
In California, one of just 13 states where the schools chief is an elected post, this year's race is unusual: It seems to have drawn more attention from outside the state than inside, because it is seen as a proxy for the national debate over teacher tenure rules, charter schools and other education issues that have divided Democrats.

The contest for California superintendent of public instruction has attracted more than $20 million in campaign contributions, largely because it is viewed as a referendum on the future direction of policy in public schools. And with two Democrats — Tom Torlakson, the incumbent, and Marshall Tuck, the challenger — vying for the office, the race also reflects a national schism within the party.

On one side are those like Mr. Tuck, who say that teachers' unions hold too much sway over the Democratic Party and that public education needs a more entrepreneurial approach. On the other are those like Mr. Torlakson, who say the proposed changes, which include the expansion of charter schools and greater use of test scores to evaluate teachers, amount to a corporate takeover of public schools.
The superintendent race is also the costliest in the state, with three times more campaign funding than the gubernatorial race.
Bloomberg's Karen Weise has more on the issue. Here's a clip:
When the country's most populous state heads to the polls for the midterm elections next week, big money won't be riding on who will be California's governor or represent it in Washington. Instead, a mountain of cash has focused on who will head the state's Department of Education. Donors put $30 million into the race for state superintendent, three times more than in the gubernatorial campaigns, according to data compiled by EdSource.
And in an op-ed for national business magazine Forbes, former presidential appointee to the U.S. Dept. of Education, Dallas Lawrence, endorses Marshall Tuck, pointing out his triumphs as founder of the Partnership for Los Angeles Schools, which included bringing up graduation rates at struggling LAUSD schools by 60%. Here's a clip:
The most hotly contested race in the Golden State will have no impact on who controls the U.S. House or Senate. It won't impact the gubernatorial race and it certainly won't alter the lopsided Democrat majorities in the California legislature. Nestled 61 pages into the 2014 California Voter guide is perhaps the most important campaign being waged in America today—a campaign to reform the state's broken public school system and shake up the dysfunctional status quo that has fueled a race to the bottom for California's public schools which now rank 45th in the nation. The campaign for California's non-partisan Superintendent of Public Instruction is about much more than which Democrat (as both candidates are Democrats) will be elected the state's chief school officer. It is, as a recent San Diego Union Tribune headline declared, a campaign pitting "reformer versus union" in an election with significant national implications.

The reformer is Marshall Tuck, a scrappy, roll-up-your-sleeves and get-to-work fixing our schools, kind of leader. Tuck served most recently as founding CEO of the Partnership for Los Angeles Schools, a groundbreaking collaboration with the Los Angeles Unified School District to operate 17 struggling public elementary, middle and high schools serving 15,000 historically underserved students. Under Tuck's leadership, these schools increased four-year graduation rates by over 60% while improving school safety and student attendance. Over the last five years, the Partnership schools ranked first in academic improvement among school systems with more than 10,000 students.
---
KQED'S CALIFORNIA REPORT PROFILE ON CA ATTORNEY GENERAL KAMALA HARRIS, SEEKING REELECTION
KQED's Scott Shafer has an interesting profile piece on California Attorney General Kamala Harris, including her battle against California's truancy crisis and her efforts to be "smart on crime" rather than tough (or soft) on crime. Here's how it opens:
California's attorney general is often known as the state's "top cop." And to be sure, Kamala Harris has done her share of "law and order" press conferences announcing drug busts and gang takedowns.

But, as she heads into Tuesday's election, Harris has clearly emphasized different priorities than her predecessors.

One of Harris' new TV ads makes clear how different she is from previous attorneys general. The ad features a smiling Harris sitting around a classroom table with young schoolkids.

"If you're chronically truant from elementary school, you are four times more likely to drop out and become a perpetrator or a victim of crime," Harris says in the commercial. "That's why we're taking on the truancy crisis in the California Department of Justice."

The ad ends with a smiling Harris high-fiving all the children. It is, Harris acknowledges, a distinctly different emphasis from the typical "lock 'em up and throw away the key" approach to law enforcement.

"I think we have accepted a false choice, which suggests that one can either be soft on crime or tough on crime, instead of asking, 'Are we smart on crime?'" Harris said this week. She compares law enforcement with public health — favoring prevention over treatment.

"If the sniffles (come) on, then it's early intervention," she says. "But if we're dealing with it in the emergency room or the prison system, it's much too late and it's far too expensive."

Harris has made reducing truancy a cornerstone of her job. Yet an A.G. has little direct impact over that. And Gov. Jerry Brown recently vetoed two anti-truancy bills she was pushing.

But Imperial County District Attorney Gilbert Otero, who heads the state association of DA's, appreciates Harris using the bully pulpit on issues like truancy.

"Truancy is a big issue," Otero said. "If the attorney general comes down and starts talking about something like that, then you know I'm all for it."
---
LA COUNTY SUPERVISOR CANDIDATES SHEILA KUEHL AND BOBBY SHRIVER DEBATE ON WHICH WAY, LA? WITH WARREN OLNEY
If you're looking for a way to decide between Sheila Kuehl and Bobby Shriver, the the two candidates looking to replace LA County Supervisor Zev Yaroslavsky for the 3rd District, take a listen to KCRW's radio debate, moderated by Warren Olney.
Here are some clips from near the end of the program in which Kuehl and Shriver discussed the proposed $2 billion jail plan, mental health diversion, jail abuse, and the impending federal consent decree to address issues with mental health care within county jails.
Olney: The current board has voted to spend $2 billion on a new jail with a wing for the mentally ill, at the same time as an effort to reduce the number of inmates, partly through the diversion of people who are mentally ill. Would you, if you became a supervisor, continue the process of building that $2 billion new jail?

Shriver: No. I've said widely and everywhere that I would not. I think mentally ill folks should be treated in community settings. We've got a lot of research showing that it's very, very bad to jail them—these are the non-violent mentally ill people.

Olney: But the jail is for other people as well. Is there a need for a $2 billion jail?

Shriver: No. There's a need for a new jail, for bad people. There is not a need for a new jail to incarcerate mentally ill or substance abusing people. They should be treated in the community. But that's the current plan—I think it's important for your listeners to know—the current plan, brought forward by Mr. Fujioka and others, is to build a $2 billion jail and keep mentally ill people in that jail. I am completely against that. I am for community mental health care.

Kuehl: I agree. I'm against it as well. The supervisors did not vote uniformly on this jail, and I'm hoping there will be some way to open that up again, should I be elected. And I know Bobby agrees about trying to open it up. The difference, I think, between what they adopted and what would be right, is the ability to send more people into community treatment, not only for mental illness, but also substance abuse.

[SNIP]

Olney: The federal Justice Department is seeking consent decree to get in control of the county jails, which it describes as "dimly lit, vermin-infested, unsanitary, cramped, and crowded." And that, they say, is one reason for the suicides of so many inmates, especially those who are mentally ill. Abuse by sheriff's deputies appears to be part of the problem, but you don't control them. The Dept. of Mental Health has a major presence in the jails. Does it need new leadership?

Shriver: It does. It reported to Mr. Fujioka, by the way. The consent decree will come, and I will not oppose it. I think that management in the jails is just been a disaster. Police officers have been indicted. As sheriff-candidate Jim McDonnell said the other day, they're going to do hard time. So, when you've got police officers being indicted by the federal government, who are going to go to jail, you've got a situation that needs real addressing.

Olney: What responsibility is that of the board…?

Shriver: If I were on the board, I would be gnashing my teeth…. I would be examining the budget in a very aggressive way….The sheriff is independently elected. You can't tell the sheriff how to police things. What you can do, is run the budget. That's the supervisor's job—to supervise the budget. And if you run somebody's budget, you can have a lot of influence over them, and that just wasn't done here. The CEO didn't do it, the board didn't do it, and this situation is out of control, and needs to be fixed.

Olney: And Sheila Kuehl, what about the consent decree? That's liable to cost the county a lot of money.

Kuehl: It's going to cost the county a lot of money. The supervisors actually have a great deal more they can do in addition to the budget, because their hands are going to be tied a little bit by the consent decree costing so much more. And that's really about what needs to be done in the jail itself….it's not just budget. It's a question of, can there be a citizen's oversight commission? It's a question of whether the inspector general can have subpoena power…
---
FORMER UNDERSHERIFF PAUL TANAKA'S NEW COMMERCIAL
Sheriff-hopeful Paul Tanaka has released a new TV ad with a focus on public safety.