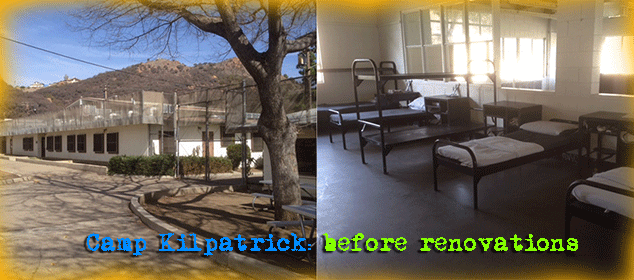 LA COUNTY'S CAMP KILPATRICK'S SHINY, NEW REHABILITATION-CENTERED FUTURE
LA County Probation's Camp Kilpatrick, an outdated and rundown juvenile detention facility in Malibu, will be torn down this summer and replaced by what is hoped will be a new kind of camp that will help reverse decades of neglect and outdated practices in the nation's largest juvenile justice system. This transformed Kilpatrick, which will reopen in either 2016 or 2017, is planned as a facility centered on rehabilitation, education, and healing that, ideally, will jump-start meaningful reform throughout LA County's juvenile system, and beyond.
The Juvenile Justice Information Exchange's Gary Cohn has more on the future of Kilpatrick. Here are some clips:
Camp Kilpatrick is one of 14 probation camps in Los Angeles County, which has the largest juvenile justice system in the nation. Most of the camps were built during the 1950s and 1960s, and they are characterized by penitentiary-like facilities and strictly enforced routines. In a 2012 letter to the Los Angeles County Board of Supervisors, the county's chief probation officer Jerry Powers has described the design of the probation camps as "creat(ing) an image of a jail-like environment."

In the UCLA report on reforming Los Angeles County's juvenile justice system, Newell and her co-author, Jorja Leap, describe numerous consequences of the outdated design. The barracks-like dormitories do not foster rehabilitation and only serve to foster competition, deepen factions and further gang problems. Youth interaction with staff is inconsistent and often adversarial. Safety problems persist. And educational opportunities are inconsistent.

"Even the newest Los Angeles County probation camp — Challenger Memorial Youth Center, which opened in 1990 in a geographically remote area with a command-and-control program — represents an outdated era of juvenile justice that does not meet the needs of today's system-involved youth," the report states.

The new model envisions small dorms of 10-12 youth, with a living room area and private bathrooms, in sharp contrast to the current facilities and their large open dorms with 50-120 beds in military barracks style, open bathrooms and no privacy. It envisions a better staff-to-youth ratio, one where staff have regular schedules that support working with youth, consistency and relationship building rather than 56-hour work schedules with 16-hour shifts, with staff then gone for several days. And it envisions an environment where safety is promoted through strong relationships, and where isolation rooms are eliminated.

"You need an environment that's conducive to positive youth development, that feels normal, that feels safe, that feels comfortable, that feels homelike," Newell told JJIE. The rebuilt Camp Kilpatrick facility, she adds, "will really be designed with rehabilitation in mind — what do youth need, and how can the facility design help support this."

Similar approaches have worked in Missouri, Washington, D.C., and Santa Clara County.

The small group rehabilitation approach has been particularly successful in Missouri, reducing recidivism to one of the lowest rates in the country. The hallmark of Missouri's system is small, cottage-like facilities at locations that keep juveniles close to their own homes and emphasize rehabilitation. As one indication, in 2011 only 6.9 percent of youth discharged from Missouri's Division of Youth Services were recommitted for new juvenile offenses within one year. The approach has been so successful that juvenile justice advocates refer to it as the "Missouri Miracle."

[SNIP]

The Camp Kilpatrick transformation will be based on the Missouri model, but it will be tailored to specific needs in Los Angeles County. For example, a project-based learning education model called Road to Success Academy (which has been piloted in other LA County probation camps) is expected to be the educational model, which is intended to complement the other components of the Missouri model.

The project is being funded primarily through a juvenile justice realignment bill passed by the California state Legislature in 2007, which created new funding for counties to improve their facilities. Los Angeles County got the go-ahead to rebuild one of its probation camps based on best practices, and it selected Camp Kilpatrick because it was physically in the worst shape. The county has been working with researchers and juvenile justice advocates on the new design model.

The county is expected to select a design and building firm in the coming months, and the rebuilt Camp Kilpatrick will likely open in 2016 or 2017.
Back in March, we had a series of stories about a push by advocates, parents, and coaches to save LA County Probation's popular sports program at Camp Kilpatrick, which didn't quite fit into the camp's $48 million state-of-the-art rebuild. (The sports program has fortunately found a new home at Challenger Memorial Youth Center camp in the Antelope Valley for the fall 2014 sports season. You can read more about it here, here, here…and here.)
---
HUGE DOJ POLICY SHIFT CALLS FOR RECORDING OF (ALMOST) ALL SUSPECT INTERROGATIONS
After over 100 years of the FBI operating under a policy prohibiting the recording of nearly all interrogations, the Department of Justice has instated "sweeping" new policy requiring interrogations (with some exceptions) be recorded, preferably with both audio and video. As US Attorney General Eric Holder explains in the above video, the new rule will promote accountability and protect both agents and suspects by creating an "objective account of key investigations."
The Arizona Republic has the story. Here are some clips:
Since the FBI began under President Theodore Roosevelt in 1908, agents have not only shunned the use of tape recorders, they've been prohibited by policy from making audio records of statements by criminal suspects without special approval.

Now, after more than a century, the U.S. Department of Justice quietly has reversed that directive by issuing orders May 12 that audio recording, preferably with video, is presumptively required for interrogations of suspects in custody, with some exceptions.

There was no news release or news conference to announce the radical shift. But a DOJ memorandum obtained by The Arizona Republic spells out the changes that will begin July 11.

"This policy establishes a presumption that the Federal Bureau of Investigation (FBI), the Drug Enforcement Administration (DEA), the Bureau of Alcohol, Tobacco, Firearms and Explosives (ATF) and the United States Marshals Service (USMS) will electronically record statements made by individuals in their custody," says the memo from James M. Cole, deputy attorney general, to all federal prosecutors and criminal chiefs.

"This policy also encourages agents and prosecutors to consider electronic recording in investigative or other circumstances where the presumption does not apply," such as in the questioning of witnesses.

[SNIP]

Attorneys, researchers and critics of the old policy say reform brings federal agencies up to modern policing standards and removes a stigma that has damaged the credibility of America's criminal-justice system. Put simply, in the absence of recorded interviews, defense lawyers have been able to undermine honest testimony by some FBI agents while, in other cases, agents misremembered, distorted or lied about suspect statements.

The failure to maintain electronic records of interrogations also created gaps in FBI intelligence gathering, especially involving terrorism cases. Instead of maintaining an accurate and largely indisputable record, agents on the witness stand for decades have relied on their memories, interpretations and handwritten notes transcribed into a form known as the 302.
(HuffPost published a copy of the DOJ memo. Read it here.)
---
THE TOOLS MAX HUNTSMAN NEEDS TO SUCCEED IN REFORMING THE SHERIFF'S DEPARTMENT
In January, Max Huntsman took on the role of Inspector General over the scandal-plagued LASD. But in the current capacity of inspector general over a department with an public-elected sheriff, Huntsman does not have the power to enforce reform, he can only focus a spotlight on the department's problem areas.
In an op-ed for the LA Times, Katherine Mader, the first LAPD inspector general (1996-1998), calls for legislation that would beef up the authority of an inspector general overseeing a law enforcement agency.
Here are the powers Mader says an IG would need to initiate real change:
• The power to promise confidentiality to those he or she deals with during inquiries. Without such power, an inspector general's private notes of interviews with complainants may be subpoenaed by the city or county to assist in civil lawsuits.

• A set, tenured term. In both the county and the city, inspectors general are "at will" employees and can be fired without cause. Tenure would enable them to issue critical reports — especially ones likely to generate controversy — without fear of reprisal. Such reports are often applauded in the beginning, when reform is wanted. But once a troubled agency is deemed "fixed" and politicians have taken credit for the reformation, they are likely to be far less receptive to critical reports.

• The power to initiate investigations. A true inspector general should be able to look at any facet of police operations and write a report on shortcomings he finds. The overseeing commission or board should not be able to shut down an inquiry.

• The power to release reports. A true inspector should be able to release the findings of any inquiries. No overseeing board should have the authority to keep a report secret.

• The power of access. There should be no nook or cranny within a police agency that cannot be probed by the inspector general. That means access to all generated internal reports, especially those produced by the internal affairs division, whether or not an investigation is complete. Inspectors general throughout the country, as well as in Los Angeles, have consistently complained that their access is often restricted, and there is no remedy.
IN OTHER LASD RELATED NEWS…
During Wednesday's debate at the Sherman Oaks Homeowners Association, several rival sheriff candidates urged Paul Tanaka to drop out of the race after the former undersheriff acknowledged being a subject in an ongoing federal investigation.
KPCC's Frank Stoltze has the story. Here's a clip:
"He needs to step aside," former Sheriff's Commander Bob Olmsted said. Olmsted also directly addressed his former colleague, who stood a few feet from Olmsted inside the crowded cafeteria at Notre Dame High School.

"You perpetuated the code of silence for years by hiding the malfeasance and the criminal wrongdoing," Olmsted said to Tanaka. Olmsted is among a handful of department officials who complained about problems at the agency to the FBI…

Another candidate, Assistant Sheriff Todd Rogers, said Tanaka is "the common denominator with all these scandals" at the department. A federal grand jury has indicted 20 deputies on corruption or civil rights charges. A separate federal probe found deputies engaged in racial profiling in the Antelope Valley. In addition, Sheriff's Department officials have admitted to hiring dozens of unqualified deputies.

Long Beach Police Chief Jim McDonnell called the FBI investigation into Tanaka "a major distraction to being able to move forward…and begin the healing process" at the department. McDonnell reiterated he is best qualified to make changes at the agency because he has no affiliation with it. Opponents have said his lack of knowledge of the sprawling department is a liability.

During the debate, Tanaka, who has raised the most money among the seven candidates, sought to rise above the criticism.

"Certainly the usual attacks occurred," Tanaka said. "We are fighting for the top cop job in the county, and this is politics."