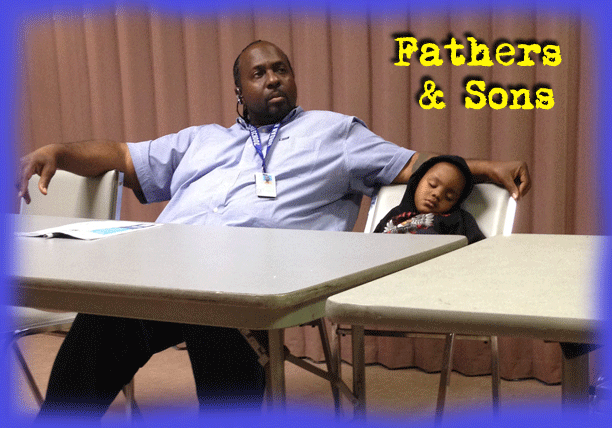 REBOOTING FATHERHOOD IN THE PROJECTS
As Jordan Downs heads for a massive rebuild, how the men in one unique local support group may help heal their long-troubled community—as they heal themselves
---
Michael Cummings—a large, charismatic man known by most simply as Big Mike—has been through a wider variety of stages in his life than most. He's been an LA gang member, been shot, sold drugs, been to prison.
Now he's an ordained pastor and a recognized community leader who spends most of his waking hours working to heal the same community that, as a young man, he and his friends helped to break.
For instance, on weekdays, Cummings oversees a program called Safe Passages where he, and the team he has organized, get kids to and from Jordan High school safely so they don't get robbed, jumped, beaten up…or worse—and thus stop going to school, or drop out altogether.
Then as a pastor, in addition to his spiritual work, he officiates at funerals when someone is killed by neighborhood violence, and helps the families of the dead find affordable ways of burying their loved ones. He helps struggling young men in the community to find jobs, and, when he is able, interrupts violence on the street when he sees it about to occur.
And, since the fall of 2011, Big Mike has run something called Project Fatherhood, in which men from the Jordan Downs housing project (and beyond), meet every Wednesday to teach each other, and themselves, how to be fathers.
"See, most of the men in the group never had fathers," Cummings told me. "Or if they did have a father in the home, he was usually was doing drugs or an alcoholic, or abusive, or both. So those men never had anyone show them what it means to be a parent," said Cummings, at least not a male parent.
"A mother can teach a lot of things. But she can't teach the same things that a father can teach," he said. "She can't teach a boy to be a man."
It is that lack of a father that often sends young men into gangs, said Cummings (a fact that I had observed over and over again in my own years of gang reporting.)
"Take me," said Cummings. "My father wasn't there. He came around every so often, but even then, he mostly talked to my sister." Cummings paused. "For a long time, everything I did"—the gangster activities, the drug sales, the flashy accoutrements—"all that I did to show my father I didn't need him. If he had a Cadillac, I wanted two Cadillacs. That's how I got back at him. That's how I showed him he didn't matter, that I could become a man without him."
A lot of the men in the group are like him, Cummings said. But they are also men who wanted desperately not to continue the cycle.
---
MEN WITHOUT FATHERS
Project Fatherhood was begun with a grant from the Children's Institute, administered by The Housing Authority of the City of Los Angeles (HACLA). For years one of LA's poorest and dangerous public housing complexes, Jordan Downs is now scheduled for an ambitious $1 billion reconstruction to begin in 2014, and HACLA is trying to institute programs and activities that will help improve the personal lives of the residents, during the time in which their residences are being so dramatically transformed. With all this in mind, the CI people saw Jordan Downs as an ideal site for a new program to "help reengage urban fathers." Some years before, Children's Institute had noted that "fathers were most often left out of programs designed to strengthen troubled low-income urban families." Thus Project Fatherhood was created. It was a program that CI had already tried out in other locations, but there seemed to be few better laboratories for a new iteration of the program than historically dysfunctional and violence-haunted Jordan Downs—especially when it was on the cusp of such a massive change.
When HACLA began looking for someone to launch and run the experimental parenting group, Cummings—along with another friend, Andre Christian— already had a once-a-month casual Saturday barbecue/talk session going in Jordan Downs. The way it worked was as follows: using the food as an excuse, guys from the projects would drift over the barbecue area, at which point Cummings and Christian would engage them in conversation on a variety of topics, parenting prominently among them.
And so when Cummings and Christian heard that HACLA was looking for people to submit proposals to run some kind of new fatherhood program…. "We went for it," he said.
The twosome got the nod—which meant a small grant for the first year's expenses, plus the requirement that they hire a master social worker.
UCLA's Dr. Jorja Leap, who already knew Big Mike from her gang work, agreed to fulfill that social worker role. Leap is an expert on gangs, at risk youth, and community violence reduction (among other specialities). "But I started out as a social worker in Watts in 1978 and into the '80's," Leap said. "So for me it was like coming back home."
---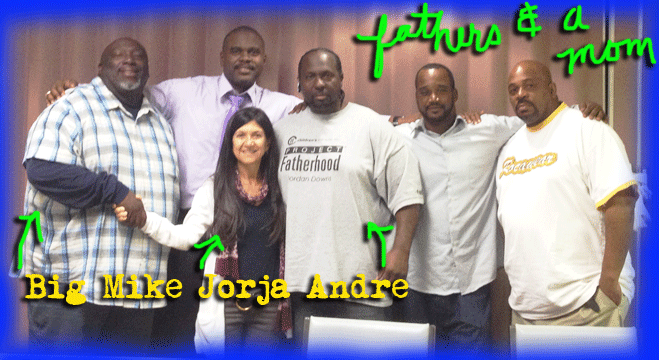 REBOOTING FATHERHOOD
The combination worked. A few men out of Cummings and Christian's Saturday barbecue group came and the word spread. Sometimes the meetings held inside Jordan Downs on Wednesday afternoons are crowded. Other times, according to Leap, it's down to the core group of 15 or so men. There are a few hispanic men, but most are black, all are impoverished.
All want to be better fathers.
The topics discussed vary widely. "We teach them how to go to school for their kids to talk to the school principal or the counselors," said Cummings. "We deal with racial and emotional issues. With talk about how to get jobs to support their families. We talk about what it means to be there for your kids."
Some issues turned out to be controversial and difficult, explained Leap, like the night they talked about corporal punishment—hitting your kids. "They fought me on that," Leap said. "It got down and dirty. They kept saying, 'You don't understand…' They were worried if they didn't hit their kids, they would make their kids weak."
Still, in the days and weeks after the fractious spanking and hitting discussion, some of the group members told Leap individually how they were struggling with the issue, and that they had decided no more physical punishment. "But they never said it to the group."
The night that got to her most, Leap said, "was the night the men talked openly about how they wished they'd had fathers. I'd heard it before from other men, and from homeboys. And, in my work, believe me, I'm on intimate terms the father wound, and all that." But she'd never quite heard the level of anguish around the subject that she heard that night.
---
GROWTH BEGETS GROWTH
Now the program is in its second year, with a brand new and larger 2-year grant that will keep it going for at least a third year. While the core of Project Fatherhood has remained the same, the positive outcomes it is producing have widened beyond solely parenting. For example, in addition to the fathering talk and training, Cummings and company have gotten some of the men into a good construction apprenticeship/training program, at the end of which, "they have OSHA cards."
Plus, empowered by their involvement in the group, the men have started extending themselves to become more involved in helping their communities, said Leap.
She described one awful night last June when a 24-year-old father and his 1-year old son were shot in what appeared to be a gang shooting gone awry. The father lived, but the little boy died. Although the wounded dad wasn't part of the Fatherhood group, Leap said, the group nevertheless texted each other back and forth and "organized a peace march, and marched throughout the neighborhood," to show the sorrowing young father their support.
Another night, Cummings said, a young father age 20 or 21 came to the group and said he had an autistic child and really needed some help. "Two other fathers in the group spoke up and said that they also had autistic kids, and began talking to him about all the things he would need to do."
Amazed by the unexpected wisdom he suddenly saw exchanged, the incident became one of Cummings' favorites.
On still another occasion, the Project Fatherhood guys attended a meeting that had been scheduled to discuss concerns about the Jordan Downs reconstruction. In response to issues expressed by the crowd at the meeting, plus additional community lobbying and pressure, it was decided that 30 percent of the construction jobs created by the project had to go to locals. Cummings tells how the fathers were jazzed to be a part of the community activism.
"You can see the growth in all these men," he said. "It's so strong!"
---
REPLICATION
In addition to continuing to grow and strengthen Jordan Down's Project Fatherhood, Cummings believes that the project can and should be replicated. "We're to the point, that we could take this project anywhere. You'd have to tailor it for the individual communities, but the basics are there."
And the need is great, he said.
"In Jordan Downs, Project Fatherhood was basically something that'd been waiting to happen. But the potential was there. The need was there."
Leap agreed. "This is an example of a community really doing for itself. And that's exactly how you affect real change."
---
POST SCRIPT: THE FATHER OF ALL SUPPORT GROUPS
A few weeks ago, the LA Times Kurt Streeter published a wonderful story on Project Fatherhood that gets deeper into what the meetings are actually like than what we have here. It's a must read.
Below, for example, is a clip from the middle of Streeter's story in which he tells of the night the men talked about discipline:
One evening there's a discussion that might take place at a parenting group in a faraway suburb: where to get good baby formula, how best to bottle feed, the importance of being open and honest. The next week the talk is more particular to Jordan Downs: raising families on welfare; keeping kids from being killed by gangs from nearby neighborhoods; maintaining dignity when you're a father struggling to find work.

The two topics discussed with the most passion? The men's mothers and the virtues of old-fashioned discipline.

"Good Lord, we love our mamas," says one of the men on a midsummer night. But it's complicated. Some of their mothers were drug addicts. Some had dangerous boyfriends or were quick-tempered.

"You all remember mine," McGruder says. "Anyone in these projects needed anything when they were boys, they could come to her."

The men agree. Everyone remembers Miss McGruder.

"But oh Lord, she laid some whuppings on me," he says. "All of our mothers did. That discipline is what's missing with our kids these days."

There are cackles of laughter. Children in the neighborhood, one father argues, "need to learn fear." Without fear they can become teens who talk back to the police. If that happens, the police will surely jail, beat or even kill them.

The reasoning hangs in the air, solemn, serious, seen as fact. "Tell it!"

Leap, married to a former LAPD commander who once patrolled Jordan Downs, tries to get the group to consider alternatives to corporal punishment. Some of the men say she's just plain wrong. Talking and "time-outs" might work in wealthy white neighborhoods, but not here.

Sensing she's going to lose this debate, at least for now, Leap reminds the men of how the law defines child abuse. "No closed fists, nothing to the head, fellas, nothing."

Big Mike joins her. "No bruises or cuts. You do that, not only is it wrong, but your kids are gonna be taken by the authorities."
Be sure to read the rest here.
---