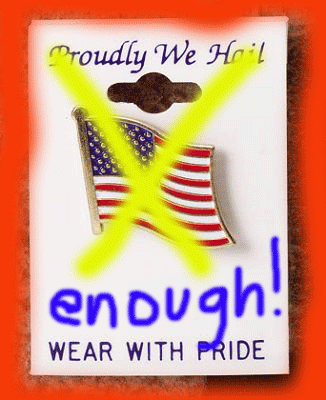 In yesterday's New York Times Elizabeth Edwards slapped the media upside the head for its repeated dwelling on trivia, both now and last year when the Democrats were still in the midst of a multi-candidate race.

This morning's LA Times wants SOMEONE…ANYONE in the media to ask the candidates less about flag pins," bitterness," and "geriatric radicals," and more about actual….you know…. issues. Helpfully, the Times lists some sample questions, among them the following:

You have criticized President Bush's expansion of executive power. Detail for us how you intend to legally forbid yourself — and your successors — from using signing statements to alter legislation. Don't tell us that your judgment will be better than Bush's, so not to worry. Give us specifics.

How exactly would you ensure that no American citizen can be declared an "enemy combatant"? Explain what you believe a president ought and ought not to be able to do with a foreigner captured abroad and suspected of having plans to kill Americans.

Describe a situation in which you would defend the president's asserted power to monitor telephone conversations and e-mails of U.S. citizens without a warrant.

I'd also like to hear what suggestions all three candidates have for curing the nation's hideous urban school drop out rates.
In addition, it might be nice to hear if they have any constructive thoughts on the spreading world food crisis that is now called the worst in a generation.

And what about the fact that one in every nine African American men between 20 and 34 is behinds bars? I'd prefer to hear those who might be president give a few words over to that troubling issue rather than hearing one more thing about somebody's pastor (or sniper fire, or possibly purloined favorite recipes, for that matter.)

And now that we're on the subject, when a bunch of editors and writers were sitting around at the LA Times book fair, talking about life, books, and the NEA (among other things) it was mentioned that we we wouldn't mind knowing who each of the candidates would be likely to appoint as their arts advisers. (No. Issue-wise this is not exactly as pressing as the Iraq War, the nose-diving economy, global warming, or health care, but the answer would be, in its own way, telling nonetheless. And it has a hell of a lot more to do with the emotional/moral/spiritual health of the nation than freaking flag pins.)
What would you like to ask?