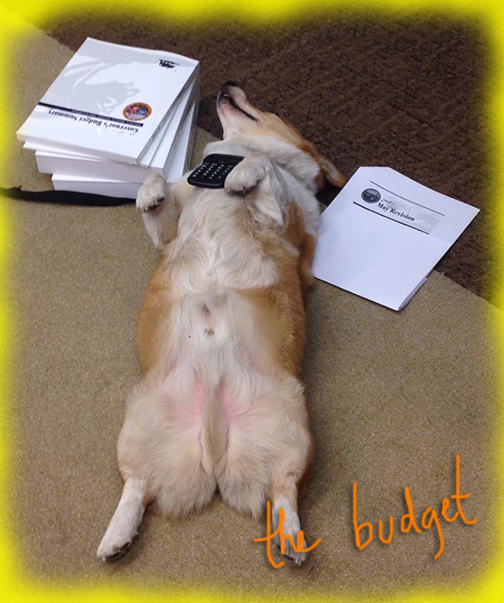 ACLU BLASTS BUDGET FOR KEEPING PROP. 47 SAVINGS IN PRISONS
The current Department of Finance estimate of savings from the first year of California's Proposition 47—$29.3 million—was included in the proposed state budget for fiscal year 2016-2017 released yesterday. That savings is earmarked for mental health and drug rehab programs for criminal justice system-involved people, efforts to reduce truancy and help at-risk students, trauma recovery centers for crime victims. But the $29.3 million sum is far below previous estimates of what the 2014 law—which reduced six low-level felonies to misdemeanors—would save in its first year.
The ACLU of Northern California says that by subtracting certain supervision and court costs from the Prop. 47 savings total, Governor Jerry Brown is trying to keep a chunk of the savings in the prison system.
Here's a clip from the ACLU:
It is unreasonable and disingenuous to claim that Prop 47 has not significantly reduced incarceration costs at the state level. The governor's intention to keep some Prop 47 savings within the prison system rather than reinvesting the full amount into communities disregards the will of California voters. This betrayal of voter intent must be repaired before the state budget is finalized in the summer.

Passed by 60% of voters in November 2014, Prop 47 reduced six low-level drug and property offenses from felonies to misdemeanors. A felony offense requires more court and prison time – and therefore more money – than a misdemeanor, which requires fewer hearings and is punishable by up to one year in jail or three years on probation. A felony conviction also costs more than just taxpayer dollars; it undermines public safety by erecting lifelong barriers to the basic necessities that people require to create stability for themselves and their families. Even decades after a person has served their sentence for a felony (regardless of its severity), that felony record makes it difficult to find housing, get decent-paying work, access student loans and closes other opportunities for self-sufficiency. When they approved Prop 47, Californians agreed that a felony is too severe a punishment for certain petty offenses, specifically drug possession for personal use and petty theft of under $950.

Through Prop 47, voters didn't just demand that punishment better fit the offense. They demanded that California reinvest the savings – not some, but all the savings – from reduced state incarceration into our communities to prevent low-level crime by addressing people's underlying needs like mental health, substance use disorders, and school truancy, as well as to expand support for survivors of crime.
---
CHILDREN'S DEFENSE FUND-CALIFORNIA URGES GOV. BROWN TO "INVEST IN THE WHOLE CHILD"
A different response to the budget, this one by Alex Johnson of the Children's Defense Fund-California, praised a "historic investment in K-12 education," but urged the state to "invest in the whole child" by putting more funds into child care, early education, health care, and programs to help the state's most vulnerable families.
"We encourage the Governor and the Legislature to develop a final budget that invests in the whole child and strengthens the safety net to create a stronger future for all of California's children and families," Johnson writes.
---
LASD DEPUTY CHARGED THREE YEARS AFTER WOMAN REPORTS RAPE
In September 2010, (now former) LA County sheriff's deputy Jose Rigoberto Sanchez pulled over Lindsay F., who was driving home from a job interview in Lancaster despite having a suspended license and a warrant for missing a DUI court date. When Lindsay asked if Sanchez was going to arrest her, the then-deputy said, "No, but what are you going to do for me?"
Lindsay declined his advances, but when the deputy told her to get in his car, she thought she was under arrest, and did as she was told. Sanchez took Lindsay out into the desert and brutally raped her.
Afterward, Sanchez followed Lindsay home, asked for her phone number, and said, "This was fun. Let's do it again." Lindsay says she was terrified, but still reported the rape to the sheriff's department the next day.
Before the LASD suspended Sanchez two days later, the deputy attempted to rape another woman, an undocumented immigrant. The woman's friend intervened, stopping Sanchez, who was trying to intimidate the woman, and take her into the desert. The the woman did not report Sanchez, because he threatened her regarding her undocumented status, and she was afraid she would be deported.
The LASD submitted Lindsay's case to the LA County District Attorney's Office four months later, in January of 2011. When Lindsay would call to check up on the case, the she was repeatedly told her case was still under evaluation. The DA's Office didn't schedule a first interview with Lindsay until August 2011, and reportedly nearly dropped the case altogether. In May 2012, the case was reassigned.
While the DA's Office was taking three years to evaluate Lindsay's case, she filed a civil suit, in hopes of pushing the criminal case into motion. Lindsay feared for her safety during those three years because Sanchez was free and on an unpaid leave from the department. Lindsay developed PTSD, reportedly a common reaction of rape survivors.
The defense lawyers for the civil suit asked Lindsay questions like whether she was a carrier of HPV prior to the incident, whether she had been a victim of sexual abuse, and whether she had cheated on her boyfriend. The lawyers deposed Lindsay's then-boyfriend, parents, and grandmother. They asked Lindsay's parents questions about whether she had ever accused another person of rape, and why she had trouble maintaining romantic relationships. The lawyers asked her boyfriend about their sex life after the incident.
Finally, nearly three years later, in July of 2013, Sanchez was arrested and charged. And in November 2015, the LA County Board of Supervisors approved a $6 million settlement. And according to Lindsay's lawyers, the county spent around $400,000 fighting the case before settling.
Buzzfeed's Katie J.M. Baker has the story. Here's how it opens:
For five years, Lindsay F. relived the night she was brutally raped by Jose Rigoberto Sanchez, then a Los Angeles County sheriff's deputy, over and over again. She had to recall every detail — his come-ons, the route to the secluded area where he pushed her onto the hood of his car, how he followed her home afterward — whenever investigators asked her to retell her story. If Lindsay missed a detail or confused the timeline, even after years had passed, they accused her of lying, she said.

"To make sure the story didn't change, I had to run it through in my head like a movie," Lindsay told BuzzFeed News in a recent interview. "It's just like pressing rewind. I wouldn't let myself forget any of it."

Lindsay was prepared for a long and challenging process when she reported her rape the day after it happened in September 2010, when she was 24. In November 2015, Los Angeles County approved a $6 million settlement in a civil lawsuit Lindsay filed in 2011.

But in her fight for the county to admit liability, Lindsay underwent a humiliating and interminably long process, one that experts in law enforcement misconduct litigation said is commonplace. Even after Sanchez went to prison — not just for raping Lindsay, but for attempting to coerce another woman into sex under similar circumstances just two days later — the county's lawyers for the civil suit spent hundreds of thousands of dollars attacking Lindsay as if she had falsely accused Sanchez. (The county's office said it had "no comment on this litigated matter.")

They asked Lindsay about her sexual history: Had she ever had HPV? They deposed her friends: What had Lindsay been wearing the night Sanchez pulled her over? They even went as far as to hire a gynecology medical expert witness to testify that Lindsay's vagina had not shown significant signs of trauma.

In the meantime, Lindsay's life was put on hold for half a decade, she said, because the process was so retraumatizing.

"I always felt like they hoped I would drop the case," Lindsay said. "They can't claim that they're trying to protect and serve when they completely tear down any woman who comes forward."
---
MENTALLY ILL AND INCARCERATED IN THE US VIRGIN ISLANDS
Dahlia Lithwick has a worthwhile story for Slate about the appalling state of mental health in the US Virgin Islands. Here's a clip:
A 2007 prison survey revealed that about 1 in 12 inmates with a mental disorder reported at least one incident of sexual victimization by another inmate over a six-month period, compared with 1 in 33 male inmates without a mental disorder. Among female inmates with a mental disorder, almost 1 in 4 are sexually victimized.

Suicides and suicide attempts are common. A study of 132 attempted suicides in the King County, Washington, jail system found that 77 percent of the prisoners had a "chronic psychiatric problem," compared with a rate of 15 percent among the rest of the jail population.

Prison time does nothing but exacerbate the underlying problem. This 2015 study from the Urban Institute cautions that mentally ill inmates, who are typically jailed for trivial offenses such as trespassing, disorderly conduct, or drug use, tend to stay in jail longer than nonimpaired inmates, recidivate and return to jail more frequently, and cost local jurisdictions more to incarcerate.

The crisis has become particularly horrifying in the U.S. Virgin Islands, where more than 25 percent of the prison population is reportedly mentally ill. An NPR report from 2007 notes that the U.S. Virgin Islands also has the distinction of incarcerating people who were found "not guilty by reason of insanity"—which means they were too mentally ill to be convicted. As the American Civil Liberties Union points out, the Virgin Islands is unique in its treatment of the mentally ill: "In other systems they are hospitalized, so they can receive a level of treatment that [they] simply cannot get at a jail. In St. Thomas, these men remain prisoners, housed in a unit plagued with prisoner-on-prisoner assaults, as overworked and undertrained staff members are overwhelmed by a toxic mix of predatory and acutely ill prisoners."

The government of the U.S. Virgin Islands has been involved in a protracted class-action lawsuit, filed by the ACLU more than two decades ago, called Carty v. Mapp, challenging unconstitutional conditions at two correctional facilities. The parties entered into a settlement agreement in October 1994. The court order required the Virgin Islands Bureau of Corrections to hospitalize acutely and chronically mentally ill prisoners. Again, that was in 1994. Since that time, the court has held the defendants in contempt four times. The territory continues to pledge to fix the problems but has made no substantial progress. At this point, the government has finally begun to formalize some changes to a handful of policies.
---
HOMEBOY INDUSTRIES ART SHOW AT BERGAMOT STATION
A collaborative art show between Homeboy Industries and Tag Gallery at Bergamot Station in Santa Monica, open between January 5 and January 23, will feature artwork from 40 artists including Homeboy's Fabian Debora, Juan Carlos Munoz Hernandez (apprenticed to the late sculptor, Robert Graham), and Alex Kizu.
The opening reception is Saturday, January 9 from 5:00-8:00p.m.
All proceeds will go to benefit Homeboy Industries (the gang recovery program founded by Father Greg Boyle that, for over 25 years, has helped thousands of men and women find healthy alternatives to gang life).
For more information about the show, including the address, visit the Tag Gallery website.