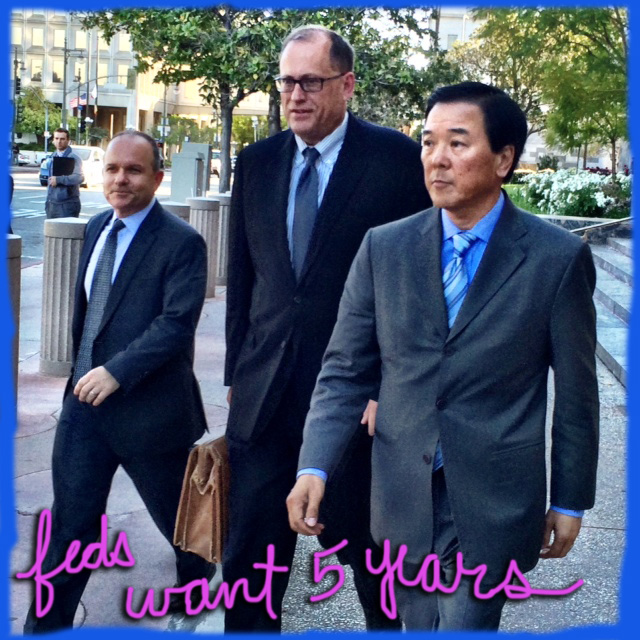 THE RINGLEADER FROM THE BEGINNING
"Defendant Paul Tanaka is responsible not only for obstructing justice, but also for fostering the culture that led to the significant problems in the Los Angeles County jails….While defendant claimed at his and three previous trials that he had only limited involvement in the conspiracy, the evidence showed instead that he was the ringleader from the beginning.
"
So begins the 23-page sentencing memorandum filed last week, in which government prosecutors ask U.S. District Court Judge Percy Anderson to sentence Paul Tanaka, the former second in command at the Los Angeles Sheriff's Department, to 60 months—or 5 years—in federal prison.
Tanaka, as most readers know, was convicted of obstruction of justice and conspiracy to obstruct justice, on April 6. He is due to sentenced by Judge Anderson on Monday, June 27.
The government's sentencing memorandum makes for interesting reading. In it U.S. Attorneys Brandon Fox, Lizabeth Rhodes, and Eddie Juaregui not only reiterate the crimes for which Tanaka was convicted, they also paint a picture of a rogue supervisor who fostered a toxic culture that allowed for a pattern of civil rights abuses and corruption in the LA County jail system, and beyond. This pattern of abuse, say the prosecutors, led to the multi-year FBI investigation that Tanaka was convicted of obstructing.
And Tanaka wasn't just any participant, the prosecutors write. He was "in charge of" the obstructive operation, was "involved in all aspects of the obstruction," and he "set the tone of the operation early and repeatedly with his 'F**k the FBI' statements."
---
THE CONTEXT AND THE CRIME
This attitude of Tanaka's was not a new one, according to the prosecutors. It was, they contend, his signiture style as a supervisor that created the context for the crimes of which he and other department members have been convicted:
"During his time as an executive," they write, "[the} defendant threatened to discipline supervisors who frequently referred deputies to Internal Affairs, transferred Captains who tried to reduce deputy abuse and break up cliques, instructed deputies to work in the 'gray area' of law enforcement, and expressed his desire to gut Internal Affairs. Defendant's actions caused deputies to believe that they could act with impunity, which, unfortunately, they did much too frequently."
Moreover, according to the prosecution, Tanaka "chose as his co-conspirators those who were ordinarily supposed to investigate the same type of crimes that they began covering up."
The specifics of crimes of which Tanaka has been convicted are as follows: from mid-August 2011 through September 26, 2011, in a series of actions that came to be known, unofficially, Operation Pandora's Box, Mr. Tanaka and department members under his direction, devised a scheme to hide a jail inmate turned-confidential informant from his FBI handlers through a complicated strategy of multiple name changes that made the federal informant, Anthony Brown, appear to vanish from the LA County jail system by making his name and distinguishing details vanish from the jail database.
The government also described how department members under Tanaka's command attempted to intimidate potential witnesses, who had information about deputy wrongdoing, into refusing to cooperate with the FBI. Then the same group falsely threatened an FBI agent with arrest in an unsuccessful attempt to intimidate her into giving them information about the ongoing federal investigation.
For all these actions, say the prosecutors, Paul Tanaka was "the ringleader."
---
COMPARATIVE SENTENCING
In the memo, the government notes that the other seven former department members who were convicted of obstruction of justice for participation in the same actions that Tanaka has been convicted of directing and influencing, have been given sentences ranging from 18 months for then-deputy James Sexton, to 37 and 41 months, respectively, for former lieutenants Greg Thompson and Stephen Leavins, at the top end, with former deputies Gerard Smith and Mickey Manzo, plus former sergeants Maricela Long and Scott Craig, receiving sentences in between.
The government makes the logical case that since Tanaka was the guy in charge, the shot caller, he must get the longest sentence.
The prosecutors also address the Baca factor, which the defense will undoubtedly point to vigorously when they argue for a lower sentence.
Former sheriff Lee Baca, as most of you are aware, made a plea deal with the feds in early February of this year, in which he admitted to lying to federal agents about his part in this whole mess. In return, the feds have agreed to a sentence of between 0 to 6 months in federal prison.
(Anderson will be sentencing Baca on July 11, at which time the judge is theoretically supposed to hand down a sentence between those guidelines. Yet legally, Anderson could sentence Baca to as much as five years, or anything in between. However if Anderson goes at all outside the 0 to 6 parameter, then the plea deal becomes null and void—unless Baca and his attorneys decide to accept a higher sentence rather than lose the plea deal, and move to an indictment.)
In the Tanaka sentencing memo, the prosecutors don't exactly argue that Baca is less guilty than Tanaka, but that the "quantity and the quality" of the evidence they have against Lee Baca is less than the mounds they have against Tanaka. In other words, you charge what you can dead bang prove.
Then, in a curious sentence near the end of the memo, in which the prosecutors call the judge's attention to "the issues raised in Baca's PSR. Those issues place him in a very different position than the others involved in this case," they write.
"PSR" stands for Pre Sentencing Report, the report written up by probation officials with a sentencing recommendation, that the judge may follow or disregard. We don't know what "issues" to which the government is referring in their reference to the "PSR," but our best guess is that the former sheriff is claiming health issues that he and his attorney maintain should preclude him from going to prison.
We'll see what Judge Anderson makes of all this on June 27—And then again, on July 11, when he sentences former sheriff Baca.
In the meantime, former Deputy Gilbert Michel will be sentenced Monday morning.
---
You can find the government's Tanaka sentencing memo here.