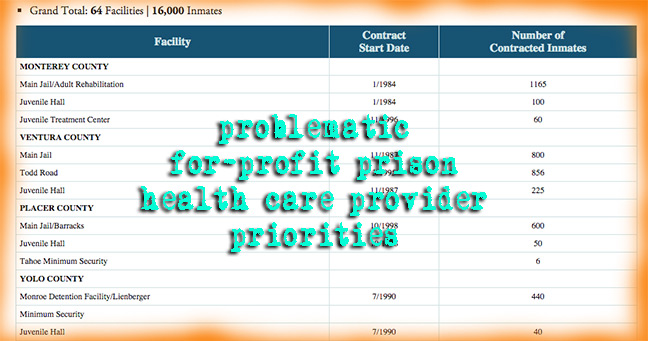 WHEN FOR-PROFIT CORPORATIONS TAKE OVER PRISON HEALTH CARE INMATE MORTALITY RATES RISE
The private medical company, California Forensic Medical Group, is the largest prison health care provider in CA. And, not unlike the largest prison health care company in the nation, Corizon Correctional Health Care, CFMG continues to rake in money despite being mired in scandals and lawsuits alleging mistreatment, neglect, and short-staffing.
CFMG holds medical care contracts for 64 detention facilities in 27 of California's 58 counties. Most of the counties are rural, like Imperial and Yolo, but CFMG is also responsible for thousands of inmates in counties like San Diego, Ventura, Santa Cruz, and it's hometown, Monterey.
Around 200 inmates have died in the last decade under CFMG medical care, and more than 80 lawsuits have been filed against the company in the last 15 years, according to an investigation by FairWarning.
FairWarning's Brian Joseph takes an in depth look at CMFG's history (which is not unlike many other private prison companies), as well as the stories of inmates who died seemingly preventable deaths while under the care of CFMG. Here are some clips:
The outsourcing of medical care in jails and prisons reflects a nationwide push for privatizing government duties. The private sector, outsourcing advocates say, offers better services at a lower cost. But while other government services have outspoken constituencies, jails and prisons do not. Inmates usually have little clout to demand change if they believe they are receiving poor health care.

"Society doesn't really care about prisoners," said Neville Johnson, a Beverly Hills lawyer. Johnson sued CFMG and Yolo County, near Sacramento, over the August 2000 jailhouse suicide of Stephen Achen. A drug addict, Achen warned some jail staffers that he could become self-destructive but promised another that he wouldn't hurt himself. "As we got into it, we were astonished at what we felt [was] the deliberate indifference of the jail staff and especially CFMG, which is nothing but a money-making machine," Johnson said. CFMG settled with the Achen family for $825,000 after a judge found evidence of medical understaffing, according to media reports.

The private sector started providing health services to jails and prisons in the 1970s, when negligent medical care became a foremost prisoners' rights issue. Inmates across the country filed lawsuits alleging inadequate care. Courts ruled that depriving prisoners of competent medical services was unconstitutional and in some cases ordered states and counties to take corrective action. Wardens and sheriffs, lacking backgrounds in medicine, turned to outside contractors for help.

[SNIP]

Ryan George, age 22, was serving time for domestic violence in 2007 when he experienced the onset of a sickle cell crisis, a painful, but treatable, condition where blood vessels become clogged by the misshapen cells. For days, Valerie says, Ryan called her from jail in obvious pain, complaining that he was being neglected.

Finally, when he was found "unresponsive" in his bed, Ryan was taken to the hospital, according to court records. But after a couple of days, of treatment, doctors there decided Ryan was exaggerating some of his symptoms and sent him back to jail. Shortly thereafter, Valerie said, a CFMG doctor called her, saying Ryan was getting worse. She says she demanded that the doctor take him to the hospital, but he said "that's not a possibility."

The company doctor acknowledged in court papers that he spoke with Valerie George, but disputed her version of what was said. CFMG executives also acknowledged that the company would have incurred more costs if Ryan was sent back to the hospital, but denied that financial concerns had anything to do with his death.

A few days later, Ryan George was found dead in his cell, with dark green fluid oozing from his mouth and eyes, according to the civil complaint. A subsequent Sonoma County Grand Jury investigation found that the "Sheriff's (department) and CFMG medical staff failed to fully intervene" when Ryan's condition worsened. "He was not re-hospitalized, despite exhibiting symptoms of jaundice, severe dehydration, bone pain, altered level of consciousness and loss of urinary and bowel control," the grand jury found. Said Valerie George, whose family settled with CFMG: "They let him die like a dog in a cage because this company would not pay for him to get proper medical treatment."

[SNIP]

"Why wasn't an ambulance called?" a guard later recalled someone asking when he wheeled a pale Dau into El Centro Regional Medical Center at about 9:30 a.m. on July 23, 2011. A doctor rushed to her side and felt her neck. "She has no pulse!" the doctor yelled, according to a deposition given later by the physician. Hospital staff cut off her jumpsuit and attempted CPR, but it was no use: at 9:56 a.m. Dau was declared dead.

A subsequent autopsy by Imperial County Chief Forensic Pathologist Darryl Garber determined Dau died of heart disease with a contributing factor being acute drug intoxication from the multiple medications she was prescribed. Garber also discovered Dau had a bed sore on her lower back, suggesting that she had been unable to move for some time.

Later, according to the minutes from a meeting about Dau's death, CFMG and jail staff decided that an ambulance should have been called and that Dau was "probably" going through Valium withdrawal.
---
CRUCIAL BILL TO CLOSE A LEGAL LOOPHOLE AND EXTEND BENEFITS TO "DUAL STATUS" FOSTER KIDS MOVES FORWARD
A CA bill to give foster kids involved in the juvenile justice system (often called "dual status" or "crossover" youth) extended foster care benefits was approved unanimously by the Assembly Judiciary Committee.
SB 12, authored by Senator Jim Beall (D-San Jose), would close a loophole in existing law, and ensure kids who turn 18 while in juvenile detention receive extended benefits like their non-justice-system-involved peers.
Sawsan Morrar has more on the bill and its progress for the Chronicle of Social Change. Here's a clip:
DeAngelo Cortijo, an intern at the National Center for Youth Law, spoke at Tuesday's hearing about his firsthand experience as a crossover youth. Cortijo was removed from his home when he was two after his mother attempted suicide. He was placed with family members, and at one point returned to his mother, before he was sent to foster care amid reports of abuse. Since then, he was in over four detention facilities, and ran away from group home placements several times.

"When I was released, I faced many challenges," Cortijo said. "I now have to fend for myself as an adult. I had to find stable and clean housing. I didn't have an income to support myself."

Cortijo was left depending on others for the most basic needs like purchasing a toothbrush or borrowing socks.

"Do you know what that does to a person's confidence? It completely destroys it," he said.

With extended benefits in place, Cortijo would have received about $800 a month, just like other transition-age foster youth, to help pay for food, housing and school.

Jennifer Rodriguez, executive director of the Youth Law Center, said these probation youth in transition are exactly who extended foster care aims to support.

"We know that the rates of homelessness, unemployment and incarceration for young people who cross from dependency to delinquency are double to triple the rates for youth who are just in dependency or delinquency," she said.

According to the Youth Law Center there are approximately 4,000 probation-supervised foster youth in California. There are over 50,000 foster youth in the state.
---
WHAT IF PRESIDENT OBAMA FOLLOWED IN THE FOOTSTEPS OF FDR AND WILSON AND USED HIS PARDON POWER ON MARIJUANA OFFENDERS?
On Monday, President Barack Obama announced that he had commuted the sentences of 46 non-violent drug offenders, bringing the total number of approved commutation petitions up to 89. While this is a good step in the right direction, there are 95,265 federal prisoners serving time for drug offenses.
The Atlantic's Zach Hindin makes the case for presidential pardons for all marijuana offenders in federal prison. Former President George W. Bush commuted 11 sentences and pardoned 189 during his 8 years in office, and Bill Clinton commuted 61 sentences and pardoned 396. Our current president has granted just 64 pardons, thus far. (If you are fuzzy on the difference between the two, a pardon wipes a person's criminal record and restores rights, a commutation shortens a person's sentence, but does not offer a clean slate.) Obama's latest move seems far less historically meaningful when compared to Woodrow Wilson and Franklin D. Roosevelt's thousands of post-prohibition acts of clemency for alcohol offenses, says Hindin.
Here's a clip:
…Compared with the last few administrations, commuting the sentences of 46 nonviolent drug offenders may seem historic. But history sets the bar higher still.

In May 1919, Woodrow Wilson was in Paris negotiating the Treaty of Versailles. It's hard to think of a moment when any president had a better reason to shelve domestic affairs, but on Monday, May 12, Wilson telegraphed his secretary in Washington: "Please ask the Attorney General to advise me what action I can take with regard to removing the ban from the manufacture of drink." A week later Wilson sent another cable, this time to Congress: "It seems to me entirely safe now to remove the ban upon the manufacture and sale of wines and beers."

Congress declined, and instead introduced a bill to shore up the Eighteenth Amendment, known as the Volstead Act. Wilson vetoed the Act. Congress overrode his veto. With no legislative recourse, Wilson chipped away at Prohibition using the executive power that Congress could not check: his pardon. By the end of his second term, alcohol offenders accounted for more than one-fifth of Wilson's clemency recipients.

Unlike Wilson, Franklin D. Roosevelt had been ambivalent about Prohibition. During his time in the New York State Senate, the powerful Anti-Saloon League had praised Roosevelt's "perfect voting record." Even after the repeal of Prohibition became central to his presidential platform, according to one biographer, "the story persisted that whatever Roosevelt might say, there was a voting record to prove he was 'dry' at heart." But when Prohibition was repealed by popular demand in 1933, FDR went on a pardoning spree that outclassed his predecessors, approving alcohol offenders who had been previously rejected or otherwise hadn't even applied.

Wilson used his pardon to protest an impossible law. Roosevelt used his to acknowledge the change in social norms.

The time when most Americans condoned alcohol consumption despite Prohibition rhymes with our own, when 53 percent of the country supports the legalization of marijuana, and pot laws have been curtailed in 23 states and the nation's capital. And just as Prohibition offered a legal apparatus for racism, today, the racial imbalances in marijuana arrests and sentencing are so stark that many in this country consider them a proxy for racial control. In 49 states, blacks are more likely than whites to be arrested for marijuana—in the worst offending counties, by a factor of eight. The limit of this analogy is scale—together, Wilson and Roosevelt issued some 2,000 alcohol-related acts of clemency. In 2012 alone, almost 7,000 people were convicted in federal courts for marijuana offenses, according to the U.S. Sentencing Commission, more than for any other type of drug.
---
LA SHERIFF JIM MCDONNELL TALKS JAIL ABUSE AND MORE ON WHICH WAY, LA?
After 10 jail employees were relieved of duty this past weekend in connection with alleged jail abuse, LA County Sheriff Jim McDonnell appeared on KCRW's Which Way, LA? with Warren Olney to discuss jail abuse, transparency, mental illness, and his hopes for the facility that will replace the crumbling Men's Central Jail.
In another segment, investigative reporter Jeffrey Sharlet talks about his in-depth GQ story about the March LAPD shooting of Charly Keunang, an unarmed homeless man in Skid Row, and the unreleased officer body cam videos he was able to watch of the incident.
AND WHILE WE'RE ON THE SUBJECT OF TROUBLING FOOTAGE OF OFFICER-INVOLVED SHOOTINGS…FAMILY OF UNARMED MAN KILLED BY GARDENA POLICE SEEK CIVIL RIGHTS INVESTIGATION
In 2013, three Gardena police officers fatally shot Ricardo Diaz Zeferino, an unarmed man they mistook for a robbery suspect. According to officers involved, Diaz Zeferino appeared to be reaching for a weapon. The city settled the resulting lawsuit to the tune of $4.7 million, but refused to release videos of the shooting, because of privacy concerns.
On Tuesday, federal Judge Stephen V. Wilson ordered the city of Gardena to release the videos. And at a press conference on Wednesday, an attorney representing Diaz Zeferino's family called for a federal civil rights investigation into the shooting.
Here's a clip from the KPCC update:
Mercardo said the videos allow the public to see for themselves what took place shortly after police stopped Diaz Zeferino and two others suspected of stealing a bike.

"The public can be the judge of what really happened that night," she said, adding the family had been searching for justice, not money.

Diaz Zeferino's brother, Augustine Reynoso, holding aloft a picture of the two of them embracing, said he wanted to bring the Gardena police department to account for the death of his brother.

"Money is not what's important in life. Life is what's important in life," he said through Mercado, who translated his comments. "I want justice to be done. I want the Gardena Police Department to be investigated more deeply. That's why I'm here."