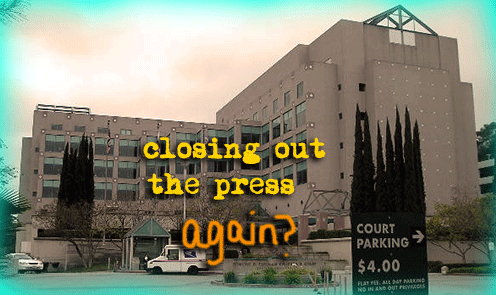 APPEALS COURT (TENTATIVELY) SAYS JUDGE HAD NO RIGHT TO GRANT MEDIA ACCESS TO DEPENDENCY COURT
Earlier this year, Michael Nash, presiding juvenile court judge in LA County, ordered that the county's juvenile dependency courts be open to the press (unless it was established that having reporters in a hearing would be detrimental to the child). This good and important action by Judge Nash let some light into the previously shrouded dependency court proceedings, and brought a new degree of public accountability to DCFS and the court system.
On Wednesday, a California appeals court tentatively ruled that the order was not within the scope of Nash's legal power, and that it would likely be overturned. (The final decision will be made on Dec. 19. We'll keep you updated.)
The LA Times' Garrett Therolf has more on the issue. Here's a clip:
In January, Michael Nash, the presiding judge of Los Angeles County Juvenile Court, issued an order decreeing that dependency hearings, which had been presumptively closed, were now to be presumptively open to the press.

But the appeals court's tentative ruling, issued Wednesday, said Nash's order violated state law.

"There may be merit in effecting the reforms provided in the blanket order, but it is not the role of the judiciary to provide a more open system," said the tentative ruling by California Court of Appeal, Second Appellate District, Division Eight. "It is for the Legislature, not the courts, to effect changes to the system it has put in place."
---
PREGNANCY, CHILDBIRTH, AND MOTHERHOOD WITHIN THE CONFINES OF CALIFORNIA PRISONS
KPCC's Deepa Fernandes has a thought-provoking interactive longread that sheds some light on the women who give birth while serving time in California's prisons. Fernandes (and photographer Mae Ryan) documented several mothers' experiences, including one woman who was approved to live with her daughter in a special facility for incarcerated moms with young children. In almost all cases, however, if there is not a spouse or family member willing to take the newborn, the child ends up in the foster care system or with an adoptive family.
Here's a clip:
In the first days of 2013, Regina Zodiacal was escorted from a Santa Ana jail cell to a bus headed to the California Institute for Women, a state prison in Chino.

Zodiacal had been in and out of trouble for minor crimes for years and her conviction this time was not remarkable – armed robbery for a $66 shoplifting incident gone wrong, and forgery for cashing bad checks.

"I grew up on the streets," said Zodiacal, who left home at 15. "I've always been on my own and got money in the way I knew how – and that's fast money."

But in one significant way, Zodiacal was different from most of the women who routinely board this bus: She was five months pregnant.

Despite all the trouble she'd been in and caused, this was the one thing she was determined not to be – the girl who "went to prison to give birth." Yet, here she was.

Pregnant women like Zodiacal make up less than 1 percent of female prisoners – 188 California inmates gave birth in 2011 and 45 in 2012, when officials began moving prisoners to county jails to comply with a federal court order to reduce prison overcrowding.

Despite their small numbers, these women have posed a thorny question for guards and rights advocates for decades: how do you balance what's best for the community with what's best for the babies born to incarcerated felons?

For the most part, their children are raised by someone else in the outside world – a relative, a foster parent or an adoptive family.
---
PAUL TANAKA'S SHIFT ON THE ISSUE OF CONCEALED-WEAPONS PERMITS, AND GENE MADDAUS ON THE LASD "ASSHOLE CULTURE"
Former Undersheriff Paul Tanaka is taking a conservative tack on the issue of concealed-weapons permits in his campaign for sheriff, promising policy reform to allow for more approved permits. In the course of the two years that Tanaka was in charge of authorizing permits as undersheriff, however, he issued only a handful—one of which was to a billionaire movie mogul who is now a supporter of his campaign.
The LA Weekly's Gene Maddaus has more on Tanaka's seeming double-standard. Here's how it opens:
As he campaigns for Los Angeles County sheriff, Paul Tanaka is making a pitch to the gun-rights community by promising to reform the way the department handles permits for concealed weapons, or CCWs. In a statement on his campaign website, Tanaka calls himself "a strong supporter of the Second Amendment," and laments that L.A. is one of the toughest counties in the state in which to get a permit.

Tanaka also alludes to allegations that Sheriff Lee Baca, his opponent and former boss, takes a more liberal approach to issuing permits when the applicant happens to be a friend or supporter — allegations covered by the Weekly last year ("Sheriff Lee Baca and the Gun-Gift Connection," Feb. 15). As sheriff, Tanaka said, he will issue permits "without favoritism."

Yet Tanaka's record of handling concealed weapons has been more complicated. For a two-year period when he was Baca's undersheriff, Tanaka was in charge of issuing concealed-weapons permits. In that time, he denied the vast majority of applications he received. Of the few he approved, one went to a billionaire movie producer who is now a key supporter of his campaign.

Tanaka declined to be interviewed for this story. At a campaign event in Azusa on Nov. 21, he turned and walked away rather than discuss the issue.

However, he did respond in writing to a series of emailed questions, stating in part that when he worked for Baca, he was implementing Baca's policies, not his own. "During my time as Undersheriff, my handling of the CCW permits was a direct reflection of the policies I was responsible to uphold by my former boss," he wrote.

Steve Whitmore, Baca's spokesman, takes issue with that.

"How long before Mr. Tanaka takes responsibility for anything?" Whitmore asks. "Or is it always going to be 'I was only following orders?'"
Maddaus has also written a witty editorial on the LASD's "asshole culture" with regard to the alleged needless handcuffing and searching of an Austrian diplomat, the threatening an FBI agent at her home, and officers' behavior within the county jails. (Backstory on this week's LASD indictments: here and here.) Here are some clips:
Evelin Fischer, an Austrian consul, went to the Men's Central Jail on June 6, 2011, to pay a visit to an Austrian citizen who had been arrested. It was a routine diplomatic errand, and she brought her husband along.

While he was standing outside the visitor center, he walked a little too close to the entrance. According to an indictment unsealed on Monday, Deputy Sussie Ayala confronted him and then placed him in handcuffs.

When Fischer protested to a supervisor, she, too, was handcuffed. According to the indictment, Ayala and Deputy Noel Womack took her to a break room and searched her, though she was not suspected of a crime and should have been protected by diplomatic immunity.

As the jail scandal has unfolded over the past two years, it's become commonplace to talk about the culture of violence within the Sheriff's Department…

But many of the offenses outlined in the series of indictments unsealed on Monday do not fit neatly into that category. While some of the cases do involve allegations of extreme brutality, others involve misconduct of a different nature. We might call it asshole behavior.

What do we mean by "asshole"? Aaron James, a professor of philosophy at UC Irvine, has taken the trouble to answer that question with some rigor.

In his book, "Assholes: A Theory," James defines an asshole as someone who "systematically allows himself to enjoy special advantages in interpersonal relations out of an entrenched sense of entitlement that immunizes him against the complaints of other people."

Among his examples are people who cut in line, swerve in traffic or routinely interrupt conversations. The definition could as well apply to deputies who decide to handcuff and search a consular officer because her husband stood too close to a door…
(This is only the beginning—we really, really recommend you read the whole thing.)
---
FEDS LIKELY TRYING TO WIDEN THE NET IN LASD MISCONDUCT INVESTIGATION
We recommend you read the LA Times story by Jack Leonard, Victoria Kim and Robert Faturechi about how federal investigators are likely hoping to flip some of those whom they indicted on Monday in order to—so to speak—catch larger fish, particularly with regard to an obstruction of justice case having to do with allegedly hiding federal informant Anthony Brown. We agree with the Times. By all accounts, Monday's 18 indictments are not an end point, but a starting point.