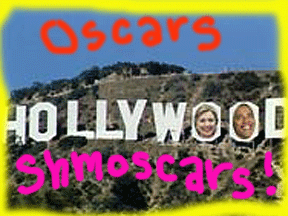 The last Democratic debate before Supercalifragilisticexpialidocious Tuesday starts at 5 pm at the Kodak theater. But for those of you who want to get in on the action but don't have tickets for the debate itself (despite your pleas on Craigs list) might I suggest one of the events at the lively and substantive pre-debate show.
4:30 PM- The Iraq Veterans Against the War and Military Families Speak Out will hold a press conference and protest outside the theater. ""We're coming to the debates to remind people that what should be front and center in this debate is the war " said Pat Alviso, a member of Military Families Speak Out (MFSO) whose son is a Marine and has served two tours of duty in Iraq.
3 PM – Code Pink is asking all those who wish to make a point about ending the war, not invading Iran and calling for impeachment to wear….well…pink and meet all other Code Pink people outside the theater to join in an "action." (At least it sounds like more fun than standing around with a sign, although Code Pink actions sometimes tend to get a participant or two arrested so best to bring your lawyer's number with you.)

4-8 PM – Protect our National Parks by voting for….um….a bear. In an effort to get the presidential candidates to pay attention to national park issues, the nonprofit, nonpartisan National Parks Conservation Association is sponsoring its own presidential candidate—Teddy Mather—a bear who is pledging to make America's national parks a national priority.

I've exchanged emails with their PR person and I agree there are serious issues at stake here. Whether having a person dressed up as a large stuffed bear is the best way to promote things like the chronic underfunding of these irreplaceable national treasures remains to be seen.
For those who want to know more, USA today has two articles worth reading here and here.
*********************************
Those that I've listed are far from the only groups staging events. Trust me, there's something for everyone—conservative and liberal alike.

And naturally both Obama supporters and Clinton supporters will be rallying outside the Kodak Theater at 2 pm. (Hint: You'll know those of your own personal political persuasion by their signs and t-shirts.)
**********************************
As it turns out, I'll be teaching at USC this afternoon, so won't make it to Hollywood in time for the hoopla. But I figure we'll all meet up afterward, cyberly speaking.
**********************************
PS: LA OBSERVED has a great rundown on good places to go for pre-debate commentary from all sides of the political spectrum.