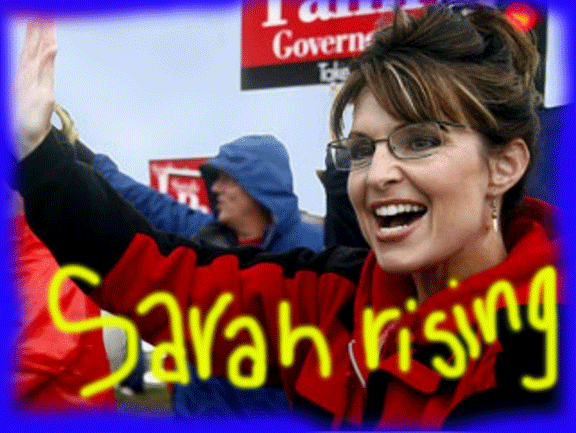 Here's the good news: Sarah Palin is so good-looking, dynamic and charismatic that she could easily star in her own TV show about someone like….well….Sarah Palin.
(Geena Davis in "Commander in Chief" was just fine, but if I were a network exec, I'd buy the Sarah Palin Show first in a heartbeat.)
And speaking of heartbeats…..
…Here's the bad news: remember that thingy that the Republicans have been pushing about Barack Obama not being ready to be President? Well, that's out the window.
Good luck making that argument again, guys.
Undoubtedly Palin's entry as VP nominee will make for a far, far more interesting race.
She's extremely likeable, gutsy, interesting and smart… and it was smart and classy of her to bring up Geraldine Ferraro and, even more so, Hillary Clinton. (And as one of the commenters below notes, a blatant political ploy. But still a classy one.)
She defines the term Bold Choice. And she helps shore up the "family gap." She can't out cute the cumulative cuteness factor of the Dem ticket families, but her family helps bridge the chasm.
But will Sarah Palin help John McCain win? My opinion: In a word: No.
Bottom line: Sarah Palin is a great choice for reality TV. Heartbeat away from the president? Not so much.
UPDATE: This is the email I just got from a smart writer friend of mine. It speaks for itself:
Admittedly I'm a little sleepy and the TV's muted, but did John McCain just pick Tina Fey as his Vice Presidential running mate?! Did "Saturday Night Live" somehow manage to pull off interrupting every morning news program and run a spoof on the serious business of who will be a heartbeat away from the Presidency if something happens to, as Paris Hilton put it, "The old white guy…" on his 72nd b'day?

UPDATE 2: Marc Cooper calls this for the stunt that it is.
Nothing against Palin, you understand, I rather like her in spite of her gas and oil shilling, but this is definitely stunt casting.