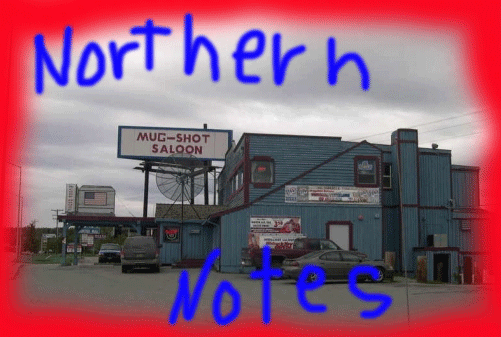 UPDATE: More Alaska response at Mudflats. And for those of you who'd like to dig a little further, click on the Sarah Palin topic link and start scrolling.
**************************************************************************************************************

Oh-key, dokie, and what do those in Alaska think of Sarah P? Popular, yes, but not quite the 90-percent approval rating we've been hearing so much about today. It seems there are one or two (or eight) interesting things one might want to know about our new VP gal Sarah.
Here, for instance, is today's post from one of Alaska's popular political blogs, Mudflats. I'm just going to post the first few 'graphs, but be sure to click through and read about Divorced Troopergate.
"Is this a joke?" That seemed to be the question du jour when my phone started ringing off the hook at 6:45am here in Alaska. I mean, we're sort of excited that our humble state has gotten some kind of national 'nod'….but seriously? Sarah Palin for Vice President? Yes, she's a popular governor. Her all time high approval rating hovered around 90% at one point. But bear in mind that the 90% approval rating came from one of the most conservative, and reddest-of-the-red states out there. And that approval rating came before a series of events that have lead many Alaskans to question the governor's once pristine image.

There is no doubt in my mind that many Alaskans are feeling pretty excited about this. But we live in our own little bubble up here, and most of the attention we get is because of The Bridge to Nowhere, polar bears, the indictment of Ted Stevens, and the ongoing investigation and conviction of the string of legislators and oil executives who literally called themselves "The Corrupt Bastards Club".

So seeing our governor out there in the national spotlight accepting the nomination for Vice Presidential candidate is just downright surreal.

[HUMUNGOUS CLIP]

…if McCain had made his selection six months ago, the squeaky-clean governor meme would have made a little more sense. But, Sarah Palin is currently under an ethics investigation by the Alaska state legislature. The details of this investigation read like a trashy novel, and I suspect that the players will soon have newfound celebrity on the national stage. I'll try to explain for all you non-Alaskans who suddenly have good reason to want to know more about Sarah Palin. For those of you not interested in trashy novels, feel free to skip ahead. Here it is…what we in Alaska call "TrooperGate".