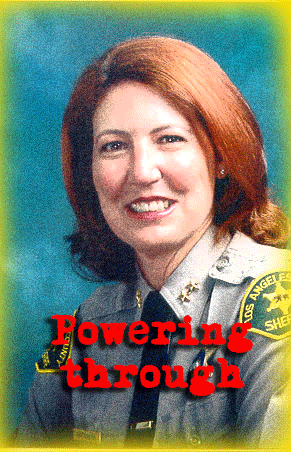 OC SHERIFF HUTCHENS SAYS BREAST CANCER WON'T STOP HER
Orange County Sheriff Sandra Hutchens held a press conference Monday afternoon to publicly address her recent breast cancer diagnosis, and to say that she doesn't intend to let her health affect her ability to perform her duties as sheriff. (We at WLA are sending wishes for Sheriff Hutchen's full recovery.)
The OC Register's Salvador Hernandez has the story. Here's a clip:
"I will be fully engaged," Hutchens said during a news conference Monday, accompanied by members of her command staff. "And I plan to run for a second term in 2014."

Hutchens voice cracked as she described details of her recent diagnosis of breast cancer, but said she is intent in being involved in the day-to-day operations of the department.

"I think the best thing for this is to keep your normal schedule as much as possible and keep engaged," she said.

A resident of Dana Point, Hutchens, 57, said she was diagnosed with breast cancer Nov. 9, about six months after a mammogram had shown no signs of a cyst. The discovery came as a surprise, she said, especially because there is no history of cancer in her family.

"I'm very optimistic about it," she said. "I really believe it was caught early."

Hutchens notified employees in the department in a memo Nov. 19, in anticipation that treatment could change her appearance, her schedule and raise questions about her health, she said.

But there will be no change to the department's command.

"I'm going to be in charge," she said. "If at any time I felt I could not carry on my duties, I would make other arrangements. That's not going to be the case."
By the way, there's a video of Sheriff Hutchen's news conference beneath the body of the story, so be sure to go over to the OC Register.
---
RIORDAN's PENSION PLAN GOES UP IN FLAMES
It was announced Monday that former LA Mayor Richard Riordan would drop his controversial city employee pension reform, an intended ballot measure for the May 2013 election.
The LA Times' David Zahniser and Kate Linthicum have the story. Here's a clip:
Tyler Izen, president of the Police Protective League, said he was not surprised by the collapse of the signature drive backed by Riordan. Izen said the pension proposal, which had been planned for the May ballot, never received the proper financial analysis in the weeks before Riordan began his push to get 300,000 signatures to put it on the ballot.

"The plan proposed by Riordan to close the defined benefit pension system as a way of saving money was both simplistic and costly … for the taxpayers," Izen said in a statement.

Service Employees International Union Local 721, which represents civilian city workers, released a statement from sanitation worker Simboa Wright, who said Riordan and his allies had failed because L.A. voters value the work of city employees.

"City residents weren't about to let a bunch of billionaires rewrite city policies," Wright said. "As city workers have been saying for a long time, Riordan's half-baked plan wasn't thought out. It died because it was bad for city workers and the city they serve."
---
GREEN DOT CHARTER SCHOOLS BEAT OUT LAUSD IN QUEST FOR FEDERAL EDUCATION GRANT
The Los Angeles charter group Green Dot Public Schools has advanced as a finalist for a $30 million Dept. of Education grant. LAUSD had also applied for the grant, but was unable to get the support of their teachers union—a requirement for school districts to be in the running.
It is a rather amazing turn of events that Green Dot has made the cut, in that the applications were primarily to have been open to full school districts. But evidently (and happily) Green Dot's presentation was a strong one.
The LA Times' Howard Blume has the story. Here's a clip:
Green Dot Public Schools, which operates 18 charter schools, remains in the running for a "Race to the Top" grant, the U.S. Department of Education announced Monday. If successful, Green Dot could receive $30 million over a four-year period.

In the application process, districts were supposed to set out a plan to "personalize education for students and provide school leaders and teachers with key tools that support them to meet students' needs," according to the Education Department.

But the devil for L.A. Unified was in the details. Participation by the teachers union was required and United Teachers Los Angeles would not sign on, citing concerns that Race to the Top could commit the school system to long-term spending not covered by the grant. Union leaders in L.A. and elsewhere also were concerned such a grant could commit them to the use of student test scores as part of a teacher's evaluation.
---
KIDS ON SCHOOL DISCIPLINE: ZERO-TOLERANCE AND RESTORATIVE JUSTICE
The Fresno Bee and kNOw Youth Media partnered to produce a series of first-hand accounts of kids affected by "zero-tolerance" school policies, and alternately, kids who have benefited from restorative justice in the education system.
Here's fourteen-year-old Jane Carretero's story:
My name is Jane Carretero and I am 14 years old. Towards the beginning of my 8th grade school year at Fort Miller I started doing drugs, and my mom found out about it.

One day, she and I got into a huge fight and she found a bottle of marijuana in my backpack. It was a difficult choice for her to make, but she ended up calling the police. They ended up taking me in for that.

After three days at juvenile hall, it finally hit me. I remember falling on my knees and I started crying for my mom, and I was like, "Why did I have to mess up so badly?"

When I went back to school, I had fallen behind a lot. A lot of people thought that I snitched them out. Some people even thought that I had gotten pregnant, and a lot of girls wanted to fight me, because they thought I was saying things about them.

The teacher started yelling at everyone, and he turned to me. I said, "You're yelling at us for no reason." Then the teacher said, "Don't talk back to me. I know kids like you. You're messed up in life, and you're going to mess up when you're older, too. You're going to go off to high school thinking you're all cool and pretty like that, thinking you're all hard. And you're going to get beat up one day by a girl better than you," he told me.