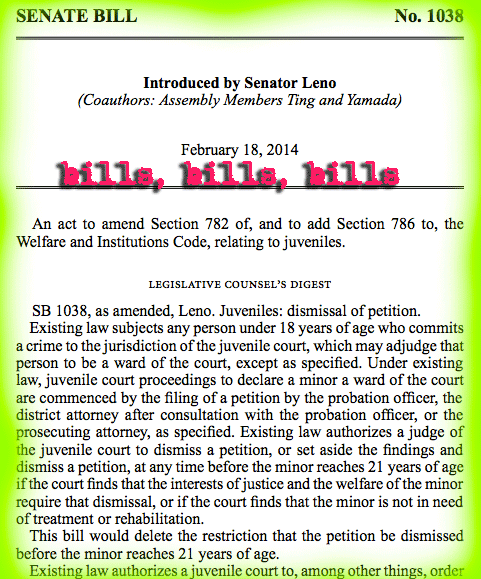 JUVENILE JUSTICE REFORMS IN THE PIPELINE
A number of important juvenile justice bills are making their way through California legislature right now.
The first bill, SB 1038 by Sen. Mark Leno (D-San Francisco) would seal kids' juvenile records from the public upon completion of probation.
Another bill by Sen. Leno, SB 1296, would bar judges from locking up kids who, through skipping class, have violated court orders to go to school. (This still happens in four California counties.)
SB 1198 by Sen. Loni Hancock (D-Berkeley) would require the Justice Department to gather data on minors charged and locked up as adults in all counties.
The final bill, AB 1756 by Assemblywoman Nancy Skinner (D-Berkeley), would remove the fee associated with sealing juvenile records for anyone under 26-years-old.
The Associated Press has more on the bills and why they are important. Here's a clip:
Juvenile records would automatically be sealed from public view after the offender has completed probation under SB1038 by Sen. Mark Leno, D-San Francisco.

"For young offenders who have paid their debt to society and are moving forward with their young adult lives, we want to ensure that they have every opportunity to succeed," Leno said.

His bill does not change the part of existing law that prohibits sealing juvenile convictions for 30 crimes, including murder and attempted murder, voluntary manslaughter, arson, various armed assaults, robbery, kidnapping and various sexual crimes.

There are plenty of violent crimes that are not covered under the existing law, including batteries, involuntary and vehicular manslaughter, child abuse, non-forcible sex offenses and residential burglary. All of those would be sealed automatically under Leno's bill, said Aaron Maguire, a lobbyist for the California State Sheriffs' Association, and Sean Hoffman, legislative director for the California District Attorneys Association.

Currently, district attorneys or probation officers can object to sealing records, but that opportunity would disappear under Leno's bill.

"We want compassion on the criminal, but our No. 1 duty is to protect the citizens and keep the citizens, our families and our children, safe," said Sen. Mike Morrell, R-Rancho Cucamonga, who voted against the bill.

Leno's bill cleared the Senate on a party-line 23-13 vote in May and is awaiting consideration in the Assembly.

Related legislation, AB1756 by Assemblywoman Nancy Skinner, D-Berkeley, would eliminate the fee for sealing the juvenile files of anyone under age 26.

The fee can be as high as $150, but the East Bay Community Law Center, co-sponsor of the bill, found through public records requests that the average is about $100. Los Angeles County charges no fee and accounts for more than half of the roughly 6,000 such petitions filed each year.

Any fee can be an obstacle for many young people trying to make a new start, Skinner said.

"The record is like an albatross around their neck because it comes up every time they apply for a job, if you run a credit report," she said.
---
ELECTRONIC MONITORING SYSTEM DISCRIMINATES AGAINST THE POOR
Electronic monitoring devices are meant to keep those ordered to wear them from having to spend time in jail or prison. But, in nearly every state (save for Hawaii and D.C.), those ordered to wear ankle bracelets can (and most often will) be forced to pay out of pocket for the monitoring service—usually hundreds of dollars per month.
This system is stacked unfairly against the poor. If a person is unable to pay for their own monitoring—which may be stacked on top of lofty court fees, probation fees, and/or public defender fees—they face jail time.
NPR's Joseph Shapiro has the story. Here's a clip:
A nationwide survey by NPR found that 49 states — every state except Hawaii, plus the District of Columbia — now allow or require the cost to be passed along to the person ordered to wear [an electronic monitoring device].

Sometimes that means people with money get to go home, while those without go to jail. Like Tom Barrett.

The Augusta, Ga., man was arrested after he stole a can of beer from a refrigerator in a gas station convenience store in 2012. He pleaded "no contest" and a judge sentenced him to 12 months of probation and said Barrett could be released as long as he wore an ankle bracelet. But when he didn't have the money to pay for it, he was sent to jail.

The bracelet, which is a kind of Breathalyzer strapped to his ankle, was expensive. It cost $12 a day. In addition, there was a $50 set up fee, a $39 a month fee to the private probation company that supervised his release, and the money to install a land-line phone for the system to work. It totaled more than $400 a month.

Barrett had been homeless, until just before he stole that beer. He was living in a subsidized efficiency apartment that cost him $25 a month. To afford even that much, he had to sell his plasma at the blood bank.

As a former pharmacist, Barrett had once lived a comfortable, middle-class life. But he became addicted to the drugs he was supposed to be safeguarding. He lost his job, and his family.

There were years of run-ins with the law, mostly related to public drunkenness.

This time, however, it was for a minor shoplifting charge, which shouldn't carry any jail time. It "didn't seem like justice," Barrett says about being jailed when he couldn't pay for the electronic monitor.

[SNIP]

…More common electronic monitoring devices check a person's location. So if a judge gives a curfew to someone awaiting trial, the device can tell if they are home on time. Some devices come with a GPS unit and can tell if, for example, a sex offender has been lurking near an elementary school.

Companies that make the devices — in their marketing materials — tell courts, and probation and parole agencies they can charge the users of those electronic monitoring devices.

"It's very easy for jurisdictions to pass the cost on to the offender," says George Drake, a consultant to government agencies that want to set up electronic monitoring systems. "No one wants to raise taxes on the public. Politicians — it's the last thing they want to do."

Most states face sizable budget deficits. So state legislators — often lobbied by the companies that make the devices — pass legislation to require offenders to pay the fees.

But Drake often advises that government agencies are better off paying the bill for the monitors; rather than chasing after money from the usually indigent offenders.

"More often than not, these offenders don't have resources," he says. "They're paying court fees, they're paying other fines, they're paying supervision fees and restitution to the victim and they're being set up to fail because they just cannot afford all these fees that have been assessed to them."
---
LATEST LASD CAMPAIGN DONATION NUMBERS — TANAKA IN THE LEAD
With just a few short days until the June 3 primary election, Paul Tanaka has raised over $900,000 in his campaign for LA County Sheriff, continuing his fundraising lead over the other candidates.
Long Beach Police Chief Jim McDonnell comes in second with approximately $760,000, overtaking Assistant Sheriff James Hellmold who has around $440,000.
Bob Olmsted has raised about $335,000, Assistant Sheriff Todd Rogers brought in around $190,000, and Lou Vince and Patrick Gomez raised $24,000 and $16,400, respectively.
(It should be noted that McDonnell, Hellmold, and Rogers entered the race when former Sheriff Lee Baca announced his retirement in January, months after the other four candidates began raising campaign money.)
The LA Times Cindy Chang has more on the fundraising numbers. Here's a clip:
"Obviously, we're very pleased with the amount of money Paul has raised for the primary," said a Tanaka consultant, Reed Galen. "We believe it's allowed the candidate and the campaign to do the things we've needed to do to get our message out to voters across L.A. County."

The campaign took an unexpected turn in January when Sheriff Lee Baca retired in the wake of criminal charges against 18 Sheriff's Department employees. McDonnell was among those who jumped in after Baca's retirement, becoming the only candidate from outside the department with substantial financial support.

Tanaka's opponents have tried to link him to the allegations of brutality and obstruction of justice in the jails. At the trial of a sheriff's deputy last week, a federal prosecutor revealed that Tanaka is the subject of an ongoing federal investigation.

Assistant Sheriff Todd Rogers, whose $190,000 haul put him fifth among the seven candidates, said Tanaka needs "every dime" to overcome that stigma.

"The fact that I'm not at risk of federal indictment is probably worth half a million dollars," Rogers said.

A spokesman for Bob Olmsted, a retired sheriff's commander who has raised about $335,000 and characterizes himself as a whistle-blower, echoed Rogers' comments.

"With the culture of corruption and pay-to-play politics, it's not surprising that he continues to raise money from the minions and cronies that he has built a relationship with," the spokesman, Dave Jacobson, said of Tanaka.

Galen, Tanaka's consultant, countered that the comments were made out of desperation.

"The only thing any of us know for sure is that Todd Rogers isn't going to be the next sheriff, and nor will Bob Olmsted," Galen said. "The fact that they're attacking Paul is because they have nothing else to run on."

[SNIP]

Mark Botnick, a Hellmold consultant, said in a statement: "Paul Tanaka has been campaigning for years, so it is certainly no surprise that he has raised more money given the length of his campaign."